4 Essential iOS Drum Machine Apps
Post date:
Tue, 10/22/2019 - 06:52
We've already looked at some of the most affordable drum machines worth owning in a previous article, but not everyone has the space or money for one of these. If you find yourself a bit short on cash or space there are still options available for adding some killer drums to your music. In addition to the myriad of plug-ins available for DAWS, there are also a couple of drum machine apps on iOS that can be used. Although these are never going to be a substitute for the real thing, they can be a boon to those who like to keep things simple and portable. Because you can run these drum machines on your phone or tablet, they are great for coming up with beats on the go.
Patterning 2: Drum Machine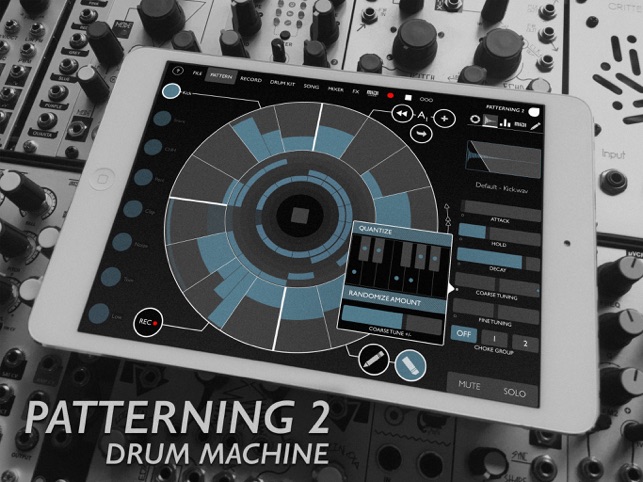 Link: App Store
Price: $19.99
Compatibility: iOS 10.3 or later
Size: 53.9 MB
Patterning: Drum Machine was one of the top choices for drumming apps on iOS for years, but it has since been upgraded to Patterning 2. It's a substantial improvement over the original too as it retains everything that users loved while adding plenty of requested features. Some of the highlights include drum kit switching, automation recording, new automation layers, workflow enhancements, and the ability to randomize almost everything. It's also one of the apps where beginners can jump right in and have fun while veterans are able to spend hours tweaking everything to their liking. The circular drum machine interface is a bit strange at first but great once you get used to it. The original Patterning Drum Machine is also still available for $4.99 if you have a smaller budget or older iOS device. However, the original lacks the ability of the new version to use an external MIDI controller to record patterns.
Elastic Drums
Link: App Store
Price: $9.99
Compatibility: Requires iOS 8.1 or later
Size: 162.7 MB
Elastic Drums offers users six synth channels, with 13 different percussion synth engines that range from kick, snare, high hat and clap to tom, wobble, and more. You can access 12 parameters for each synth engine and record audio that can be exported to Soundcloud or Audioshare. It even allows you to email audio recordings and presets for extra convenience. Elastic Drums was designed to be quick and easy to use while still providing plenty of flexibility. Updates to the app have added new features, such as multiple outputs for Inter-App Audio sessions. However, it is worth noting that certain features, such as sample import, and additional kits are available as in-app purchases.
iMPC Pro 2
Link: App Store
Price: $24.99
Compatibility: Requires iOS 9.0 or later
Size: 197.9 MB
iMPC Pro 2 is one of the more expensive options available on iOS, but it definitely offers value for money. It initially started out as a purely beat-making app, but the current version is even closer to a full-fledged DAW. In addition to the powerful sampler and beatmaker capabilities of the original iMPC Pro, iMPC Pro 2 adds vocal tracks, along with Audio Units integration. It also wraps everything up in a sleek new design. The new sound kits are also impressive as all of them were designed exclusively for iMPC Pro 2 and covers plenty of iconic genres. Every one of the kits features 16 Hi Quality samples and you also gain access to five additional Sound Packs for free. Another interesting feature of iMPC Pro 2 is its tutorial series that allows access to one course per day so you can gain a better understanding of beat-making.
EGDR909 - 909 Drum Machine
Link: App Store
Price: $3.99
Compatibility: Requires iOS 8.0 or later
Size: 97.8 MB
If it is vintage drum sounds from the 80's that you want, then look no further than EGDR909. It features an interface that mimics the real drum machines from the '80s while offering 48 programmable rhythm patterns. You can save the patterns that you have created and export drum patterns with iTunes, mail or Audio Copy. EGDR909 also has a 16 steps sequencer, with variable length, and offers Ableton Link support. You have control over the drumkit pieces parameters and a quick edit mode means you'll be making your own beats in no time. Although EGDR909 has been released quite a while back, it's hard to argue with the price tag.
Conclusion
As always let us know what your personal thoughts are on these types of apps. Are you a purist who would settle for nothing less than the authentic hardware or do you find the apps useful for getting inspired while you are away from your home studio. Let us know in the comments below or on the forum what you think.