Roland Alpha Juno-1
The Alpha Juno is a great sounding Juno type synth! Not quite as warm in sound as the previous Juno's but still a nice addition to any techno synth rig. Sliders and buttons were replaced by membrane buttons and the Alpha Dial which is used to edit and browse through the extensive selection of parameters: DCO digitally controlled oscillators, LFO, bend, ENV, pulse, waveforms, noise, PW/PWM, high pass filter, VCF (filter) with freq/env/res/LFO/kybd, VCA envelope, chorus, and more. The PG-300 synthesizer programmer gives you traditional slider control of each parameter for much easier and faster editing.
Other nice touches include better MIDI implementation than previous Roland synths, 64 presets and 64 user patches, a nice LCD display, an LFO capable of a very slow rate for some cool sweeping effects, and a great bass sound (especially nice for acid basslines) and noise effects! It also has chord memory which is perfect for rave & techno, portamento and keyboard transposing. The Alpha Juno 1 was soon replaced by the Alpha Juno 2 which added a few MIDI & keyboard enhancements. The MKS-50 is an upgraded rackmount version of the Alpha Juno. The Alpha Juno is used by Mundo Muzique, Vince Clarke, Matt Megaton Haines, Paul Hardcastle, Massive Attack, Bomb the Bass, The Prodigy, Youth, Joey Beltram and Human Resource.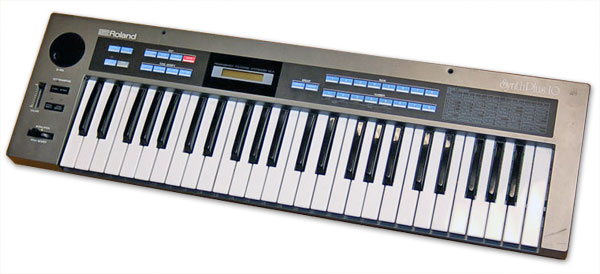 Roland HS-10
The HS-10 Synth Plus 10 is an Alpha Juno for the casual home user, with a slightly less appealing cosmetic appearance, and the HS-80 was a similar repackaging of the Alpha Juno 2.
Demos & Media
Roland Alpha Juno 2 | demo
Audio Clip 1
Here's a nice demo of various sounds that the Alpha Juno can produce.
Specifications
Oscillators -
1 DCO per voice: Pulse, Sawtooth, Sub, noise waveforms. 1 sub-oscillator.
Effects -
portamento, chord memory, transpose, chorus
Memory -
64 User, 64 preset, backup to cassette
Filter -
24db analog lowpass filter
Envelopes -
ADSR Envelopes
Keyboard -
49 note keyboard (no velocity or aftertouch)