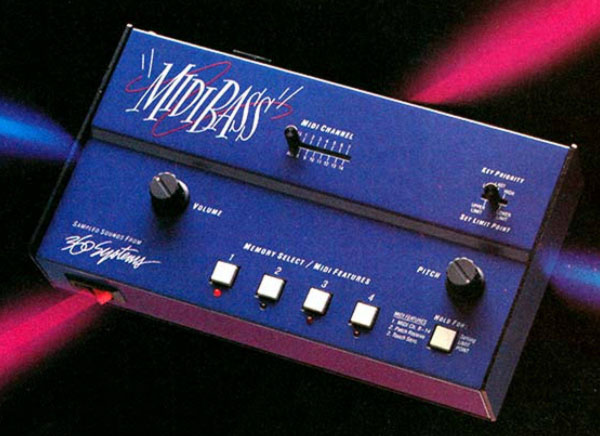 Although dedicated drum machines are not unusual, the same cannot be said about bass, at least not back when 360 System released the MIDI Bass. It was released in 1986 with the purpose of providing playback voices for Bass sounds. The MIDI Bass was designed primarily for "bass" instruments but has an audio bandwidth of 16 Hz to 16,000 Hz.
The sounds delivered by the MIDI Bass are stored on EPROMS, and it can take up to four different EPROMS at once. 360 Systems used the "Real Bass In A Box" slogan for their advertising of this player due to the fact that it has "real" and not synthesized bass sounds. The MIDI Bass produces the exact sound of acoustic and electric basses and boasted some of the most popular bass sounds of its time. The included library of sounds had everything from Slapped & Popped Funk Bass, Flat Picked Roundwound Jazz Bass, Stand-Up Acoustic Bass, Bowed Bass, and much more. 360 Systems also praised the realism of the MIDI Bass as it is touch-sensitive, follows pitch bends, and responds to MIDI patch changes. As a result, it was marketed as the natural complement to digital drum machines and MIDI sequencer/synthesizer systems.
The MIDI Bass has a very simple and straightforward layout with a limited number of buttons and knobs. The MIDI Bass logo dominates the top left corner of the player with a MIDI Channel selector switch next to it. In addition to choosing the MIDI channel number that it receives, the switch can also be set to the ALL position. Doing so causes it to respond to all MIDI information it receives regardless of the transmitted channel number.
The upper right corner of the MIDI Bass is home to the key priority switch. Setting this switch priority properly allows the bass note to follow a particular part of your performance. "Last Key" is the most commonly used setting, especially for performance work and when using a sequencer. It also has "Low Key" to extract the lowest note played within a chord while ignoring others and "High Key" for doing the same with the highest note within a chord. It is also possible to set the MIDI Bass's range limit on both the upper and lower ends.
The lower half of the MIDI Bass front panel features a Volume knob and Pitch Knob along with five buttons. The first four buttons are used to select the different EPROM sounds, with position one always being the default sound when the player is switched on. a LED below the button indicates that a memory chip has been located and its sound can be played. The MIDI Bass was produced in both 2- and 4-sound models.
The use of something like the MIDI Bass has diminished thanks to newer hardware with samplers, but it is still an interesting player for collectors.
Demos & Media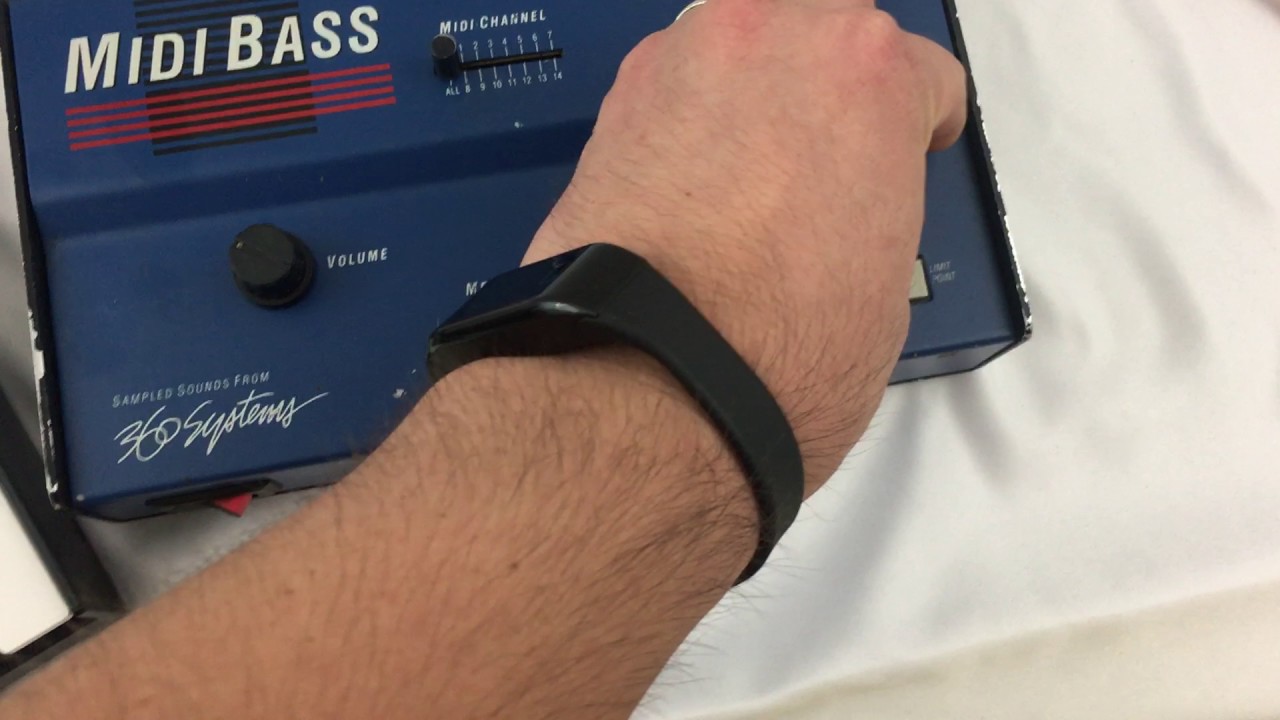 360 Systems Midi Bass Synthesizer Module Demo
Description
360 Systems MIDI BASS Operation Guide