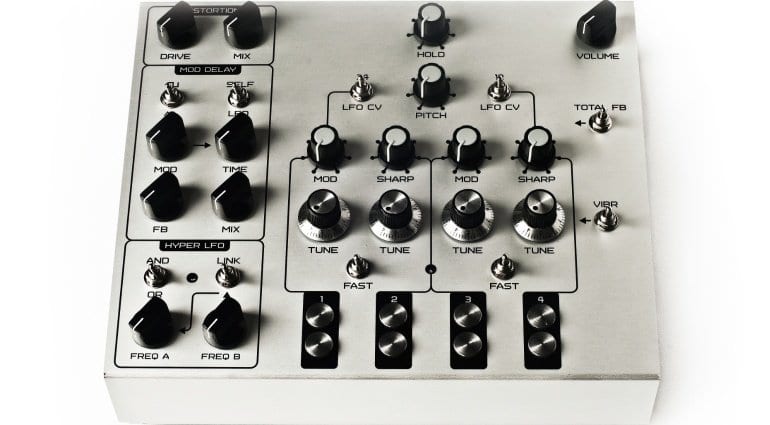 The Lyra-8 is a 2016 synthesizer designed by Vlad Kreimer and released by SOMA Laboratory. The company is no stranger to releasing unique and experimental hardware with the Lyra-8 being no exception. They describe it as a unique "organismic" analog synthesizer due to the fact that it uses some of the same principles that lie in the base of living organisms. In simpler terms, it is an eight-voice analog synth that also features built-in distortion and delay. What is unique about the voices of this synth is the fact that they are not VCOs or even DCOs. Instead, they are essentially eight generators that have more in common with the tone generators in old electric organs than something you would expect to find in a modern synthesizer.
The voices of the Lyra-8 functions in electric organ mode or FM synthesis mode. In the latter, each voice and its envelope acts as a separate FM operator. This means that there is a bit of a learning curve involved with figuring out the Lyra-8, but that's just one of the reasons why it is so exciting to use.
As one would expect from a synthesizer made in Russia, the Lyra-80 is a heavy, sturdy bit of gear. It features an all-metal case and the knobs, dials, and switches all have a quality look and feel to them. It might not be the prettiest synthesizer on the market, but it is very solid and features a practical layout.
The Lyra-80 features what SOMA calls a "Hyper LFO" which is two LFOs that cannot be accessed individually. Instead, the waveform from the HYPER LFO is synthesized by the summation or multiplication of the two frequencies. Modulation of the selected pairs of voices and the MOD DELAY is also possible with the LFO. Speaking of the MOD DELAY, it consists of two lines of delay with cross-feedback. There's also resonance between the two lines and the delay time of each line can be modulated individually from different sources, including external ones. Self-modulation is also possible making it possible for the output signal to modulate the delay sample rate, which in turn creates unique effects. Finally, the Lyra-80 features distortion, which is last in the chain so that the delay can also influence its sound.
Overall, the Lyra-8 is a very unique and experimental synth that will probably not appeal to everyone. However, for those who are not afraid to try out something different it offers a world of opportunities.
Demos & Media
Soma Laboratory LYRA-8 Synthesizer Sonic Exploration // Demo
Title
Lyra-8 English Manual
Description
Lyra-8 English Manual V2.1
Specifications
Waveforms -
Square, Triangle
Effects -
Delay, Distortion