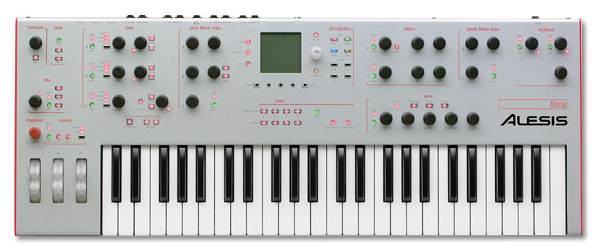 The Ion Analog Modeling Synthesizer is one fat-sounding digital synth! Using Alesis' proprietary DSP Analog Modeling technology with a 500 MIPS processor (500 million instructions per second), every knob and button is tweakable in real-time giving you the feel and sound of a true analog oldie.
The Ion has 8-voice polyphony with 3 oscillators per voice, and is 4-part multi-timbral. It offers continuously variable wave shapes (sine waves can morph into square waves), plus osc-sync and FM synthesis. 16 filter types are included, along with two LFOs, Sample & Hold, and an Arpeggiator-all of which sync to MIDI clock. A powerful and intuitive modulation matrix is built in, as well as a 40-band vocoder that does not use up any polyphony. External stereo audio can be processed through the filters, effects, or the vocoder.
Though not a true analog like the Andromeda A6, the Ion is capable of creating a wide variety of sounds from warm thick analog pads all the way to gritty monophonic leads and basses, as well as some funky and realistic sound effects. The Ion also simulates the best of the classic analogs such as Oberheims, Roland Jupiters, Arps, Moogs, etc, largely due to its great filters - there is hardly any aliasing even on the highest tones. The Ion also comes equipped with not one but two modulation wheels, both assignable to mods in the mod matrix (LFOs only assignable to mod wheel 1). The Ion has an amazing range of tonal possibilities.
The chic design, layout, and large backlit screen make editing on the Ion a dream! The Modulation Matrix is easy to understand and can route any modulation parameter to almost every component of the Ion!! All parameter knobs (excluding master volume & menu knob) are 360 degree pots allowing you to twist all the day long! A 160x160 graphic display provides instant visual feedback as a parameter is edited. Along with having 512 patch settings (all user-rewritable), the Ion has 64 multi-timbral setups. All parameters including arpeggiator settings are stored with each preset.
The ION keyboard contains 49 velocity-sensitive keys, 4 analog outputs and 2 stereo analog inputs (all balanced and using 24-bit conversion), 4 individual insert effects, a stereo master multi-FX processor, and an internal universal power supply. Expression and sustain pedal ports as well as headphone jacks are also there. For those who want a versatile synth and can't afford the A6, this is the synth for you - arguably one of the best 'virtual-analog' synths for awesome, analogue-like sounds.
The Ion inspired a "Mini-Me" version of itself in the Micron. It's the exact same synth as the Ion, except housed in a small 3-octave keyboard with only a few real-time controls. It has a few new features such as pattern and phrase sequencers and more filter types & effects - designed for the "on the go" musician in an overall more affordable package.
Demos & Media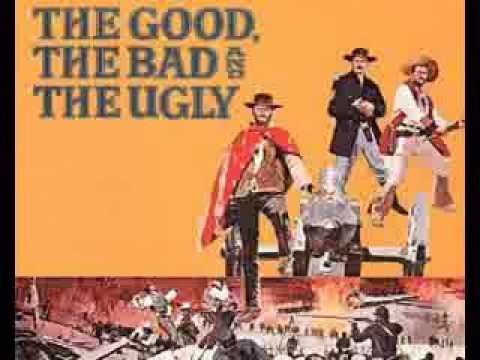 Awesome Spaghetti Western music, acoustic sounds created with the Ion!
Fletch Theme - Alesis Ion and Juno 106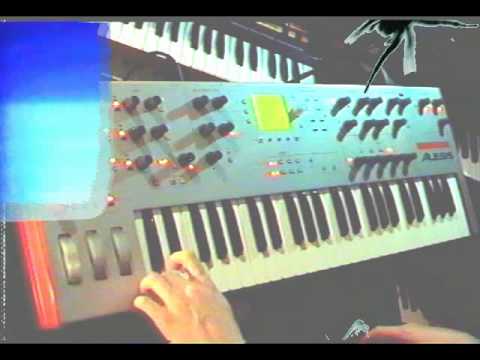 Alesis Ion - demo (1 of 2)
Specifications
Polyphony -
8 voices (4-part multitimbral)
Oscillators -
Alesis proprietary DSP Analog Modeling: 3 oscillators per voice (Sine, Square-Pulse, Saw-Triangle).
Filter -
2 multi-mode filters with 16 filter types.
Envelopes -
3 EGs: Pitch/Mod, Filter, and the Amp have their own ADSR envelopes.
LFO -
2 multi-wave LFOs and 1 S&H. Ring Modulator. FM. hard&soft OSC sync.
Effects -
4 Individual Mono/Stereo Insert Effects and Stereo Master Multi-FX Processor (80ms slapback delay, chorus, flanger, phaser, distortion, fuzz, compression, limiter) and built-in 40-band Vocoder.
Keyboard -
49 keys (velocity, release velocity sensitive).
Memory -
512 Patches, 64 Multi-timbral Setups.
Arpeg/Seq -
Arpeggiator: MIDI-sync-able multiple-pattern plus *random* feature.
Real-Time Controllers -
30 360-degree Parameter Knobs, 2 Assignable Modulation Wheels, Assignable Pitch Wheel.
Control -
MIDI (4-part multitimbral) IN/OUT/THRU