Casio released their XW-G1 synthesizer, also known as the Groove Synthesizer Keyboard in 2014. It is aimed at DJ and club performers, so Casio included features such as an interactive step sequencer as well as sample looper to make it more appealing to this demographic.

The XW-G1 features 64 note polyphony, which allows for complex and sophisticated performances using the 61 key keyboard. In addition, it has classic arpeggiator options and phrase sequencing, so you can record individual riffs to store in the internal memory. The XW-G1 makes use of three built-in sound engines, so users can select between solo synths for monophonic synth sounds, PCM sounds for traditional instrument sounds as well as sample sounds from external sources. This means that DJs in search of something to add live elements to their performances have more than enough options to choose from.

For ease of use and access, the XW-G1 is essentially split into three main elements. On the left side of the front panel, you'll find everything that deals with tone-editing. The four knobs and nine drawbar sliders that you'll find here are all fully assignable too. This section also holds 16 buttons that are used with the step sequencer to turn each step or part on or off. To the lower left, next to the keyboard, you'll find the Bender to bend notes and Modulation to add vibrato to notes.

The center of the front panel holds the power button and volume know as well as the buttons to select the mode of the synthesizer. The tempo buttons, part buttons, step buttons, and pattern buttons can also be found here. Above these are the LCD, buttons for sample looper recording and playback, buttons for the arpeggio and hold functions, buttons for phrase sequencer recording and playback, as well as the dial used for changing the numbers and values on the LCD.

Finally, on the right side of the front panel, you'll see the buttons to select the tone number, performance number and so on as well as the buttons used to move the cursor on the screen and change values. The right side also holds the keys for one-touch alteration of the pitch of a sound.

The back of the XW-G1 holds the SD Card slot, USB port, MIDI In, Out/Thru ports, as well as Mic Volume, Sustain/Assignable Jack, Inst In, Audio In, Line Out, and Phones sockets.

Overall, the Casio XW-G1 fulfills its niche in the market, but compared to the XW-P1, it is definitely aimed more at the DJ crowd despite the similar designs.
Demos & Media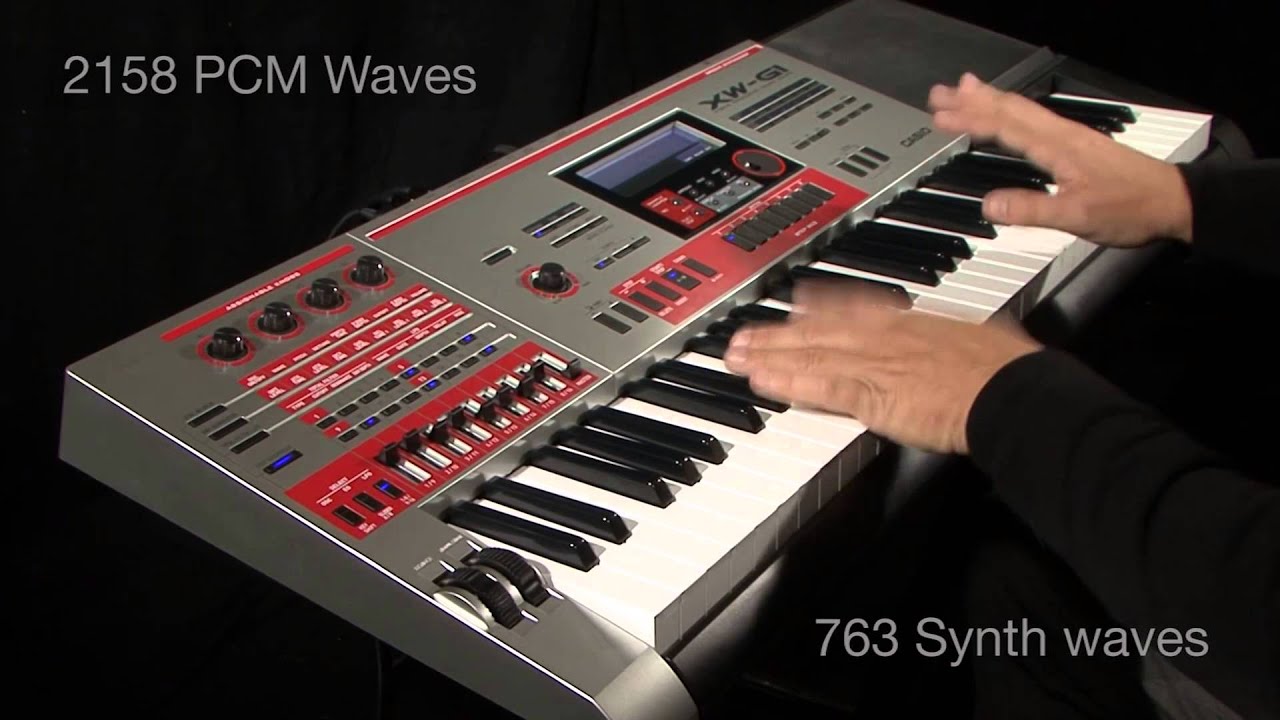 Specifications
Waveforms -
Pulse, ROM, Saw Up, Sine, Square,
VCF -
24dB Slope (4-pole), Low Pass, Resonance
VCA/Envelopes -
4 VCA with ADSR envelope
Controls -
MIDI In/Out/Thru
Sequencer -
16 Step Sequencer
Arpeggiator -
Phrase measure and note quantize
Patterns -
100 preset patterns, 100 user patterns
Effects -
10 reverbs, 5 chorus,
Keyboard -
61 non-weighted, plastic keys
Sampler -
16 bit, 42 kHz with 5s Stereo/42KHz sample time, 10s Mono 42KHz sample time, and 20s Mono 21KHz sample time