The Casiotone 401 is a Preset synthesizer and was the first from Casio to offer an auto-accompaniment section that continued to feature on later models. There are 14 Preset sounds including: Organ Flute, Oboe, Clarinet, Trumpet, Violin, Cello, Piano, Harpsichord, Celeste, Accordion, Electric Piano, Frog, and Funny. Those last two are basically synthesizer-type sounds, but Casio obviously had fun with the naming of those. In addition to the Preset sounds, there is a built-in Drum/Rhythm section with 16 Presets such as Rock, Bossanova, Waltz, March, Samba, and Mambo styles.
As you may have already guessed from the repeated use of the word, "Preset," none of these sounds or rhythms are programmable; but what do you expect from a calculator company breaking into the electronic instrument business? Like a lot of Japanese instrument manufacturers of the time, Casio was targeting the home keyboard/organ market. But as it turns out, the CT-401 has some very cool features and the sounds are actually quite nice as well, such that it made for a great keyboard for hobbyists that even seasoned musicians could find fun and interesting.
The CT-401 actually looks pretty professional, for its time. The case uses mostly plastic and metal but has a faux-wood look (any wood used is actually compressed particle board). The 49-keys are full sized. And the switches and rocker-switches have that organ-style that was so prevalent among compact keyboards at this time. A large built-in speaker is all you need to hear yourself playing with CT-401. However, there is a mono 1/4-inch output on the back, as well as an external audio input (to feed some external audio to its speaker). There are also a headphone jack and three foot-switch / sustain jacks. There was even a rugged road case available.
You can select one Preset sound at a time and although there are no effects or programming options, there are four switches to turn on Vibrato, Vibrato Delay, Sustain and Hold. You can choose one of the Preset Rhythm patterns for some groovy drum percussion to play along with - the drum sounds themselves were pretty standard for the time and are reminiscent of the Roland CR-machines. It also has a Fill-In button to trigger drum fills, and a tempo adjustment knob.
The CT-401's "Casio Auto Chord" section is the highlight of this instrument. It can be used like a normal chord-memory feature, where holding down one of the left-hand keys will play a chord that you have stored to its memory. The Auto Chord function can play in a staccato or continuous sustained mode. Or it can be switched to "Fingered" mode in which the chord has a rhythm to it as well as a sort of walking-bass line. The Auto Chord section can be synchronized to the Rhythm section as well. Although it's not a truly split keyboard, with these features you could play a lively rhythm part with just one finger on your left hand, and solo along with it on the right hand. Along with the Drum/Rhythm Presets, you could really be a one-man band!
Demos & Media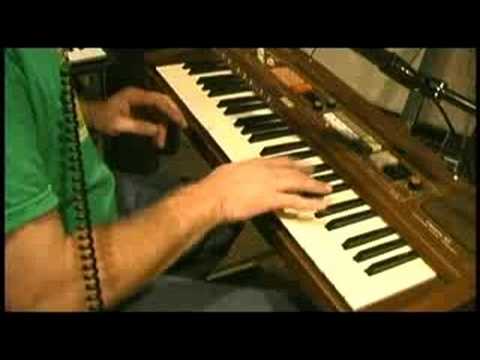 Casio CT 401 Electronic Musical Instrument Demo
Specifications
Polyphony -
8 notes (12 notes with auto-chord polyphony)
Waveforms -
multi-pulse square wave tones
Modulation -
Vibrato, Vibrato Delay
Arpeg/Seq -
Chord memory / Auto Accompaniment
Memory -
14 preset sounds: organ, flute, oboe, clarinet, trumpet, violin, cello, piano, harpsichord, celesta, accordion, electric piano, funny, frog
16 preset rhythms: rock, slow rock1, swing, bossanova, march1, waltz, rhumba, habanera | rock'n'roll, slow waltz, shuffle, samba, march2, rock waltz, beguine, mambo
Control -
x3 Foot Switch jacks
Resources
Original images via Email from ManMade and from Ebay.
Reviewed May 2011.