Creamware Noah Tactive Instrument Modeller

The Noah Tactive Instrument Modeler is a 19" rack module released by Creamware in 2003/2004. It was designed during a period when using computers or laptops in a live setting was still a cumbersome process. However, many still wanted access to the myriad of instruments and effects that were beginning to appear on computers. Creamware decided that the solution to this issue would be Noah.

The purpose of Noah was to give musicians the innovativeness of using software plug-in technology, but in a way that was more simple and reliable, not to mention mobile, than when using a computer. This means that it is basically an instrument modeler that was able to offer accurate modeling of analog instruments. Or at least as accurate as was possible back in the early 2000s. When it was first released it offered a broad spectrum of sounds along with a lot more flexibility than conventional synths. This is due to the fact that Creamware made it easy to add additional instruments to the Noah.

Creamware initially included six instruments with the Noah, ranging from the B-2003 drawbar organ to six-string which as the name implies was designed for acoustic and electric guitars and basses as well as other string instruments. The Vectron Player, on the other hand, was inspired by the Prophet VSTM, while Lightwave is a wavetable synth. Along with its instruments, Noah also features plenty of effects, which in conjunction with its audio inputs, could transform it into an effects processor for external signals.

Although it was designed in a way that it can be used without a computer Noah does have an onboard USB interface that can be used to connect it to a computer or laptop. Creamware also included editing software with Noah for people who want to make use of this feature. This also meant that new instruments or sounds could be added to Noah after downloading them from the internet.

In terms of design, Noah features a very distinctive appearance thanks to its metallic silver finish and screen printed navy blue color. The front panel has a 2 x 40 LCD as well as a Compact Flash card slot. On the left side, you'll find the Volume/Phones rotary control, as well as four continuous controllers in a rather striking yellow color. The plus/minus buttons as well as up/down/right/left buttons are in the middle of the front panel with the Enter, Control, and Exit buttons below them. A large control wheel is used to change the values of the selected parameter or presets. Finally, on the right side of the control panel, there is a range of other buttons that include the mode, compare, write, and FX bypass buttons. The rear panel is home to the main power switch, USB port, MIDI In/Out/Thru and gain switch as well as a word clock input, ADAT output, and jacks for external audio and analog outs.

Noah was certainly an innovative idea for its time, but whether it is still useful in this era of softsynths and compact computers is debatable.
Demos & Media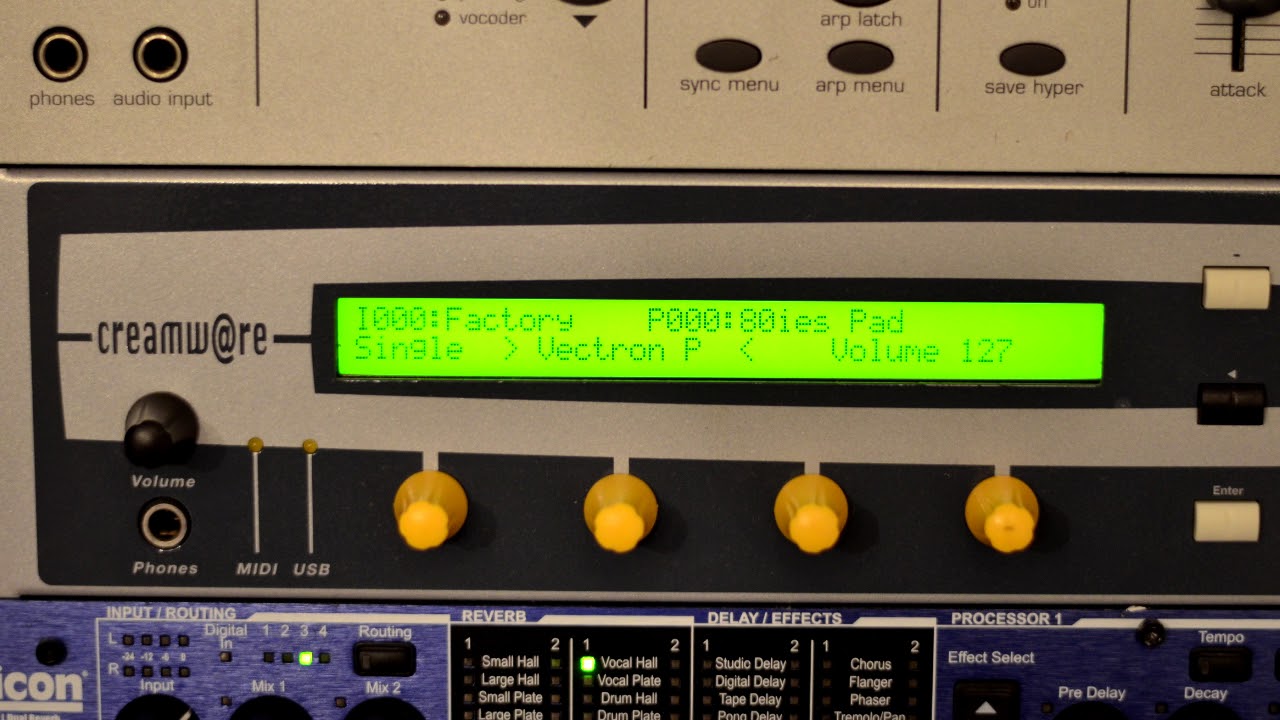 Creamware Noah - Vectron P - [ Pads/Strings Demo ]
Specifications
Waveforms -
Additive, Pulse, Pulse Variable, Saw Down, Sine, Square, Triangle, User Drawn, Wave Table, White Noise
Filter Slopes -
24 dB Slope (4-pole), Low Pass, Resonance
Control -
MIDI In/Out/Thru
Effects -
Chorus, Delay, Reverb, EQ, Flanger, Phaser, Pitch-Shift, Autopan, Autowah, Tremolo, Filter, Distortion, Dynamics
Memory -
256 Patches (RAM)