Dave Smith Instruments OB-6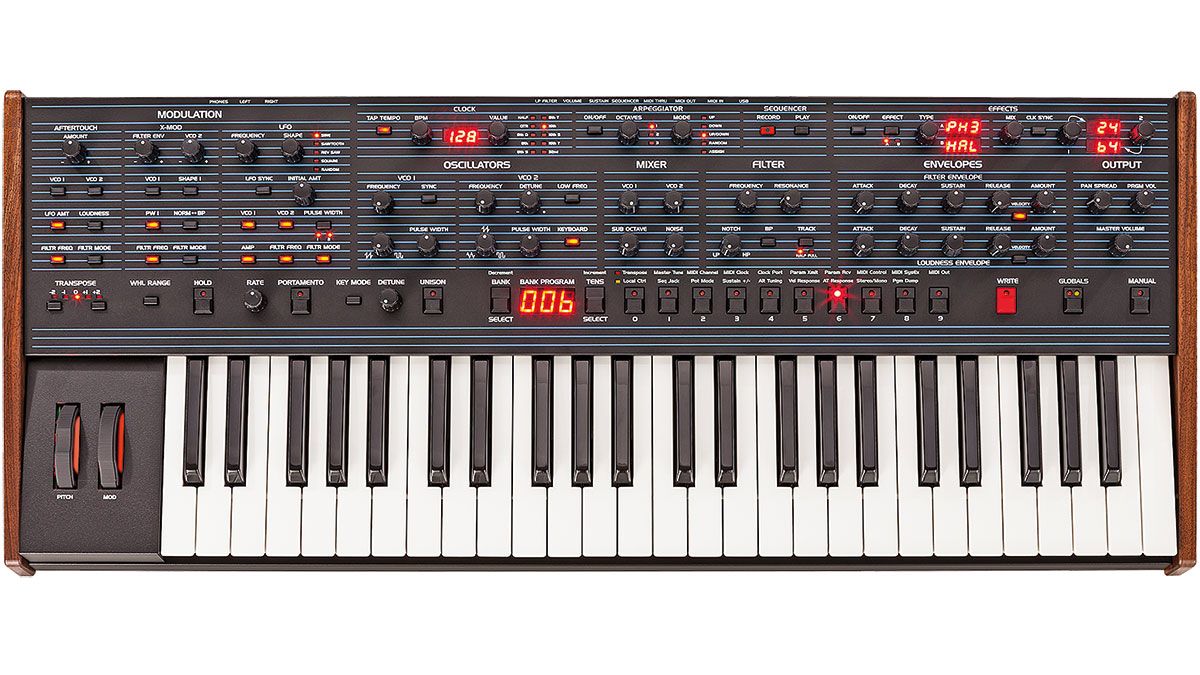 When it comes to legendary collaborations it's hard to beat the OB-6. Dave Smith and Tom Oberheim are two of the most influential designers in history when it comes to poly synths, so when the two of them teamed up to create the OB-6 it was a dream come true for fans. The two of them have had a friendly rivalry for years, so the collaboration caused quite a stir amongst those used to having to pick between the Sequential Circuits or Oberheim Electronics camps.
The sound engine for the OB-6 draws inspiration from Tom's original SEM, which is what made his 4-voice and 8-voice synths so popular. The OB-6 has two discrete VCOs along with a sub-oscillator per voice. The 2-pole, state-variable, resonant filter is definitely inspired by classic Oberheim designs while the all-analog signal path is completed by VCAs.
Dave Smith came up with the idea for the OB-6 when he realized that the Prophet 6 hardware and software architecture already had everything needed for a new version of the original OB polysynth. This is the reason why both instruments feature the same motherboard, with the only difference being the voice cards. Incidentally, the cards in the OB-6 are not compatible with the Prophet 6 and vice versa. The basic idea behind the OB-6 is to provide everything that fans expect from a classic, SEM-based Oberheim synth, but with added convenience and stability.
The great thing about the OB-6 is that its front panel allows you to access all of the sound-shaping controls. This is quite impressive for such a relatively compact instrument. The OB-6 synth has a total of 1000 programs and while half of them are permanent, you can overwrite the other half if you wish. Anyone familiar with the Prophet's arpeggiator will feel right at home with the OB-6 as its exactly the same. The same goes for the 64-step sequencer, which is also the same. Since it's based on the chassis of the Prophet 6, the OB-6 has a four-octave semi-weighted keyboard, which is one of the few divisive aspects of this synth. Thankfully you can connect the OB-6 to a larger MIDI keyboard if you can't learn to cope with just four-octaves.
The highlight of the OB-6 is obviously the sounds that it is capable of producing. It's not a cheap synth, but it's definitely more affordable than buying original vintage SEMS.
Demos & Media
Dave Smith Instruments OB-6 | Gear4music demo
Title
OB-6 Operation Manual
Description
OB-6 Operation Manual
Specifications
Filter Slopes -
12dB Slope (2-pole), Band Pass, High Pass, Low Pass, Notch
LFO -
1 LFO with Sample & Hold, Saw Up, Saw Down, Sine, Square
VCA/Envelopes -
2 VCAs with ADSR
Controls -
IN, OUT, THRU, USB
Sequencer -
64-step Polyphonic step sequencer
Arpeggiator -
Up, Down, up/down, random, and assign modes
Keyboard -
49 Keys with aftertouch
Memory -
500 Patches RAM / 500 patches ROM