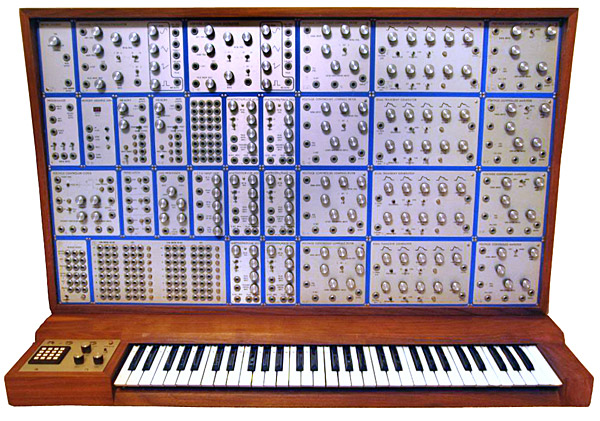 E-mu Systems is known today for producing some of the best digital samplers and sample-playback ROM sound modules on the market. But they got their start from humble beginnings in the very early 1970's. Based out of California, USA, E-mu produced over 250 of these modular synthesizers for famous artists and universities. These modular synths were custom-built instruments and, although they competed against classics like the ARP 2500, 2600 and Moog modular synthesizers, they were initially intended for high-end users such as schools and at the request of some famous musicians. The system requires patching via patch cords to route your signal through its various modules to create musical sounds. It also featured a firm-wire patch in which any front panel patch could be made in the rear of the instrument. Inserting a front panel patch would then bypass the firm-wired patch. So you can store a favorite voicing or frequently used connections using the firm-wire patches. The firm-wire patches are not permanent and can be easily changed by the user.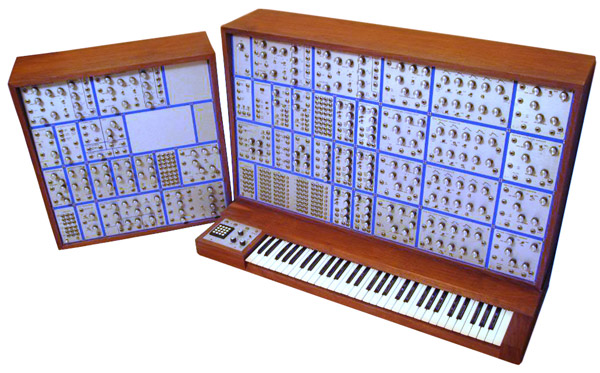 Modular systems meant that buyers could custom design their systems by choosing specific modules that they wanted installed into their system. E-mu modules available included: VCA, Quad Inverter, Low Pass Filter, High Pass Filter, Ring Modulator, Dual Trans. Gen., Large VCO, Small VCO, Noise gen., Sample-and-Hold, Envelope Follower, Dual Reverb, and more. Each system was hand built to order and there are less than 100 or so of these babies still around today! E-mu's oscillators were virtually drift-free, unlike other major synthesizers of the time, because of E-mu's unique circuit designs. Their filters were also cleaner than the Moog and ARP, however that wasn't a good thing since people like the grittier Moog sound. E-mu's systems made excellent alternatives to other big name classic modulars. Unlike most others which almost always had black panels, the E-mu modulars featured bright and shiny 1/8" aluminum panels with nice blue lines separating each module. Vince Clarke, Herbie Hancock, Pat Gleeson, Hans Zimmer, Meat Beat Manifesto, Frank Zappa and Roger Linn have used it.
The color photograph above was originally taken by the late Ed Rudnick:
"It was April of 1973 when the first E-mu modular synthesizer was sold to future Director of Manufacturing Ed Rudnick, who had started hanging around E-mu looking for a job so he could learn how to design and build synthesizers. E-mu spent most of the 1970's designing ultrastable VCOs, lab-quality filters, digital/analog sequencers, dedicated music ICs, and polyphonic voltage control keyboards." - E-mu's Corporate History Page
Demos & Media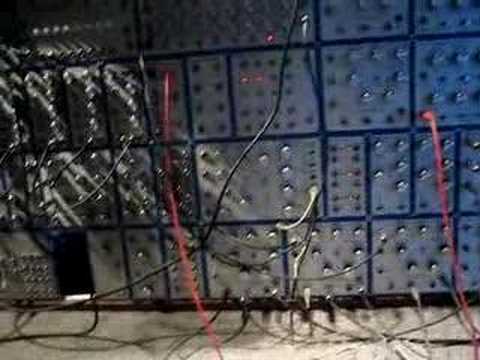 Specifications
Polyphony -
1 or 2 voices
Oscillators -
VCO modules feature (sin, tri, saw, sqr; coarse, fine tune, sync, pulse width)
LFO -
VCC (Voltage controlled clock: saw, pulse, speed); Sample-and-Hold Modules available too
Filter -
24dB low-pass (cutoff, Q, key track, res); 24dB Hi-pass module; Universal Hi/Band/Low-Pass and Notch module; Resonant Formant Filter; Ring-Modulator modules available too.
VCA -
VCA Modules feature DADSR envelope controls
Keyboard -
61 note CV / Gate controller keyboard with 4 control sliders
Control -
2 CV / GATE (1V/octave)
Date Produced -
1973 - 1981