The Proteus 2000 is a reincarnation of the economic Proteus rack module series of the early nineties. While its synthesis architecture is virtually the same as the original Proteus, the Proteus 2000 is packed with major new features, sounds and expandability for the most demanding professionals!
It features 128-voice polyphony and 32 MIDI channels allowing it to handle even your most complex MIDI sequences. It ships with a whopping 32 MB of sample ROM memory which is expandable up to 128 MB using four internal ROM slots! The sounds it ships with are called the "Composer" soundset, offering you 1,536 presets (1,024 ROM, 512 user). The sounds cover the whole spectrum of synthesizer type sounds, from real instruments to bizarre sounds and effects.
As seen on previous Proteus modules, there are six individual polyphonic outputs. But unlike its predecessors there are now multi-mode resonant filters (plus 50 Z-Plane filters passed down from the Morpheus and UltraProteus). Plus four real-time controls allow you to access any of up to 12 parameters, giving you instant control over your sounds right from the front-face of the module. The Proteus 2000 is a light, compact module designed for use with sequencers. It can be your main sound module, or one of many. Either way there's an immense amount of great sounds at your fingertips for any music application! A 64-voice keyboard version is available too, the PK-6 Proteus Keys.
Current E-mu sound modules ship with one 32 MB sound-set each, but are expandable up to 128 MB via three additional slots for 32 MB expansion cards. These cards include (ranging from $249 to $395):
9061: Siedlaczek Orchestra 32 MB ROM.
9063: Beat Garden 32 MB ROM - standard in Orbit 3.
9064: Ensoniq Project 32MB ROM - Containing sounds from EXP-1 Real World and EXP-3 Urban Dance expansion boards
9065: Vintage Collection 32MB ROM - Standard in Vintage Pro
9066: Protean Drums 32 MB ROM - Standard in PX-7
9081: Holy Grail Piano 16MB ROM - From Q-Up Arts, utilizes a new sample processing and preset programming technology called VMS, for Virtual Modeling Synthesis, developed exclusively for E-mu products
9082: Protozoa 16 MB ROM - Containing sounds from the Proteus 1, 2, 3 line.
9083: Definitive B-3 32 MB ROM - standard in B-3.
9084: Techno Synth Construction Yard 32 MB ROM - standard in Orbit 3.
9085: Orchestral Session Vol. 1 32 MB ROM - standard in Virtuoso 2000.
9086: Orchestral Session Vol. 2 32 MB ROM - standard in Virtuoso 2000.
9087: World Expedition 32 MB ROM - standard in Planet Earth.
9088: Sounds of the ZR featuring the Perfect Piano 32 MB ROM - standard in Ensoniq Halo.
9089: X-Lead 32 MB ROM - standard in Xtreme Lead-1, XL-7 and XK-6.
9140: Proteus Pop Collection - Standard in Proteus 2500, contains same 32 MEG sample set as the original E-Mu Composer ROM but has an all new set of 640 preset patches
With these expansion options, you could buy a PK-6, then add the sounds of the Orbit 3, XK-6, and the MP-7... or any other combinations you may want. If you like desktop synths, you can start with an MP-7 or XL-7, and then add these same expansion card options to add Proteus, Orchestral, or the new Halo sounds to them. E-mu/Ensoniq's interchangeable sound cards and a variety of keyboard/sound-module options means that there's a model out there for everybody now.
Demos & Media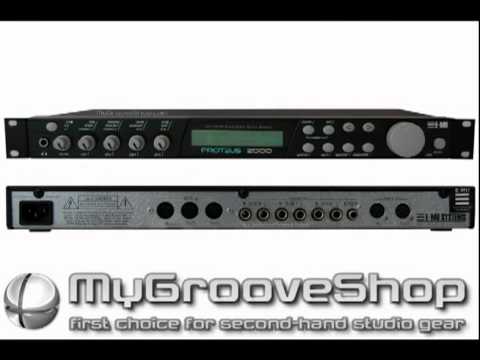 E-MU EMU Proteus 2000 Demo Song
Specifications
Oscillators -
32 MB "Composer" Sound Set ROM (expandable to 128 MB), four 16-bit DACs
Filter -
128 (multiple types with resonance, including Z-Plane filters)
Effects -
dual stereo-effects processor with 29 reverbs types, 15 delay types, 8 chorus types, 7 flange types, 5 distortion types
Memory -
1536 Presets (1024 ROM, 512 RAM)
Control -
MIDI (32 multitimbral parts)