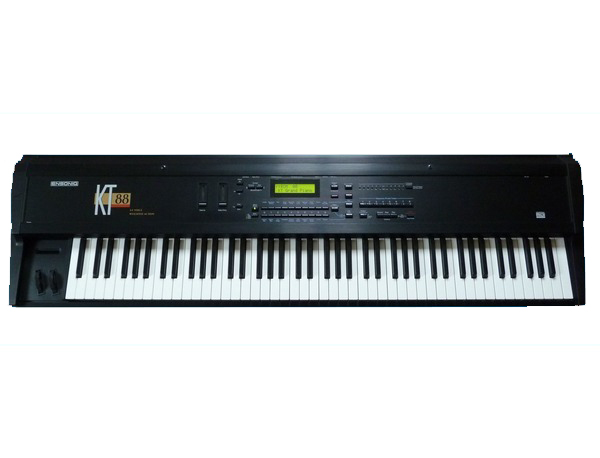 If you are looking for a MIDI synthesizer that can also provide you with the feel as well as the sound of a real piano, then the Ensoniq KT-88 fits the bill. This workstation was released in 1994 and features 64-voices polyphony, which gives you plenty of room to work with. Each of these voices features a maximum of 3PC samples, with one voice per sample. These voices are drawn out of a 211 PCM wavetable that is multi-sampled at 16 bits. With two sampled pianos in ROM along with a number of organs, vintage synths and electric pianos, it's easy to see why the KT-88 was so popular.
The KT-88 did not skimp on performance features as it has 30 tuning scales as well as two mono modes with glide and legato. In addition, it features 13 algorithm effects that include reverb, phaser, chorus and more. Along with its special general MIDI mode, the KT-88 also makes use of a 16 track internal sequencer. It has a digital resonant filter stage that is comprised of two multi-mode digital filters.
While the KT-88 works great as a stand-alone device, it is also a good, albeit slightly bulky, controller for your other MIDI gear. Ensoniq has also included some easy to use sequencing features with the KT-88, although at this stage it might be difficult to find the PCMCIA RAM cards needed to increase the sequencer memory. Of course, with 64-voice polyphony it means that you can fully orchestrate your sequences and play live over sequencer or general MIDI music playback.
The keyboard of the KT-88 is a highlight as the weighted-action allows for the same feel as well as dynamic response offered by a real acoustic piano. It also easier to match your playing style with the 14 velocity curves and four pressure settings of the KT-88. The pitch and mod wheels are within easy reach while playing and the KT-88 also has support for an optional control voltage pedal or dual foot switch.
The rear panel of the KT-88 features all the MIDI connections, Thru, Out, and In, as well as jacks for the optional foot switch or CV-pedal. It's also where you will find the right/mono output and left/mono output jacks. The KT-88 can be set a number of different modes, including Select Sound mode, Edit Track mode, Edit Sound mode, Replace Track Sound mode, System MIDI mode, General MIDI mode, Seleect Sequence/Preset mode, and Edit Sequence/Preset mode. It has a number of different buttons to make it easy to change parameters no matter what mode you are using and a 32-character LCD display to display information.
The KT-88 is still a great synth if you want that typical Ensoniq sound and it features Transwave technology, which is another bonus. However, it is rather bulky and keep in mind that maintenance might be an issue.
Demos & Media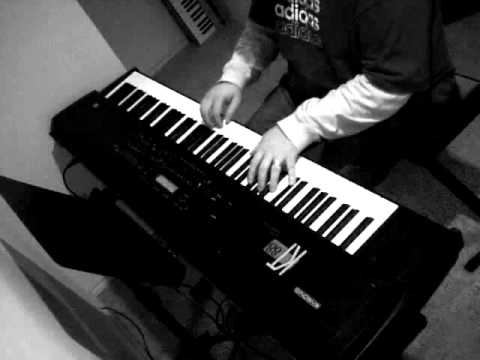 Ensoniq KT-88 Studio Keys
Specifications
Waveforms -
ROM, Wave Table
VCF -
24dB Slope, High Pass, Low Pass, Resonance
LFO -
4 LFO with Noise, Saw Up Saw Down, Sine, Square, Triangle, Sample & Hold, Freerun, Key Sync, Delay, Phase
Control -
MIDI In/Out/Thru
Sequencer -
16 Track Sequencer
Effects -
13 Algorithm effects
Keyboard -
88 keys with velocity and aftertouch
Memory -
100 RAM + 80 ROM Sound Memory