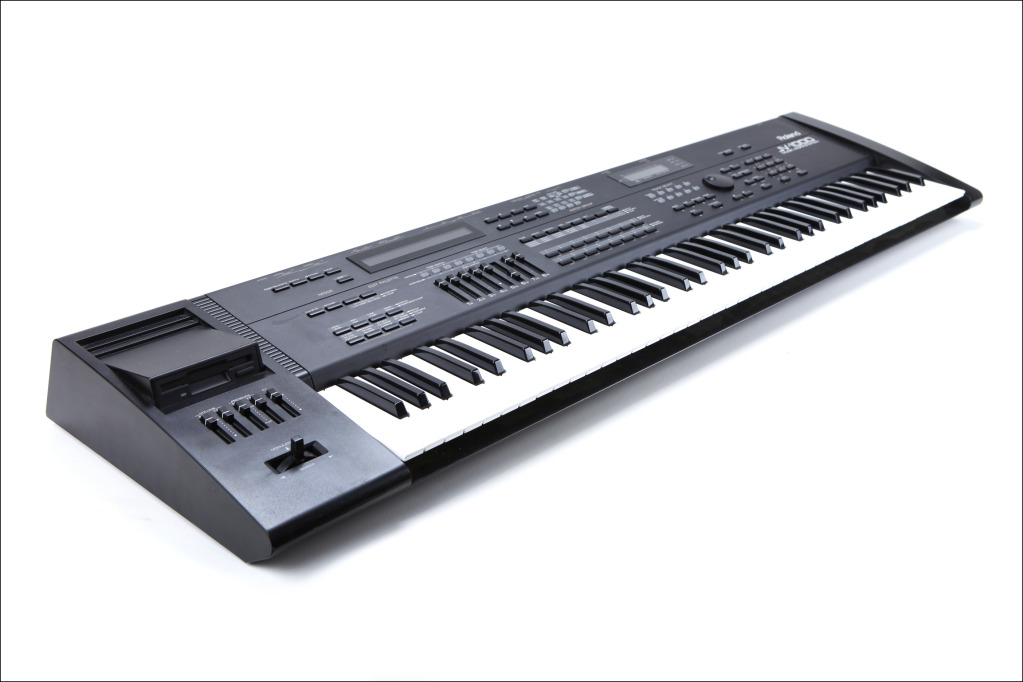 Produced in 1993, the JV-1000 is a combination of the Roland MC-50mkII Sequencer and a sound module from the JV-80, with some waveforms added.
The keyboard has 76 semi-weighted keys and comes with a complex front panel which has 8 control sliders. On the one side you will find five sliders that control level and presence for both the internal sound source and the v-exp board. The other slider is assignable as a MIDI parameter and the bender, which can also control the modulation parameter.

The keyboard can be used in three modes:
- Patch: where you can play a single tone over the entire keyboard
- Performance: puts together a max of 8 patches
- Rhythm: plays one of the 5 rhythm sections of the keyboard
- V-EXP: when you have connected a VE-GS1 board to increase waveforms and polyphony, you can use this mode to play the V-Exp tones.

The JV-1000 offers great possibilities of expansion by adding a V-EXP board, PCM and data cards. This synth also presents great MIDI capability, with two different outputs for the keyboard and the sequencer; all MIDI cc parameters are controllable via the assignable slider, the after touch parameter or the two pedals.
Demos & Media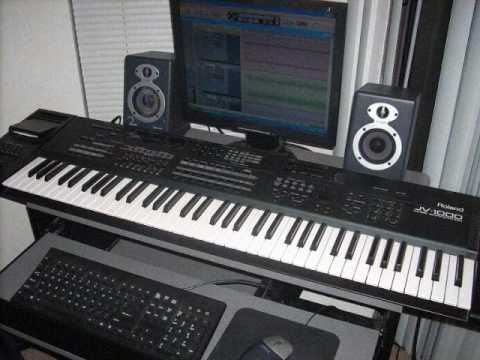 Troy's JV1000 Synth Sequence
Specifications
Polyphony -
28 – expandable to 56 via V-EXP board
Oscillators -
FXM Syntesis
Multitimbral -
4 Oscillators per Patch, 8 Patch per Performance
Effects -
3 chorus and 8 reverbs
Keyboard -
76 semi-weighted keys, with aftertouch
Memory -
320 patches,40 performances, 7 rhythm kits
Control -
8 slider edit palette, 1 assignable MIDI slider, bender, modulation and 2 pedals
Sequencer -
8 tracks + Rhythm + Tempo with Floppy Reader
Waveforms -
152, expandable with V-EXP board
Modulation -
2 digital envelopes
Resources
Review written by: MicMarenk