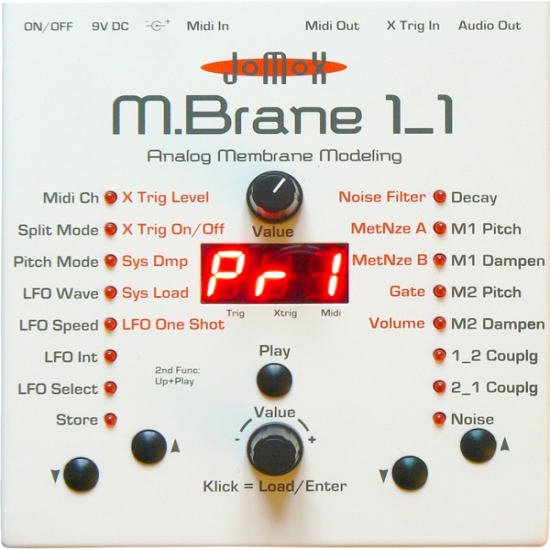 The M.Brane 11 is a dedicated percussion module from JoMox that was released in 2010. This single voice analog synth is optimized to produce membrane-like snare or percussion drum sounds and is fully controllable by MIDI. JoMox was able to replicate the actions of real acoustic percussion by making use of two T-bridge oscillators. Not only do these have pitch and dampen controls, but they can also be coupled with each other for the creation of an analog membrane.
In terms of connections, the M.Brane 11 has a 9V DC plug, MIDI In for connecting another MIDI device and Midi Out for connecting it to a MIDI capable device. It also has a Trigger In audio input, which can be used to trigger the M.Brane 11 via an audio signal or drum pad. Finally, the M.Brane 11 has a mono Audio Out to connect it to an audio mixer or amplifier.
The M.Brane 11 comes with 110 pre-programmed factory sounds. These can be accessed during "preset" mode using the endless value knob. The Play button can be then be used to trigger and listen to the sounds. This synth also features 8 parameters that can be adjusted to achieve the sound you want. The active parameter can easily be seen thanks to a handy LED column. Users can adjust the decay time of the M.Brane 11, the pitch of the first and second membrane oscillator, the decay of sound using M1 Dampen, and M2 Dampen, as well as the coupling between M1 and M2 or M2 and M1. Also, you can control the intensity of the noise signal that creates the snare drum noise or metallic attacks. Further tweaks can be made with the 6 dB/octave low pass filter, MetNZe A, which changes the noise of the noise filter to a metallic noise, Gate, which controls the gate time for the trigger of the analog T-OSC circuitry and Volume, which controls the main volume of the M.Brane 11.
The Master parameters can be selected with the up/down buttons of the M.Brane 11 and the endless value knob is then used to change values. Using these you can select the MIDI channel on which the M.Brane 11 sends and receives MIDI, the LFO wave, speed of the LFO modulation, the intensity of the LFO, and more. These buttons are also used to store a sound preset.
Overall, M.Brane 11 was an affordable and unique little synth.
Demos & Media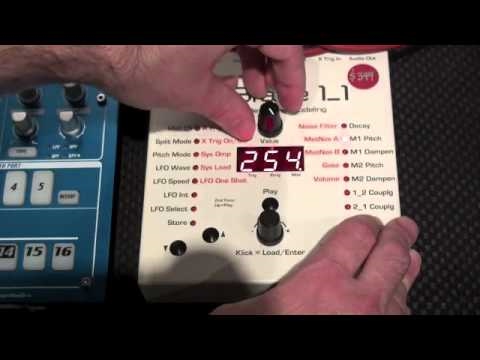 JoMoX M.Brane 11 Produktvideo
Description
JoMox M.Brane 11 User Manual
Specifications
LFO -
2 LFO With Saw Up, Saw Down, Square, Triangle
Memory -
110 Patches RAM, 110 Patches ROM