Korg ElecTribe SX (ESX-1)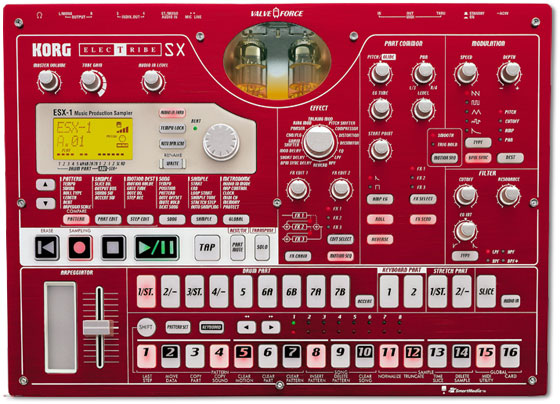 The ELECTRIBE SX is a major step up in power and quality from the original ElecTribe series of dance music sequencer/synthesizers from Korg. The ESX-1 comes in a sturdy metal chassis with larger back-lit LCD display, expanded memory, voices & multitimbrality, more real-time controllers and vacuum tubes! Effects, Motion Sequencing, and Pattern length have also been expanded. And a new ribbon controller and slider have been added, providing a remarkable realtime interface for accessing the powerful arpeggiator.
Using sample based sound creation, the ESX-1 can generate a total of 16 parts that can be used for building patterns. A generous 285 seconds of memory (at 44.1kHz) can be used to create up to 384 of your own samples. Nine parts are set up to play as "one-shot" samples, or Drum Parts. Two additional Keyboard Parts allow samples to be played melodically at various pitches right from the step keys or a MIDI input device. Sampled loops can be assigned to the Stretch Parts. As Stretch Parts, their tempos can be freely adjusted without affecting their pitch. This allows two sample loops recorded at different tempos to be used in the same piece of music. Phrase samples can be "Sliced," or divided up at the rhythmic peaks of the sample. Once sliced, individual samples can be muted to generate new grooves. Pitch, filter and effect settings can be applied to the individual sliced samples (or Motion Sequenced) to transform the original phrase into something unique. Two Accent parts introduce added dynamics. Reverse and Roll commands can be used to quickly generate complex sounding patterns. Additional Sample edit commands include Normalize, Truncate and Start Point. The ESX-1 ships with 196 preloaded samples covering a wide variety of styles. All samples (.WAV/AIFF format) can be imported and exported via SmartMedia cards.
The two Vacuum tubes (Valve Force Circuitry) create an analog tube circuit to add warmth and presence to your sounds. The tube gain knob adjusts the level of the output signal passing through the vacuum tubes, creating dynamic sounds with the distinctive tonal quality that only tubes deliver. Three stereo effect processors are available for simultaneous use. Each part can be independently routed to any of the three effects processors, and you can even use the Chain function to link multiple effects in series. Each processor offers 16 effect types including reverb, delay, flanger and chorus, tempo-based delay, talking modulator, grain shifter, decimator and more. The edits you make to each of the effects processors can be saved with each pattern. A brand-new filter lets you chose Low Pass, High Pass, Band Pass or Band Pass Plus. Audio inputs allow you to process external signals through the on-board filter and effects, and an extra pair of assignable outputs has been added as well.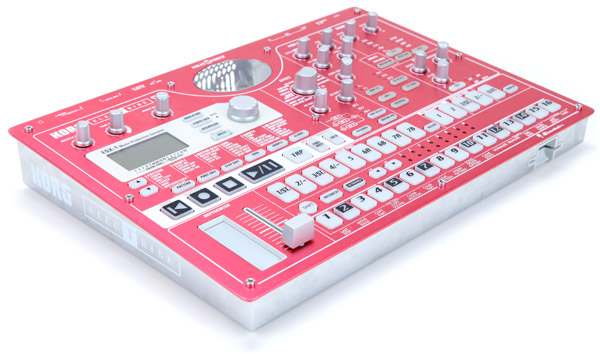 As for the sequencing capabilities, up to 256 patterns can be created and stored to the internal memory. The ESX-1 ships with 128 assorted patterns covering house, hip-hop, R&B, electronica, drum n bass, techno, trance and more. You can combine patterns, add mute data and knob movements to create up to 64 songs, the ESX-1 ships with 3 demo songs. Favorite patterns can be assigned to Pattern Sets for instant access. Data can be quickly saved and loaded via SmartMedia cards. Realtime recording lets you record phrases as you perform, and step recording allows you to input the timing, pitch and duration one note at a time. Motion Sequencing records your realtime knob tweaks and plays them back as part of the pattern. Two types of motion sequence are provided; one for effects and one for parts, and you can also edit the value of individual steps. Up to 24 motion sequences can be used in a single pattern, allowing you to control virtually every sound parameter. And, using Auto BPM detection, the ESX-1 can follow the tempo of an external audio source. You can also use Tap Tempo to input the beat, set the tempo internally, or sync up to an external MIDI clock.
The ESX-1 is a fantastic dance production machine best suited for live performances. The samples it ships with are excellent, but the ability to load your own samples and make its sounds your own open up far more unique and almost limitless possibilities for your music. Easy and intuitive to use, flexible, fun and inspiring. Click on the YouTube link above to see and hear it in action!
Demos & Media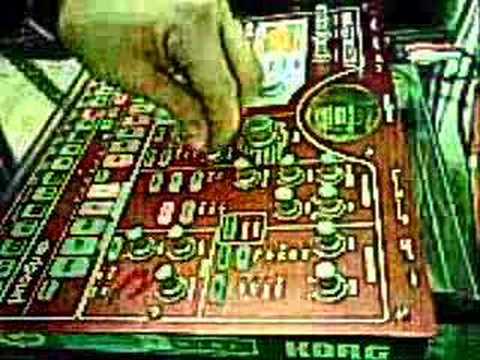 KORG ELECTRIBE SX TECHNO JAM LIVE
Specifications
Multitimbral -
16 total; 2 synth parts, 9 drum parts, 1 drum accent part, 2 stretch part, 1 slice part, 1 audio in part
Samples -
384 (100 mono, 128 stereo), Maximum 285 (mono) seconds; Sample Frequency: 44.1 kHz
Memory -
Internal + External Memory: SmartMedia (4-128 MB, 3V)
Patterns -
256 patterns (128 preload), Maximum 128 steps by part, Maximum 24 motion sequence by pattern
Songs -
64 songs (3 preload), Maximum 256 patterns, Maximum 20,000 event recording
Filter -
4 types (synth part): Low Pass, High Pass, Band Pass or Band Pass Plus
Effects -
16 types x 3 (Chain)
Control -
MIDI (In, Out, Thru)