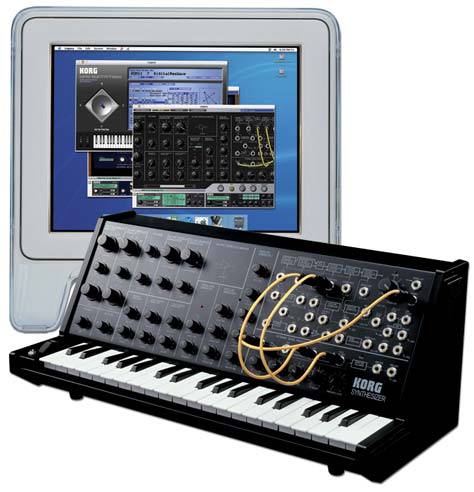 The 'Legacy Collection' bundle from Korg is an awesome set of virtual instruments! Korg has recreated some of their most beloved and classic synthesizers here as software plug-ins - the MS-20 mono-synth of the 1970's, the super fat Polysix analog synthesizer and the ground breaking Wavestation digital synthesizer. Using Korg's own CMT (Component /modeling Technology) these virtual instruments sound as good, if not better than the originals. The Legacy collection is simply a must-have for any synthesist. The Limted Edition 84% scale MS-20 replica controller is worth the price alone! This USB/MIDI controller lets you feel like you're editing and patching on the real thing - and it's compatible with any virtual instrument! The fourth plug-in in the bundle, Legacy Cell allows you to combine the MS-20 & Polysix plug-ins for even more dynamic and exciting sounds! Stand-alone operation via ASIO or Core Audio as well as RTAS and VST/Audio Units make it at home in almost any computer workstation.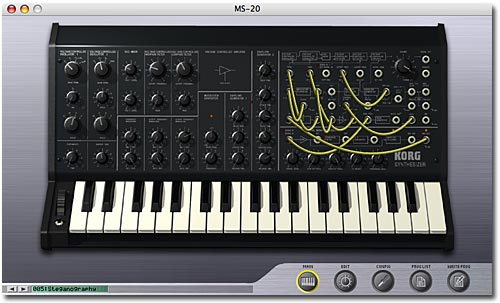 Starting with the MS-20 plug-in, it fully replicates the front panel design of the original, complete with patch cables. Korg's CMT tries to replicate every part of the original, every transistor, resistor, etc. to virtually recreate the MS-20's circuitry and thus - its sound! The MS-20 sounds great, it's fat, buzzy, resonant, and (unlike the original) very clean and stable. Excellent for today's standards but still with a truly analog character and warmth. The original MS-20 was monophonic but polyphony is now available up to 32 voices with unison, de-tune and spread modes. Every knob and patch can be tweaked via MIDI or the MS-20 controller. It's fun to watch any physical patch connections you make on the MS-20 controller appear on-screen in the plug-in - in real-time! And every patch you create (unlike the original) can be saved and stored to disk. It ships with a slim 32 preset patches to get you going, but creating your own patches is what it's all about!
The Polysix was Korg's answer to Roland's Juno-series, and it was one of their nicest and lushest analog synthesizers of the 1980's. Now that it's virtual, it's still as lush and warm as the original. The original was only 6-voice polyphonic, but the plug-in has stepped things up to 32 voices, also with unison, de-tune and spread modes. The LFO and Arpeggiator can be synchronized to MIDI clock. True to the original, the plug-in ships with built-in chorus/ensemble effects and 32 presets, but you can create tons more of your own. Additional close-up Edit Views of the Polysix let you get into tweaking the sounds, but you can also use the MS-20 controller or any other MIDI source too.
The previous plug-ins are pretty nostalgic and fun. But the Wavestation really stands out here (just as the original did when it was introduced back in 1990). First, it offers a major update to user-friendliness in its programming interface that makes creating your own sounds much easier. But you may never need to get into editing your own as it ships with 550 presets covering a whole range of inconceivable sounds! What's more, performances, patches, and wave sequence data created on original Wavestations can be loaded into this plug-in via System Exclusive MIDI messages! The Vector Joystick of the original is here (and MIDI controllable) to mix together in 2-dimensions the four oscillators (A, B, C, & D). Various edit page views allow you to delve deep into tweaking wave sequences, performances (groups of patches), patches, zones, and more. It's almost too complex to get into here, but the Wavestation plug-in alone is an amazing resource of superb sounds from natural instruments to bizarre drones and textures that will set your music apart from others. Simply stated, these plug-ins are everything their original counterparts were...and more! The Wavestation plug-in, for example, uses the same digital coding as the original, but the original had a 32kHz sample rate and the new plug-in supports 44.1 through 96kHz - simply awesome!
As if all this isn't enough, Korg also included Legacy Cell, a Performance based plug-in that lets you freely combine two instances of the MS-20 and/or Polysix together along with a dual-effects processor for even more dynamic and unique sonic creations! It offers 127 presets with plenty of room for your own combinations. The MDE-X effects processor offers everything you could want from reverbs and delays to distortion and even the MS-20's filter section is available as an effect. A virtual Korg microKontrol is built-in to the Legacy Cell too for real-time assigning and manipulation of any editable parameters, and it works instantly with a real microKontrol too! The bottom line with this whole package is great plug-ins, great sound, great results, great price!
In 2007, Korg released a new bundle called the 'Legacy Collection Analogue Edition' which added the classic Mono/Poly and M1 synthesizers to the line-up.
The Mono/Poly was a monophonic behemoth with polyphonic capabilities that many musicians acclaimed as the best analog synthesizer Korg ever made. And they've improved its functionality in software by adding eight powerful virtual patches for near infinite modulation routing, two integrated multi-effects, 16-voice unison and up to 128 voices. The Mono/Poly offers four full banks of rich, fat sounds, covering everything from deep basses to soaring leads; fine arpeggiator patterns to riveting soundscapes. And you'll never get lost looking for sounds, using the Mono/Poly's simple category select feature.
In 1988, the M1 created the workstation category and went on to become one of the top selling keyboards of all time, easily surpassing an amazing 100,000 units. The M1 software synthesizer reconstructs the M1 into an eight-part multi-timbral tone generator featuring up to 256 notes of polyphony. Topping the list of software improvements are variable filter resonance, two Insert effects per part, and two Master effects. The M1 also contains all PCM, Program, and Combination data found in the original M1 and M1EX PCM expansion sets, all 19 optional ROM cards, plus the full sound set of the acclaimed T Series. Plus there are plenty of new sounds – including some slammin' drums. That's over 3,000 sounds total!
Demos & Media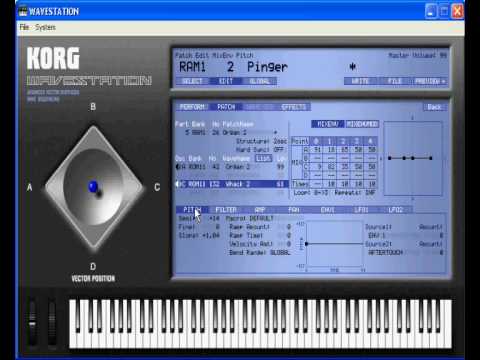 Specifications
Polyphony -
MS-20, Polysix: 32 voices.
Wavestation, M1: 256 voices.
Mono/Poly: 128 voices.
Oscillators -
MS-20: 2 VCOs'
Polysix: 1 VCO per voice
Wavestation: 484 PCM waveforms
M1: 950 PCM Waveforms
Filter -
MS-20: Independent High Pass and Low Pass filters.
Polysix: Lowpass filter.
Wavestation: Lowpass filters.
Effects -
MS-20: Portamento.
Polysix: Chorus, Ensemble, Phase.
MDE-X Effects: Compressors, Limiters, EQ, exciters, decimator, flanger, phaser, chorus, delay, reverbs, overdrive, wah-wah.
Mono/Poly: Two multi-effect processors.
M1: 34 Types of on-board effects.
Keyboard -
Virtual (MS-20 controller has 37 velocity sensitive mini-keys)
Memory -
MS-20: 64 programs.
Polysix: 32 programs.
Wavestation: More than 1,500 preset sounds (15 ROM banks and 3 RAM banks).
Mono/Poly: 256 Programs.
M1: 3,100 presets sounds; 400 user locations.
Arpeg/Seq -
Polysix, Mono/Poly: Up, Down, Up/Down (Tempo/MIDI sync)
Macintosh -
Apple G4, 1.25GHz or better. 256MB RAM. Mac OS X 10.4 or later. Supports Core Audio, VST, RTAS, Audio units.
Windows/PC -
Intel Pentium 4, 1.5GHz or better. 256MB RAM. Windows XP SP3 or later. Supports ASIO, DirectSound, MME, RTAS and VST.
Date Produced -
2004 - Present
Resources
Images from Vintage Synth Explorer and Korg Online.
Review updated January 2011.