The Korg M3 was released in 2007 and heralded by Korg as their third generation workstation. The company already proved themselves to be very capable of producing quality workstations at an affordable price, with the M1 and successors, such as the Trinity. Many thought that the OASYS, which was released just two years before the M3, would take this honor, but as groundbreaking as it was, it really couldn't be called affordable.

The M3 certainly had a lot to live up to as the M1 was simply one of the best workstations of its time. There is a good reason why it sold more units than any other workstation, but releasing the M3 at a time when people began to turn more towards DAWs shows how much faith they had in their product. However, with the M3 Korg was able to provide a synthesizer, sequencer, effects processor as well as sampler that also offered the USB connectivity needed to incorporate it in a computer based studio setup.

Four versions of the Korg M3 were made, which allowed you to choose the one that matched the amount of keys you need. Both the 61 and 73-key versions feature semi weighted keyboards, while the 88-key version is weighted. In addition, there is an M3M module of the Korg M3 as well. For the M3 Korg also managed to streamline the HD-1 sound system of their OASYS in the form of the Enhanced Definition Synthesis chip used in the M3. With more than 1,000 multi-samples and more than 1,500 drum samples, the M3 gives you plenty to work with. You can obviously also create your own sounds by making use of the dual-oscillators that are capable of feeding two filters each.

All of the M3's feature quality keyboards and you also get eight velocity-sensitive pads to work with. These pads are assignable, giving you lots of versatility while playing. It's not just the HD-1 sound system of the OASYS that got incorporated into the M3, but also Korg's Karma technology. Furthermore, the M3 sports a generous effects section and it comes with enough on-board RAM for more than five minutes of stereo samples. This limit can also easily be bypassed by making use of USB storage devices.

Thanks to the easy to use touch screen and editing tools of the Korg M3 it is a great hardware alternative to anyone who want to get away from working with a DAW. It features excellent sounds, allows you to save effect settings as presets to save time and was one of the best all-in-one solutions for its time.
Demos & Media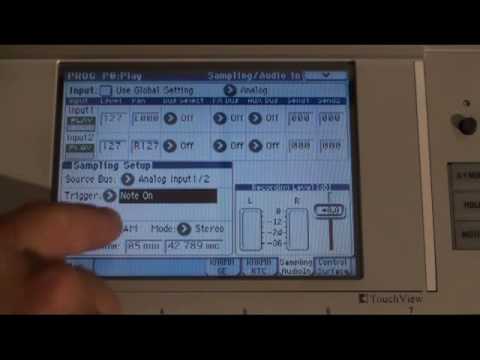 Korg M3 Sampling Basics- In The Studio with Korg
Specifications
Polyphony -
120 voice - single mode & 60 voice - double mode
Multitimbral -
Yes, up to sixteen timbres.
Oscillators -
OSC1 (Single), OSC1+2 (Double)
Waveforms -
Triangle, Sine, Square, Guitar, Saw
VCF -
Two multi-mode filters per voice, four types of filter routing
LFO -
Two LFOs per Oscillator; LFO1 and LFO2, single Common LFO, shared by both
Control -
MIDI In/Out/Thru
Sequencer -
16-track sequencer
Arpeggiator -
KARMA function with standard arpeggio patterns
Patterns -
Drum Track - 617 Preset Patterns, 1,000 user patterns. Sequencer: 617 Presets, 100 User Patterns per song
Effects -
3-band EQ (up to 16), 5 insert effects, 2 master effects, 1 total effect,
Keyboard -
61-key Velocity Aftertouch, 73-key Velocity Aftertouch, 88-key hammer action, velocity aftertouch
Memory -
64 MB expandable up to 320 Mb
Sampler -
16bit/48kHz Stereo/Mono Sampling. 11 minutes 39 seconds of mono sampling or 5 minutes 49 seconds of stereo sampling with standard 64 Mbytes RAM1. Maximum of 80 minutes for one sample file, stereo or mono, when using USB storage-device.