An MS2000 in sheep's clothing. The microKorg is a very cool and retro-looking version of the MS2000 analog modeling synthesizer. This compact keyboard is designed for portability and can run on batteries! But inside the microKorg is the exact same synthesis engine and sounds found in the killer MS2000 and MS2000R synths!
The keyboard's 37 keys are small and almost toy-ish. But they have a firm response and feel natural enough to play. The case is a sturdy plastic and there are wood end-cheeks. There is a plethora of written info on the face of the instrument and reminds one of the old Poly-800 and DW-8000 synths. The five knobs above all this writing initially control the filter cutoff, resonance, envelope attack and release times, and the internal tempo. But they can be assigned to control every other parameter available in real-time. Their assignable functions are what is written below them (hard to read in the dark). The top-mounted vocoder input microphone (included) hasn't been seen on a Korg since the decades-old VC-10!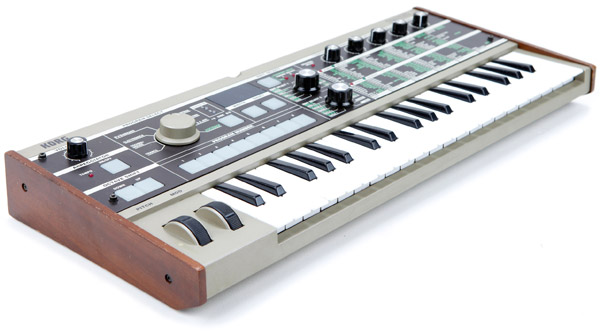 The microKorg has 128 Programs organized into 8 categories: Trance, Techno/House, Electronica, DnB Breaks, HipHop/Vintage, Retro, SndFX/Hits, and Vocoder. The sounds are great and inspiring. There is only 4-voice polyphony and only one Program can be played at a time. But as a hands-on, real-time dance machine, this really is all you need...one hand on the keys and the other on the knobs!
The microKorg has two oscillators with 71 waveforms (7 simple analog waves + 64 DWGS waveforms from the DW-8000), a multi-mode resonant 12 or 24 dB/oct filter, 8-band vocoder, two ADSR envelopes, 6-pattern arpeggiator, oscillator sync, ring modulation, two MIDI-syncable LFOs, programmable multi-effects, and more! All knobs and buttons send/receive MIDI controller data. External audio can be vocoded and/or processed through the filter, effects and EQ via the included microphone or standard 1/4" stereo inputs. A built-in USB Interface would have been nice for true lap-top portability, but is currently absent. But in its affordable price range, the microKorg is an awesome synth for beginners, DJs, and even the pros looking for a compact performance synth with retro style, flexible programing and excellent sounds!
It's been used by Air, Atomizer, Bare Naked Ladies, Beck, Prodigy, Yesterdays, The Killers, KMFDM, Royksopp, Owl City, LCD Soundsystem, Jean-Michel Jarre, Nick Rhodes (of Duran Duran) and The Pet Shop Boys.

Demos & Media
Audio Clip 1
An Electronica style filtered lead demo.
Audio Clip 2
A retro analog synth demo.
Audio Clip 3
A Trance style synth lead with filtering.
Specifications
Oscillators -
Dual Oscillator Analog Modeling Synthesis System: 7 waveforms: sine, tri, saw, pulse, noise, cross-wave, vox, plus 64 DWGS waves, external audio
LFO -
2 LFOs with sample and hold
Filter -
Multi Mode Filter (-24dB/oct LPF, -12dB/oct LPF/BPF/HPF)
Effects -
3 types modulation (chorus/flanger, phaser, ensemble), 3 types delay (stereo, cross, L/R), 2-band EQ, 8-channel vocoder, 6 pattern arpeggiator (UP, DOWN, ALT1/2, Random, Trigger)
Keyboard -
37 Keys (mini-keyboard, velocity sensitive)
Control -
MIDI IN/OUT/THROUGH