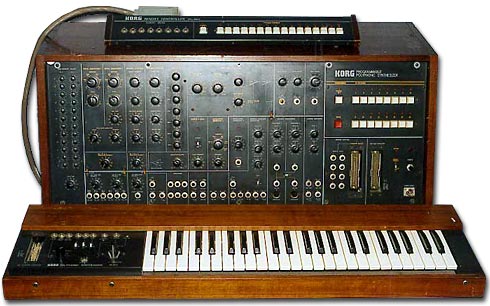 The PS-3200 is a semi-modular synth from Korg, last in the PS series. Basically two PS-3100 synths in one enclosure and featuring 16 addressable and recallable memory locations for patch settings. In its time this synth was, to say the least, amazing. It has two oscillators for each key and 48 notes of full polyphony! Each VCO module has its own VCF and LFO too!
Although this synth was a polyphonic beast it was still pretty limited in terms of patching and signal routing relative to other modular systems. There was also a limited envelope generator design. But for its time this synth was one of the fattest things around and the included 16 patches of memory were a God-send! The memory system takes a snapshot of all your settings, and they can be recalled at anytime. The memory even lasts after the synth is turned off. Its sound is classic analog Korg. It has been used by Hans Zimmer, J.M. Jarre and Emmerson Lake & Palmer.
Pictured on top of the PS-3200 is the PS-3060 Programmer Remote Controller, for remote control of the PS-3200. It allowed users to remotely select any of the 16 memory patches. The PS-3010 48-key polyphonic remote keyboard and PS-3060 both used Korg's propietary model PS-3001 60P (60 pin) connection cable.
Demos & Media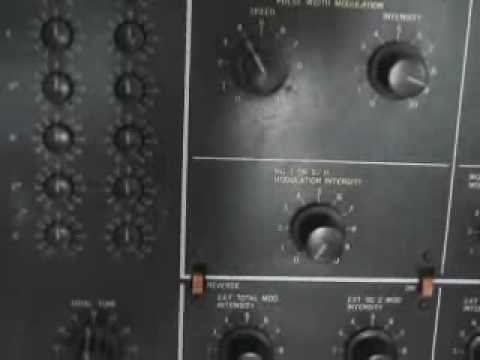 Gaetano Di Giorgio plays Korg PS 3200
Specifications
Oscillators -
2 VCOs per voice
Misc. -
Built In 7-Band EQ
Filter -
Typical filter w/ resonance and envelope
VCA -
ADSR envelope generator
Keyboard -
PS-3010 48-key remote polyphonic keyboard