The Kort T-series was released shortly after their M1 series and offered quite a few noticeable improvements. Due to all of the enhancements, many users referred to the T3 as an "M1 on steroids." Korg launched the T3 in 1989 and although this 61-note workstation was not cheap, it quickly gained a lot of fans.

The Korg M1 was the first music workstation, which opened up a lot of possibilities and made it a tough act to follow, but this all changed when the T3 arrived on the scene. The T3 not only features a 3.5" DS/HD floppy drive for storage, but has double the amount of memory available on the M1. This gave users 200 programs and a hundred combinations to work with. It has the same 8-track sequencer as the M1, with support for 50,000 events, and you still got those high-quality effects that made the M1 so famous. Korg also doubled the amount of sample ROM memory of the T3 in comparison to the M1. In addition, the T3 features much better sounding acoustic instruments along with a host of other samples that were not found in the sample ROM of a stock M1. This is also why there where M1EX synths released, which featured the extra T3 samples.

The T3 features two digital oscillators, 1 VDA variable digital amplifier and 3 DSR envelope generators. It has 16 voices of polyphony and 8 part timbrality. It features a large LCD display that is backlit and has a resolution of 64x240 characters. The T3 has a keyboard with 61, non-weighted keys. The keyboard controls offer aftertouch, and velocity, but the T3 lacks an arpeggiator. In comparison, the T1 has 88 weighted keys, while the T2 has 76 keys. For MIDI, the T3 featured MIDI IN, OUT A, OUT B, and THRU.

Although Korg did a great job when marketing the M1, this could not be said for the T3, which coupled with the high price meant that it did not fare as well as it could have. This caused Korg to rectify the situation shortly afterwards with the release of the much more affordable Korg 01/W workstation synthesizer. With better marketing and a more competitive price the T3 could have made a bigger impact, instead of just another stepping stone for subsequent workstations. Jean Michel Jarre made use of the Korg T3 on his tenth studio album, "Waiting for Cousteau."
Demos & Media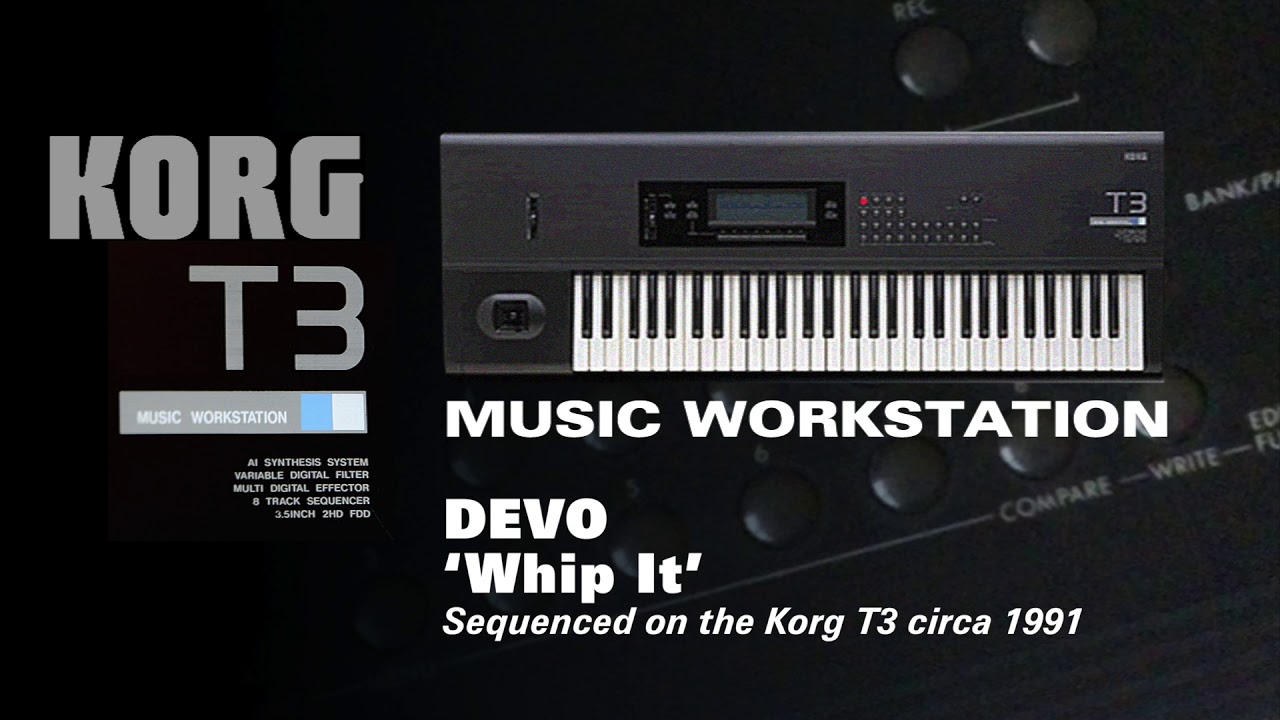 Korg T3 Sequence - DEVO 'Whip It'
Description
T3/Reference Guide Download
Specifications
Oscillators -
2 digital oscillators with 4 MB of PCM samples in ROM
Filters -
1 non-resonant VDF low pass filter
VCA/Envelopes -
3 ADSR envelope generators
Control -
MIDI IN/Out/Thru
Sequencer -
50,000 event sequencer
Effects -
2 multi-effects processors, 33 effects
Keyboard -
61 keys with aftertouch, breath, velocity,