Triton
The Triton is Korg's latest flagship workstation synthesizer for professional music production! It looks and sounds beautiful, and hiding under the hood is an extremely souped-up synth-engine ready to tear up your tracks! Literally! It is a digital 62-voice synthesizer with built-in sequencing and arpeggiators and an ultra-large touch-screen control panel at the center of its face-plate.
The Triton is in-fact an evolved Trinity...Korg's previous flagship workstation. Whereas the Trinity was capable of 32-note polyphony, the Triton now boasts 62! Waveform ROM has been expanded as well, now with 32MB of multi-sample sounds that sound crystal clear and quite warm. With these samples and the Triton's in-depth programmability you can create pretty much any sounds, from an orchestral flute with life-like vibrato to all-out chord-stabs with filtering for dance-floor house music, complete with beats and cool arpeggio patterns and phrases.
Also on-board is a stereo-sampler. With 16MB RAM and space for up to 1,000 samples there's nothing you can't create with this synth. There are plenty of on-board digital effects as well for sprucing up your samples or the Triton's own internal multi-samples. Controllers include a Joystick, 2 assignable switches, 4 assignable knobs, 3 arpeggiator control knobs and inputs for a damper pedal, PC Interface Host and 2 audio-ins for the sampler section. There are also stereo outputs plus 4 individual outputs. A dedicated 16-track sequencer with a 100,000 note capacity, Real-Time Pattern Play functions and an Arpeggiator with several patterns round this beast out as a truly all-in-one music workstation. The Triton is rivalled by the likes of Yamaha's EX5, Kurzweil K2500 and the Roland XP-80 comes close. But Triton makes for a professional, versatile, elegant and superb synthesizer. It has been used by The Orb, Orbital, Depeche Mode, BT, Rick Wakeman, Yes, Keith Emerson, Vangelis, Saga, Aqua, Royksopp and Apollo 440.

Triton Rack
The Triton Rack, released in 2000, has all of its keyboard counterparts' sonic power, sampling functionality, intuitive operation, and expandability. In addition, this two space, rack-mountable unit dramatically expands the possible number of sounds by allowing for a total of eight EXB-PCM expansion sound boards to be installed. It also provides digital output and features numerous other functions that make it the ideal choice for the musician looking for a no-compromise sound!

Triton LE
Also in 2000, the Triton LE was released to give virtually all the same great sounds and power of the original Triton at a much lower price. Its major changes include the lack of the touch-screen interface (replaced by a smaller LCD only screen), no more ribbon controller, and only one (instead of five) insert effects. There is only one expansion slot for the Korg EXB-SMPL sampling board. Internally, the sounds and synthesis engine remain virtually the same, but a lot of the "workstation" features have been side-lined to make the LE a cheaper and more standard type of keyboard for less demanding entry-level or budget-challenged musicians. The LE was offered in 61, 76 and a weighted 88 note keyboard models. Note that the 88-key model added a 16-MB Piano ROM to the standard 32 MB of waveform memory.
Triton Studio
2002 saw the introduction of the Triton Studio. This model made the 16 MB paino ROM waveforms standard on all of its 61, 76 and 88 key models. Polyphony was essentially doubled to 120 voices (2 banks of 60 voices). The Triton Studio also added built-in S/PDIF input and output and could be fitted with an optional hard drive, CD-R/W drive or a "Digital Interface" board providing ADAT output and Word Clock.

Triton Extreme
The Triton Extreme was released in 2005. The most extreme model, it quintupled waveform memory up to 160 MB with 120 voices of polyphony. Most of the Triton series expansion boards have been pre-installed as standard in the Extreme, while many sounds from the older Tritons have been improved as well. Sample memory is also upgraded (up to 96 MB of sample RAM). And in addition to its new "paint-job" a major feature was the addition of a genuine 12AU7 "Russian Bullet" vacuum tube which could be used as either an insert or master effect, or simply by itself to allow for warmer, guitar amp-like sounds and for more extreme analog overdriven/distorted sounds. USB connectevity has also been added for direct computer interfacing to allow exchange of samples, sound programs, sequences, and other Triton-compatible files through an installable Compact Flash card, as well as for connection of a USB Hard Drive or CD-R. Unlike the Classic, Studio, and Rack Tritons, the Extreme can not be fitted with sample expansion boards due to the expansion ROMs having been pre-installed. However, it is compatible with the MOSS board.
Additional Expansion Options for the Triton Series:
EXB-MOSS - the ultimate 6-voice DSP tone generator
EXB-SCSI - for external SCSI storage devices
EXB-mLan - digital audio and midi transfer for rack model
EXB-DI - optical ADAT output with 48kHz word clock in for rack model

Demos & Media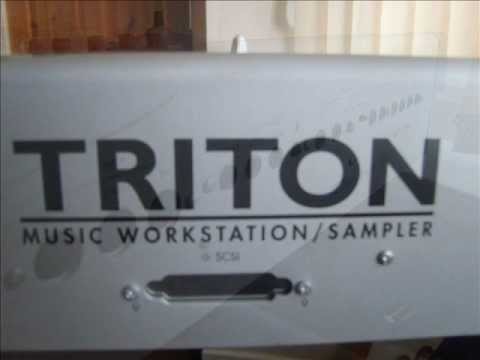 Korg Triton Classic Factory Demos
Audio Clip 1
Demo track of the Triton LE, from the Future Music CD, issue 118.
Specifications
Polyphony -

Triton & LE - 62 voices (68 with MOSS)
Triton Rack - 60 voices (66 with MOSS)
Triton Studio & Extreme - 120 voices
Tone Generator -
HI synthesis system; 48 kHz sampling frequency, 32 Mbyte PCM ROM, 425 multi-samples + 413 drum samples
Sound Source -
62 oscillators in single mode/ 31 voices, 62 oscillators in double mode. (60 and 30 osc. in Rack module)
Sampler -
16 bit, 48 kHz stereo/mono sampling, 16 MB memory standard, expandable to 64 MB. Maximum of 1,000 multi-samples / 4,000 samples. Up to 128 samples can be assigned to a multi-sample. AIFF, WAVE, AKAI (S1000/S3000) and Trinity sample data can be loaded. (Triton cannot load Trinity format data from TFD-1S, TFD-2S, TFD-3S and TFD-4S , since they use data-compressed data.)
Memory -
640 programs, 512 combinations, 64 drum programs, GM Level 2 - 256 programs + 9 drum set; External Floppy Disk Drive: 3.5 inch 2DD/2HD
Keyboard -
All models offered: 88 weighted keys, 76 key or 61 key models. All have velocity and aftertouch sensitivity
Effects -
102 (insert effects/ 89 for master effects); Stereo digital multi-effect system - 2 master effects (mono in, stereo out), 5 insert effects (stereo in / out), and 1 master EQ (stereo in / out) simultaneously
Sequencer -
16 timbres, 16 tracks, 1/192 resolutions, 100 preset / 100 user pattern per a song, 200 songs, 20 cues, 200,000 notes, reads and writes Standard MIDI File (Format 0 and 1)
Arpeggiator -
RPPR (Realtime Pattern Play / Recording): 1 set with 72 patterns available per song; Arpeggiator: 5 preset patterns and 232 patterns (approx. 180 preset)
Control -
MIDI (16-part), PC-Host input
Date Produced -
1999
Rack, LE - 2000
Triton Studio - 2002
Triton Extreme - 2005