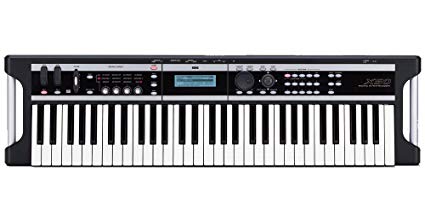 The Korg X50 is a variant of the Korg Triton music workstation synthesizer. It was released in 2007, along with the MicroX, but targeted the lower end of the market. This meant a lower price, but also a synthesizer that had fewer features and a less durable design. It is an extremely light synthesizer, considering you get a five octave keyboard and a synth with two wheels as well as four knobs, but the downside is durability. Another common criticism is that while the keyboard is velocity sensitive, the keyboard action does not have much resistance or aftertouch.

What the X50 does offer 512 sound programs that are produced by the Hyper Integrated synthesis system that can also be found in the Triton series. It has 48kHz sampling frequency and 64 MB PCM ROM. In total, the X50 offers 470 multisamples, along with 518 drum samples. It has 62 voice polyphony with 62 oscillators in single mode and 31 voice polyphony with 62 oscillators in double mode. The effect section is divided into four separate processors with one powering insert effects, two handling master effects and one master EQ processor. Although it does not have the sequencing or expansion capability of the TR, the X50 can be played from an external sequencer as a sound module thanks to multi mode. Another factor that makes the X50 appealing is that you can use sound-editing software to make tweaks or control it from within your DAW.

Other standout features of the Korg X50 is its four channel audio output, with two main channels and two individual channels along with its dual polyphonic arpeggiator. Since the X50 has so many sounds to choose from, it helps that everything is divided into sixteen categories for easier search and selection. For one touch-audition of each sound, you can make use of the audition riff function. With four knobs you can also easily make adjustments to the sounds, arp settings and effects.

The Korg X50 may look like a toy due to its light weight and construction, but it is definitely capable of delivering quality sounds. The fact that many of the sounds are direct ports from the Triton also helps a lot. This is not the synth to get if you are hard on your gear, but if you want something that is really portable, then it still has plenty to offer.
Demos & Media
Specifications
VCF -
12dB Slope, 24dB Slope, High Pass, Low Pass, Resonance
LFO -
2 LFOs with Sample & Hold, Saw Up, Sine,
Envelopes -
2 Envelopes with Attack, Decay, Sustain, Release, Monophonic, Polyphonic
Controls -
MIDI IN/Out, USB
Arpeggiator -
Dual Polyphonic Arpeggiators
Patterns -
5 Preset, 251 user, 251 preloaded
Effects -
89 effect types