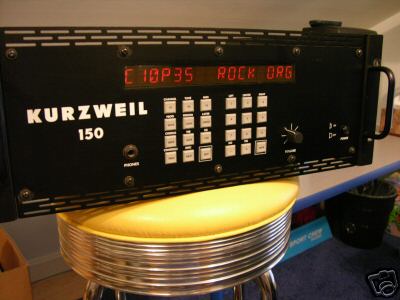 The Kurzweil K150 is a truly unique and professional digital additive synthesizer rack-module. It is big, not just in size but power and creative potential. It features real time additive synthesis with 240 oscillators, 16 voice polyphony, upwards of 240 oscillators and extensive programmability. The K150 implements a unique editing method in which you mix, combine and alter the 150's 22 resident voices and 69 preset programs. You basically manipulate sounds on a harmonic level for creating various new timbres. The keyboard is can be split into 3 regions and capable of up to 7 layers. With extensive layering effects and abilities you can get some thick and unique sounds. There's 186 patches for memory storage and you can get up to 255 when you remove the installed sound blocks or overwrite presets.
The Fourier Synthesis (FS) is an upgrade to the standard K150 which allows you to define new instrument models by editing their velocities and envelopes, tuning intervals and more further expanding creative and unique sound synthesis potential. The FS model needs to interface with an Apple IIe to use Kurzweil's Sound Laboratory software for editing and management in order to unlock the true power and potential of the K150-FS. The oldest versions of this software is called SOUNDLAB, while the newer ones are called .S.M.P. (Sound Modeling Program). The results of this program are stored in the K150 as voices, which can be utilized in up to seven layers of any of the three regions in any given program.
Everything is modifiable and controllable about this synth. Pitch bending, vibrato, EQ, chorusing, polyphonic after-pressure and full 16 channel MIDI implementation with almost everything being MIDI controllable. However, for as big and powerful as the 150 is, its sound generally seems to be a little thin, due to its digital nature. There is no user-controllable filter. Merely a low-pass anti-aliasing filter, which cuts off at around 9 to 10KHz, with the slope becoming noticeable at about 7-8 KHz. Overall it's a wonderful synth but requires considerable knowledge to operate well compared to most synthesizers.
Specifications
Oscillators -
240 osc! (sine and noise)
Filter -
DCF (Digitally Controlled Filter)
Envelopes -
256 stage DCA envelopes
Keyboard -
None (rackmount)
Memory -
186 patches (up to 255)
Control -
MIDI (16 parts)
Resources
Found image on Ebay.
Thanks to Arthur W. Green for supplying some information.