The K2000 uses V.A.S.T. (Variable Architecture Synthesis Technology) which allows you to take any multi-sample, noise or waveform and process it using just about any synthesis technique. The source of these multi-samples are from the 8MB of ROM which hold tons of authentic and superb quality samples. The internal processing is 32-bit with 18-bit DACs. The K2000 uses 31 sound-shaping algorithms to provide a variety of resonant filters, EQs, continuous panning, amplitude modulation, crossfade, distortion, digital wrap, waveshaper, pulse width modulation, high frequency enhancement, low frequency oscillators, hard sync oscillators and mixing oscillators, all with real-time MIDI control.
It's a beautiful synth with an elegant and organized layout and very high quality pitch and mod wheels! Not to mention a 61-note velocity & aftertouch sensitive keyboard with a quality feel and response to playing. The K2000s adds a quality sampler with standard 2MB RAM that can be expanded to 64MB. Sample in stereo or mono, via analog or digital inputs and you have all the sample edit functions you'll need to create some of your own sounds. Use the built-in 3.5" disk drive or connect an external drive to the SCSI port for limitless sample storage (an internal SCSI connection also allows for a hard disk drive inside).
Other professional features include stereo multi-effects capable of four simultaneous effects including reverb, chorus, delay, multi-tap delay, flange, rotary simulation and more. Up to six polyphonic audio outputs. There's also the 32-Track sequencer, fully editable, with features like 768 ppq resolution and nondestructive track editing and groove quantizing.
The K2000rs is the rack-mount version of the K2000s. Offering all of the same great sounds, power and features as the keyboard version. The K2000's keyboard is excellent and feels great to play, but if you don't need the extra keys the 3-space rack-module is an excellent instrument. The K2000's have been used by Robert Miles, Pink Floyd, Jean Michel Jarre, Depeche Mode, Hardfloor, Tori Amos, Stevie Wonder, Nick Rhodes (Duran Duran), Bon Harris (Nitzer Ebb), Front Line Assembly, KMFDM, LTJ Bukem, Nine Inch Nails, Massive Attack, Vangelis, Tangerine Dream, Laurent Garnier, and Luther Vandross.
Upgrades include the Orchestral Expansion Board (8 Mb) and Contemporary Expansion Board (8 Mb). A full 16-bit sampler with analog/digital sampling options (SMP-K) and AES/EBU and S/PDIF digital I/O ports. The 2MB sampler RAM is expandable to 64 MB for upwards of 19 minutes of sampling time. Sequencer's capacity is expandable from 30,000 events to 190,000. The operating systems can easily be upgraded too.
Demos & Media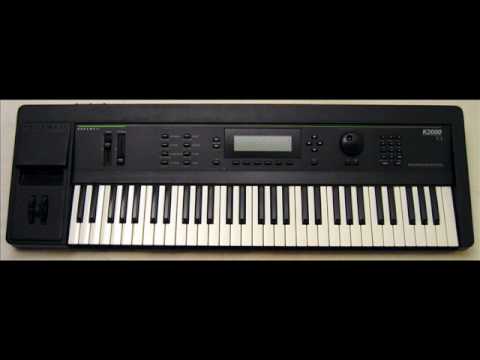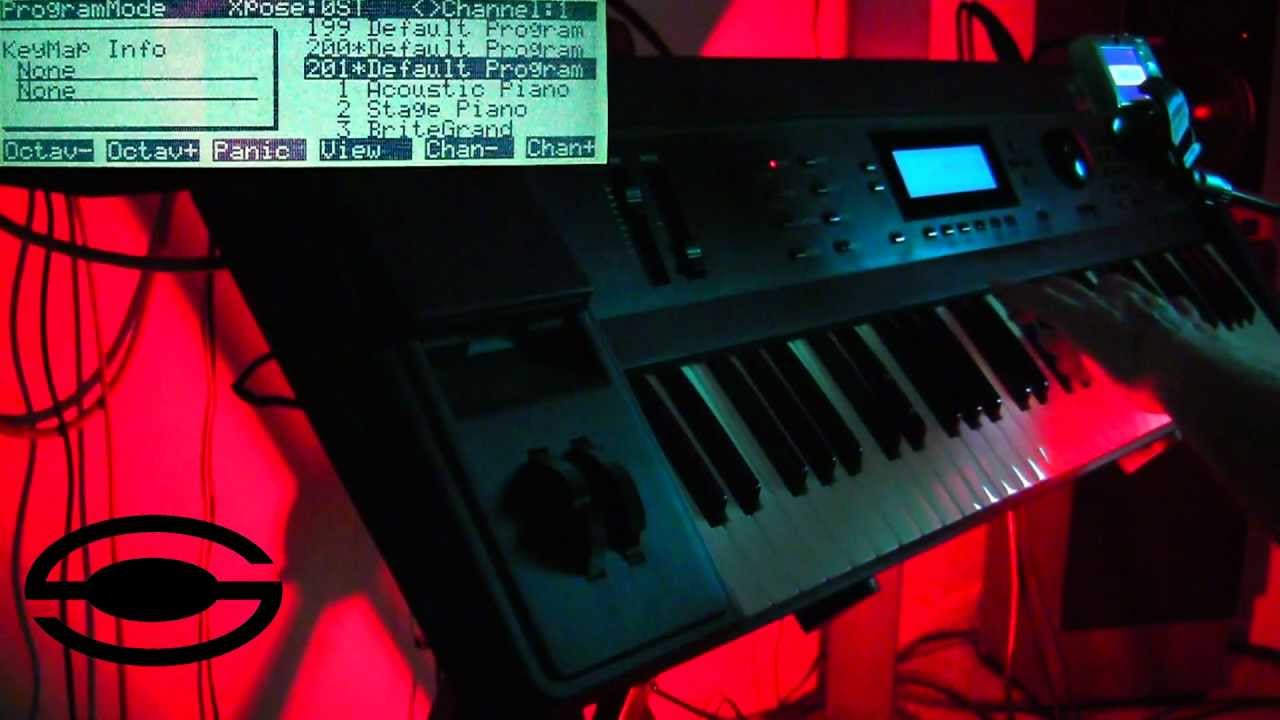 Kurzweil K2000 Base Editing II
Specifications
Oscillators -
Digital V.A.S.T synthesis technology; 8MB ROM Samples (200 sound programs) expandable to 24MB
Effects -
stereo multi-effects capable of four simultaneous effects including reverb, chorus, delay, multi-tap delay, flange, rotary simulation and more
Sampler -
2 MB Sample RAM, expandable to 64 MB
Keyboard -
61 keys (w/ velocity & aftertouch)
Memory -
200 patches, 100 set-ups; SCSI port
Control -
MIDI (16 parts)