The Performer is a polyphonic analog Strings and Brass machine produced at the end of the 1970's by the Italian synth company. It is slightly compact with just 49 keys. But it is fully polyphonic - you can play all 49 notes simultaneously! Programming is simple and clearly laid-out with just 15 sliders and a few buttons. A solid black chassis and wood end-cheeks round out this classic and often overlooked string machine.
The Performer is best remembered for its Strings. A simple 3-band equalizer with high, mid and low sliders can be used to give the strings shimmering sparkle or moody dark timbres. The Strings section uses two oscillators per voice with 8' and 16' settings. Simple Attack and Sustain sliders give you some control of your string's envelope settings.
The Brass section is less exciting. It uses a single oscillator with just a square wave to generate a weak Brass sound. It has a low-pass voltage-controlled filter with resonance, but it too is pretty weak. Simple Attack and Decay sliders control its limited envelope settings too.
The LFO is pretty nice, with delay length, rate and depth control. It can modulate both Brass and String sections and can be routed either to the VCF or pitch. There are three outputs on the back: main output, brass output and signal output (for external processing) as well as CV and Gate connections. It has been used by Duran Duran.
Demos & Media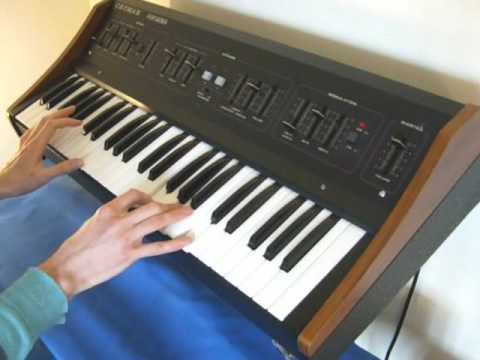 Specifications
Polyphony -
Fully polyphonic 49 voices
Oscillators -
1 for Brass (square wave); 2 for Strings (8' and 16')
LFO -
1 with delay length, rate and depth controls
Filter -
Simple low-pass with resonance for Brass; 3-band Low/Mid/Hi equalizer for Strings
VCA -
Attack/Decay for Brass; Attack/Sustain for Strings