Fairlight CMI (Series I - III)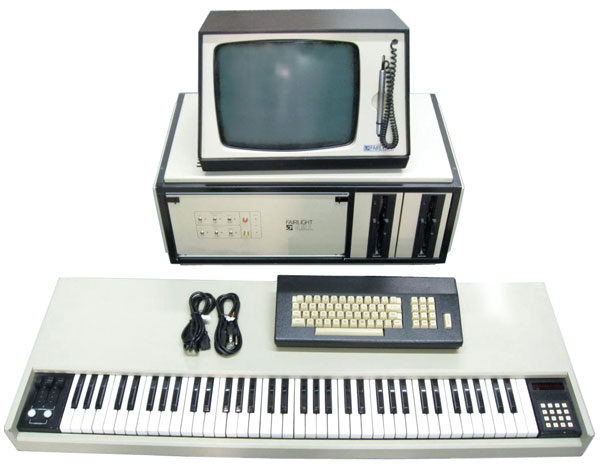 The Australian Fairlight Computer Music Instrument (CMI) is a vintage but state-of-the-art Synthesizer/Sampler workstation. An incredible sampler with 28 megabytes or more of memory! One or two full 73 note velocity sensitive keyboards! Complete synthesis and editing of digitally sampled sounds. Three different on-board SMPTE Sequencers and storage to various disk mediums. The processor itself is housed in a 24" module. It was also the first digital sampler to hit the market back in 1979 and has endured throughout the eighties and nineties.
From 1979 to 1985 several versions of the Fairlight were produced, with the Series III being the last of them. Each new series added updates to the Fairlight as technology developed through the early eighties. The Fairlight 1 and 2 had only 16 kByte of Memory per voice, and only eight voices but expanded to several megabytes and double the polyphony by the Fairlight III. The IIx was the first Fairlight to offer MIDI. The Series III added aftertouch capability to the keyboard. They all had pitch/mod wheels, an 82-key alphanumeric keyboard, 15 function keys, a Graphics Tablet for drawing sounds and a Video Monitor for seeing what you're doing while editing.
The sampler is the heart of the Fairlight. It's a 16-bit resolution digital sampler with variable sample-rates up to 100kHz! Original Fairlight models used two standard 8 bit 6800 processors, updated to the more powerful 16 bit 68000 chips in later versions (the IIx had updated 6809 processors, which is what designated it a IIx over a II, and raised the sampling resolution to 32kHz, from the I & II's 24kHz). In the Fairlight III, sample memory (RAM) comes in 28MB chunks per 16 voices of polyphony - wow! That's plenty of room for creating stereo or mono samples. Edit them using various hi-tech functions and at a 'microscopic' level using the large Monitor screen. Samples can be looped, mixed and re-sampled with processing for sweetening. As for synthesis, create your own waveforms by sampling and applying Fast Fourier Transform and Waveform editing functions. Storing samples and synthesized waveforms can be done to Hard Disk or 8" floppy disks.
As for sequencing, there are three sophisticated methods. There's CAPS (Composer, Arranger, Performer Sequencer), an 80-track polyphonic sequencer. The complicated MCL (Music Composition Language) is like a text-based step time sequencer. And finally the Rhythm Sequencer which functions like a classic drum-machine style sequencer. All sequencer's are SMPTE syncable.
The Fairlight is a horribly expensive Music Production Center and is rivalled only by the NED Synclavier. Although current samplers, sequencers and synths can blow away the Fairlight at a fraction of the cost - the Fairlight is an historical, prized piece of Vintage Digital Synthesizer and Sampler technology. It still holds up today, over twenty years later and is still a high quality and professional instrument. The facilities provided by it benefit hardcore synth programmers, wealthy musicians, sound designers, film composers and wealthy Vintage Synth collectors.
It has been used by Jean-Michel Jarre, Heaven 17, Hardfloor, ABC, Hall & Oates, the Buggles, Supertramp, Thomas Dolby, Jon Astley, Michael Jackson, Yes, Trevor Horn (Art of Noise), Geoff Downes, Stevie Wonder, Vince Clarke (Yazoo), Peter Gabriel, Paul McCartney, Devo, Julian Lennon, The Cars, Yellow, Lindsey Buckingham, Jan Hammer, Herbie Hancock, David Gilmour, Elvis Costello, Scritti Politti, Starship, Teddy Riley, Brian Wilson, Foreigner, Madonna, Debbie Gibson, Jane Child, Eurythmics, Mike Oldfield, Prince, OMD, Steve Winwood, Duran Duran, John Paul Jones, Paul Hardcastle, Kate Bush, Queen, Keith Emerson, Alan Parsons, Fleetwood Mac, B-52's, Pet Shop Boys, Depeche Mode, Soul II Soul, and Stewart Copeland.
Demos & Media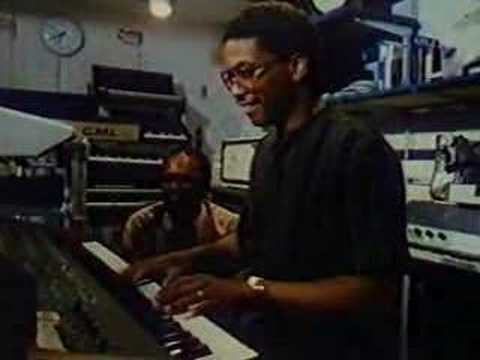 Herbie Hancock jams with his Fairlight CMI
Specifications
Polyphony -
16 voices (expandable)
Sampler -
16-bit, 100kHz mono, 50kHz stereo
Memory -
28MB (several minutes at 44.1kHz; expandable)
Synthesis -
Fast Fourier Transforming, Waveform Editing, Graphics Tablet Waveform Drawing
Keyboard -
73 note with velocity sensitivity (un-weighted). The Series I, II, and IIx could all have a dual-keyboard feature.
Sequencer -
Rhythm Sequencer, CAPS (Composer, Arranger, Performer Sequencer) 80-track polyphonic seq., MCL (Music Composition Language) text-based step time seq.
Date Produced -
1979 - 1992