Jen Electronics SX-1000 Synthetone
The Synthetone SX-1000 is an old Italian basic mono-synth. It has a single analog DCO with three waveforms: sawtooth, square, and PWM (Pulse Width Modulation). There is an analog filter (12dB/octave) with cutoff, resonance, and LFO modulation. There is also a simple ADSR envelope for shaping your sounds. In addition there are also white/pink noise generators a glide effect and a vibrato effect. It's known for fairly stable tuning too. Probably its best sounds are the lead ones, the basses aren't that deep but it sure can scream!
What it doesn't have is MIDI, CV/Gate or any other form of control. MIDI retrofits can take care of this however. Unfortunately there is no patch memory, and there is no way around this limitation. Its knobs are boldly colored and well layed-out for easy hands-on access; but you'll need a Polaroid camera if you want to store your patch settings! Also lacking are an arpeggiator, sequencer, pitch/mod wheels, and effects. Nevertheless, this Italian vintage synth is a very cheap entry-level analog synth that has some unique sounds and characteristics worth checking out if you find one. It's been used by Future Sound of London, LFO, Nexus 21, Altern 8, Eskimos & Egypt, Fillmore, Man Machine, Tim Simenon, Broadcast, Plone, Luke Vibert, Ladytron, Prodigy and Herb Legowicz of Gusgus.
Demos & Media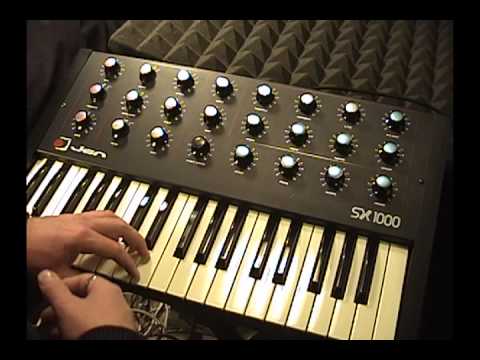 Audio Clip 1
Jen SX-1000 demo submitted by Connor Eck.
Patch Sheet
This is a blank Template of a patch sheet for the Jen SX1000, so you can make note of the settings of all the knobs that make up your sounds.
Specifications
Oscillators -
One DCO (sawtooth, square, pulse-width modulation); 4-octave range (32', 16', 8', 4'); white and pink noise generators
Filter -
1 Low-pass filter, 12dB/octave, with ADSR
Control -
None (Kenton Midi Retrofits available)
Date Produced -
1978 - 1982