Kenton Electronics Control Freak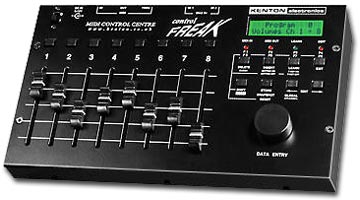 Kenton Electronics' Control Freak has made complete, hands-on control of MIDI possible. The Control Freak's Programmable sliders & buttons allow freedom of expression that has been missing since the days of analog and the advent of MIDI. The Control Freak features extensive memories and digital readout, making it very user-friendly. For those worried about their programming skills - the Control Freak comes with pre-programmed profiles for a wide range of machines. Free profiles for other synths and sound cards are available from the download area.
The Freak comes with a free software editor, making editing easy. The Control Freak has been designed to allow live, real-time editing of MIDI parameters and has a vast range of applications. Boasting eight programmable, professional-quality sliders and eight programmable buttons, it may be used to edit synth & sound module parameters, adjust sequencer controllers or to create versatile lighting effects - all in real time.
Live editing is not limited to turning small knobs on your old analog equipment.. it is now possible to adjust parameters via MIDI! Each slider or button may generate controller information, sysex, notes, program change, pitch-bend or aftertouch or a combination of these. Editing is simple with the aid of a backlit LCD display and easy to use interface. This allows the user to control parameters such as VCF, pan, and pitch-bend on your sequencer.
Specifications:
8 fully-programmable 60mm sliders
8 fully-programmable push-buttons
4 (x2 with shift key) programmable function keys Capable of sending any command or combination of commands. May also be used for instant program selection
4 edit keys
Data entry knob
Two line back-lit LCD display
MIDI In/Out/Thru sockets
Two external 1/4" input jacks which may be used with a foot pedal to replace any slider or button.
External 1/4" input jacks may also be used for accurate CV / Gate to MIDI conversion!
Intuitive, easy to use editing and user interface (with text editor)
Supplied pre-programmed with profiles for popular synthesizers
On-board library with a capacity for over 5000 individual profiles
Advanced learn mode allows the user to match the unit to any synth
Future library updates will be available for direct download from our Web site (Flash upgradable)
128 User memory locations each capable of storing assignments for every slider and button. (ie. 1024 virtual sliders and 1024 virtual buttons!)
Sliders and buttons may be individually named for every assignment in every memory location
Sliders and buttons can take a parameter from another slider (eg. If one button is set to send a note on message, it can take its velocity from a slider position)
Buttons may be operated in three modes: momentary - send command when pressed, toggle - toggle between two commands with subsequent presses, on/off - send one command when pressed and another when released
Sliders and buttons can send virtually any MIDI message in real time including multiple messages from the same slider/button
User selectable global MIDI channel feature which may, if required, override individual program settings
Built-in MIDI clock generator
Comprehensive MIDI analyser mode for identifying problems
Supplied with power adaptor (UK only)
Dimensions approx 270 x 160 x 55mm
Demos & Media