Native Instruments Kontakt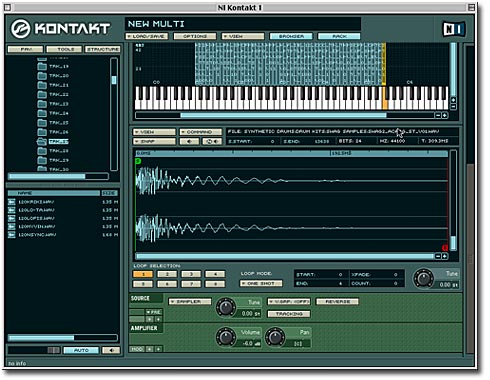 Native Instruments have been leaders in the production of software synthesizer plug-ins for some time now. With the release of software samplers such as IK Multimedia SampleTank and Steinberg HALion, NI offers KONTAKT - the ultimate sampler plug-in for your computer! KONTAKT works on both Mac and PC platforms in Stand-Alone or plug-in compatible applications, supporting ASIO 2.0, DirectSound, MME, SoundManager, VST 2.0, Audio Units, Core Audio, RTAS, DXi, DirectConnect, and MAS/FreeMIDI formats.
KONTAKT comes with five CD's full of samples ranging from basic drums, guitar, piano, bass, and samples from each of NI's own line of outstanding synth plug-ins to get you started. At the left of KONTAKT's window is a file browser for searching your disks for samples to drag and drop into KONTAKT's editing windows. Samples are loaded entirely into available RAM which means if you want to use a 200 MB sample, you need at least 200 MB of RAM available to KONTAKT. This is not like HALion which loads only the attack of a sample into RAM and streams the rest from hard disk. The result is KONTAKT has a heavy RAM requirement but is guaranteed to have quick and responsive playback of your samples with no clicks, errors or audible latency.
When you open KONTAKT you have an empty 'instance' which can support up to 16 instruments. Each instrument can be assigned to any MIDI channel. They each have their own key range, velocity range, and polyphony settings. It also displays the instrument name and RAM usage with global Tune, Pan, Solo, Mute and Volume controls. Samples can be freely assigned to key and velocity zones in the Mapping editor by simple drag and drop. Samples can also be layered over the same keys or at various velocity zones on the same key. Crossfades between samples assigned to neighboring keys or velocity crossfades can be set automatically with a drop-down menu or manually with small handles in the Mapping editor. The Loop Editor lets you quickly and easily assign in/out points for up to 8 different loops per sample. Multiple loops lets you create stuttering effects and other wacky stuff. There's a Zero-X mode for tweaking the loop's crossfade point, auto-find loop start/end points, resynthesis and timestretching functions.
KONTAKT has a lot of tricks available to mangle samples into something new. It operates in one of three modes: Sampler, Tone Machine or Time Machine. Sampler mode is the basic mode where your intent is to play-back samples such as those from libraries. KONTAKT supports Akai S1000 and S3000, SoundFont2, GigaStudio, HALion, EXS24, SND, WAV, SDII, AIFF, and NI Battery files. Tuning and Reverse can be used to alter the source sample. The Tone and Time Machines offer interesting sample mangling features based on granular resynthesis. The Time Machine does real-time time stretching and pitch shifting. Assign a sample to a range of keys, for example, and each key can play the sample at a different tempo but maintain the same pitch. Tone Machine gives the sample the pitch of any key played. The Granular Synthesis process here can yield some strange results too.
KONTAKT offers a bunch of lowpass, highpass, bandpass, and notch filters with 6 to 36 dB/oct slopes and resonance, and they sound great. There's also 1-, 2-, and 3-band EQ's, a phaser, and two vocal formant filters. Nearly every parameter of KONTAKT can be modulated from sources like the LFOs, envelopes, step modulators, envelope followers and controllers. All relevant modulators can be synchronized to MIDI clock. Control- or right-click on any control or knob to assign a modulation source or MIDI controller number to it. You can even assign several knobs to the same controller. And it can 'learn' an incoming MIDI controller number from your MIDI controller for quickly and easily assigning knobs on your controller to the parameters of your choice. KONTAKT also offers three types of envelopes: a DBD (Decay 1, Breakpoint, Decay 2) for pitch sweeps, a basic AHDSR envelope, and a flexible 32 point envelope as seen in Absynth and FM7 (pictured below), which allows you to create very rhythmic and looped effects. The cool Step Modulator is an analog style sequencer with up to 32 steps and is used to rhythmically modulate any modulatable destination like the filter cutoff, pitch, etc.
In addition there are insert and send effects for each instrument which include EQ, reverb, chorus, delay, lowfi, stereo enhancer, distortion, flanger, phaser, compressor, chorus, or any of KONTAKT's 14 filters. The File Browser window can also be switched to a structure view, in which all the actual modules, zones, groups, instruments, etc. that are being used by the sampler appear so you can easily navigate your way around all he modules in your instrument. And each plug-in instance can support up to 32 outputs in supporting host applications, and 16 outputs in stand-alone mode with an appropriate soundcard.
As of this writing, KONTAKT is yet another leading plug-in from Native Instruments! It offers superior sample manipulation with synth-like filtering and modulation that goes beyond what other soft- and hard-ware samplers offer. The user interface is awkward and takes getting used to, but it is very streamlined, efficient, and everything is done graphically within one window. The samples that come with KONTAKT (developed by Yellow Tools) are not the greatest but show you how realistic and creative you can get with sample mapping, layering, modulating, etc. If you were looking to go virtual with your studio, KONTAKT is the affordable sampler that will replace your hardware sampler!
Famous user BT says, "Kontakt is the most comprehensive and elaborate sample engine I've ever worked with. The only software sampler you'll ever need." Paul Hartnoll of Orbital says "Kontakt is the best software sampler that we have ever seen, very simple and easy to use. Yet with it's modular structure it can be as complex as you want. It's an incredible creative device..."
Demos & Media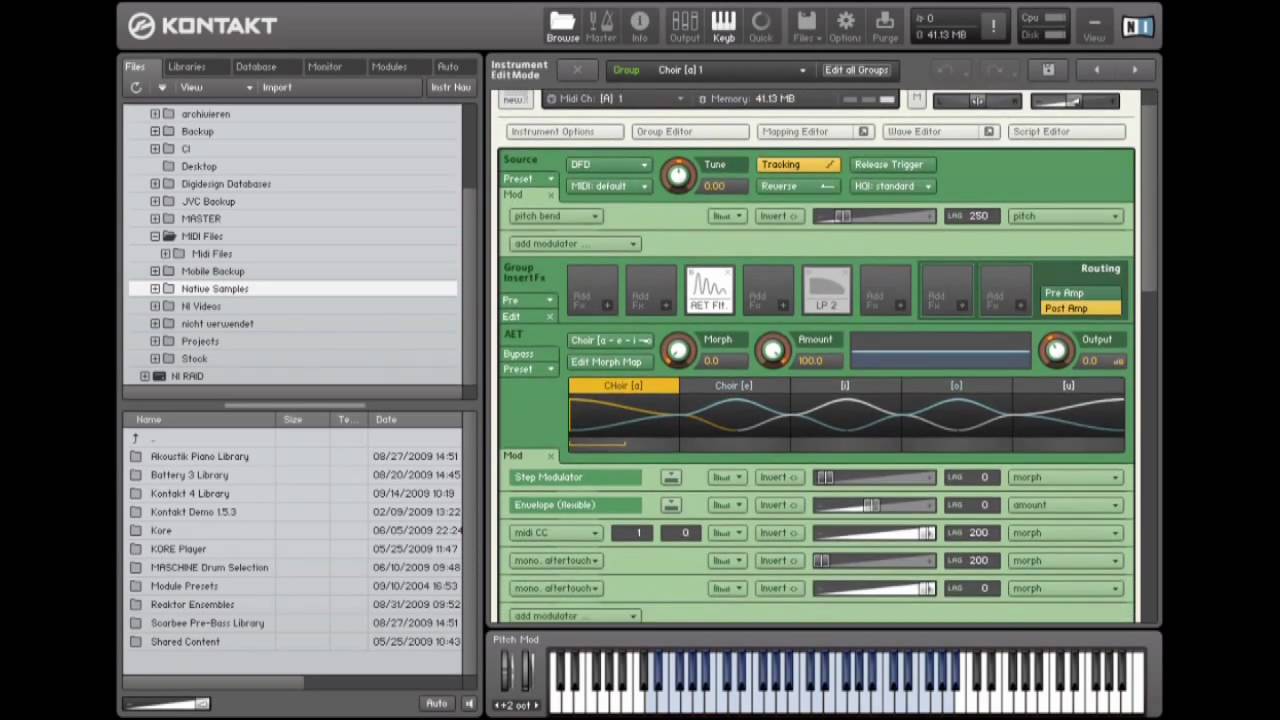 Specifications
Polyphony -
Hardware Dependent (Up to 256 per instrument)
Sampler -
Sample Formats: Akai S1000 and S3000, SoundFont2, GigaStudio, HALion, EXS24, SND, WAV, SDII, AIFF, Battery and Reaktor files
Interfaces: ASIO 2.0, DirectSound, MME, SoundManager, VST 2.0, DXi, DirectConnect, and MAS/FreeMIDI
LFO -
Sine, Triangle, Rectangle, Sawtooth, Random, Multi waveforms
Filter -
Sampler filters: Lowpass 1-, 2-, 4-, 6-pole; Highpass 1-, 2-, 4-pole, Bandpass 1+1, 2+2 pole; Notch 2+2 pole; Multimode 3x2 pole.
Equalizers: Parametric 1-, 2-, 3-band EQ.
Effect Filters: Phaser, Vowel A, Vowel B.
Effects -
Send Effects: Panning Delay, Stereo Chorus, Stereo Flanger, Stereo Phaser, Reverb
Insert Effects: Distortion, Saturation, LowFi, Compressor, Stereo Enhancer, Filter/EQ
Keyboard -
Virtual in Mapping Editor from C-2 to C8 (10 octave range), Velocity (range 1-127)
Macintosh -
Minimum: Mac OS 9.2 or higher, G3 500 MHz, 256 MB RAM
Recommended: Mac OS 9.2 or higher, G4 733, 512 MB
VST 2, Audio Units, Core Audio, RTAS, Direct Connect, MAS, Sound Manager, FreeMidi, OMS
Windows/PC -
Minimum: Windows XP, Pentium III/ Athlon 500 MHz, 256 MB RAM
Recommended: Windows XP, Pentium III/ Athlon 700 MHz, 512 MB
VST 2, DXi, ASIO, DirectSound, RTAS (XP only)