Applied Acoustics Lounge Lizard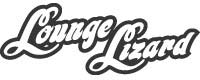 The Lounge Lizard is a virtual instrument for Mac OS and Windows PC that uses Applied Acoustics Systems' own brand of physical sound modeling to create a high quality, pure and organic sounding Electric Piano. The user interface is sleek and clearly laid out and simple to navigate, allowing for easy access to preset sounds and hands-on manipulation and control for creating your own unique sounds that go way beyond the traditional EP capabilities. Lounge Lizard works stand alone or as a plug-in, supporting all major formats (CoreAudio, AU, RTAS, VSTi, DXi, ASIO, & MME).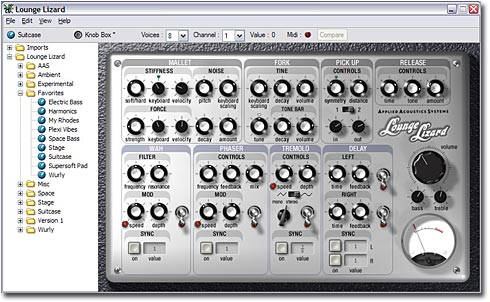 With edit parameters labeled for Mallet, Fork Tines, Pick Up and Release controls, some basic facts about Electric Pianos should be mentioned. When you press a key on an EP, it triggers a mallet that hits a fork and the vibrations of that fork are converted to an electrical current and amplified by magnetic "pick-ups". Lounge Lizard's interface gives you superb control and flexibility of how each of these parameters function in shaping your sounds. Easy to use controls for a Wah-Wah effect, Phaser, Tremolo, and Delay are there as well. MIDI/Tempo sync is available for the effects and every control can be assigned to a MIDI continuous controller (via MIDI learn) for real-time control! A big fat "old school" analog VU meter and volume knob are there too for managing your levels. Unfortunately there is no on-screen keyboard for triggering notes without external MIDI controllers.
It ships with a boat-load of preset sounds to get you going. All patches are selected from the Browser column at the left of the screen, allowing you to organize and categorize your sounds in meaningful ways. Lounge Lizard's biggest competition may be Native Instruments' Elektrik Piano, which offers significantly less editability of it's sounds but uses sampled sounds instead of modeling (which may make it sound truer than Lounge Lizard).
New features in Lounge Lizard EP-2, the successor to EP-1, include:
Now includes key release model for even greater realism
A new pick-up model for additional tonal control
All effects modulation and stereo delays sync to host tempo
Support for MIDI program change for hands-free operation
MIDI controller range mapping
New browser interface makes finding presets quick and easy
Optimized DSP engine for 3 times greater CPU performance
Dynamic voice allocation
Support for OS X
Support for Digidesign's RTAS plug-in format on Mac OS X
Demos & Media
AAS Lounge Lizard Synth Plugin - Features Overview - With Dom Kane
Specifications
Polyphony -
Up to 32 voices (16-part multitimbral)
Oscillators -
Physically modeled in real-time audio with bit-depth and sample rates up to 24bit/192kHz.
Effects -
Phaser, Tremolo, Stereo Delay, Wah Filter. All can be MIDI/Tempo sync'd.
Filter -
Wah Filter Effect with Frequency Cutoff, Resonance, Modulation Speed & Depth.
VCA -
Mallet Stiffness & Strength controls for Attack. Release controls include: Time, Tone & Amount. Fork Tone Bar controls for Decay & Volume. Master Volume with Bass and Treble controls.
Memory -
Unlimited User Presets. Ships with tons of factory presets.
Macintosh -
Mac OS 10.2 and higher - G3 - 128MB RAM - CoreAudio - VST, AU, RTAS
Windows/PC -
Windows 98/ME/2000/XP - Pentium3 500MHz - 64MB RAM - ASIO, MME, VST, DXi
Date Produced -
First released 2002. EP-2 released 2003.