Moog MF-103 12-Stage Phaser
The Moogerfooger MF-103 is a 12-Stage Phaser designed by Bob Moog himself. It incorporates a 6-stage/12-stage phaser and a wide-range LFO, and it's analog! Use it with your synth sounds, or even incorporate it into your older analog synths as a semi-modular effects section because all its parameters can be controlled by CV/Gate (not MIDI). It has a mono input, but stereo outputs. The stomp-box itself is like a little classic Moog with its rugged black chassis, Minimoog-style knobs and switches and wooden side-panels.
This 12-stage phaser gives you dynamic sweeping effects that add motion and life to whatever you apply it to. Run some loops, sounds, guitar or an entire mix through. The 6-Stage phaser mode has three dips in its frequency response, while the 12-Stage mode has six dips and the MF-103 features a variable feedback circuit which increases the resonance of the Phaser's effect. The LFO controls the rate and depth of the Phaser effect. Four knobs control LFO Rate and Amount and Phaser Sweep and Resonance. Two smaller knobs control the input and output levels in which the input can be overdriven. The MF-103 will add a nice and authentic analog Phaser effect giving your sounds a third dimension.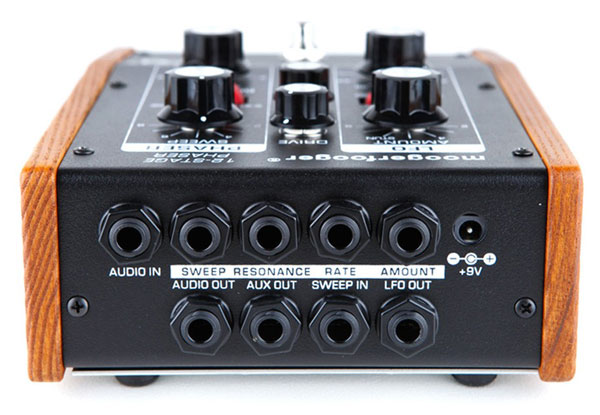 Demos & Media
Moog Moogerfooger MF-103 12 Stage Phaser Demo
Specifications
Polyphony -
Mono input / Stereo output
Control -
CV/Gate for LFO rate, LFO amount, LFO waveform, Phaser resonance and Phaser sweep