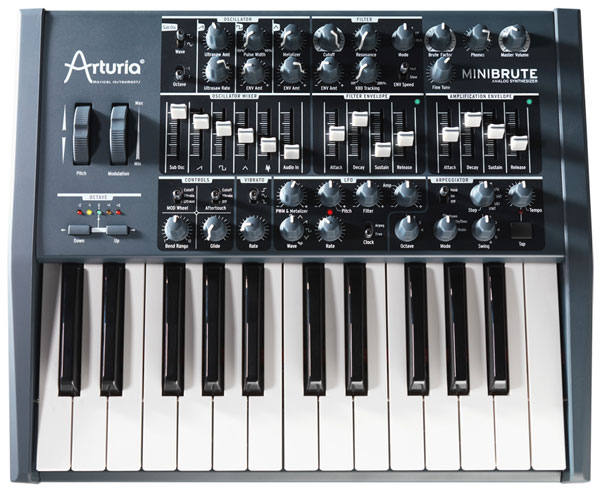 Announced in January 2012, the MiniBrute created quite a buzz at Winter NAMM 2012 and in the electronic music world. Not only was it the first new mass-market analog VCO synth in quite a while, it was also from a company known for its soft synths. Highly affordable at a street price of $499 and filled with great features, the (almost) all-analog synth filled the desire for a new hands-on analog synth that could compete in price and sound with the well-loved vintage synths. Smartly designed, the unit can neatly fit into an all-vintage, modern MIDI, or modular setting with its CV, USB and MIDI DIN connections. Built in an aluminum body with rubber end caps, the MiniBrute is rugged, with only the knobs feeling a bit on the wobbly side.
Sonically, the MiniBrute is aggressive. Its tone can be tamed for softer textures, but it seems to gravitate toward the raunchy, with its "Brute Factor" control adding rich distortion. The multimode Steiner-Parker filter provides versatility beyond what most vintage mono synths deliver. Taking things even further, Arturia provide "Ultrasaw" control over the saw waveform and "Metalizer" over the triangle wave, allowing the user to create unique new sounds for a VCO mono synth. To make the sound even larger, the MiniBrute's VCO wave mixer lets you combine the waveforms with dedicated volume sliders per waveform, allowing for sounds similar to a polyphonic synth's unison mode. Many of those who were initially unconvinced by the single VCO were quickly swayed by the sonic flexibility of the waveforms and the sub-oscillator.

With a multimode arpeggiator, aftertouch, velocity-sensitivity, multimode Steiner-Parker filter and many more features, the MiniBrute has few vintage competitors in terms of functionality. And it also holds its own in comparing its sound with that of beloved mono synths of yesteryear, and it even goes beyond the limits of the architecture of most 1970s subtractive synths, making the MiniBrute both a unique homage to the past as well as a new and creative interpretation of it. No menus, no presets. Just a straightforward, hands-on, "knobby" analog mono synth.
Demos & Media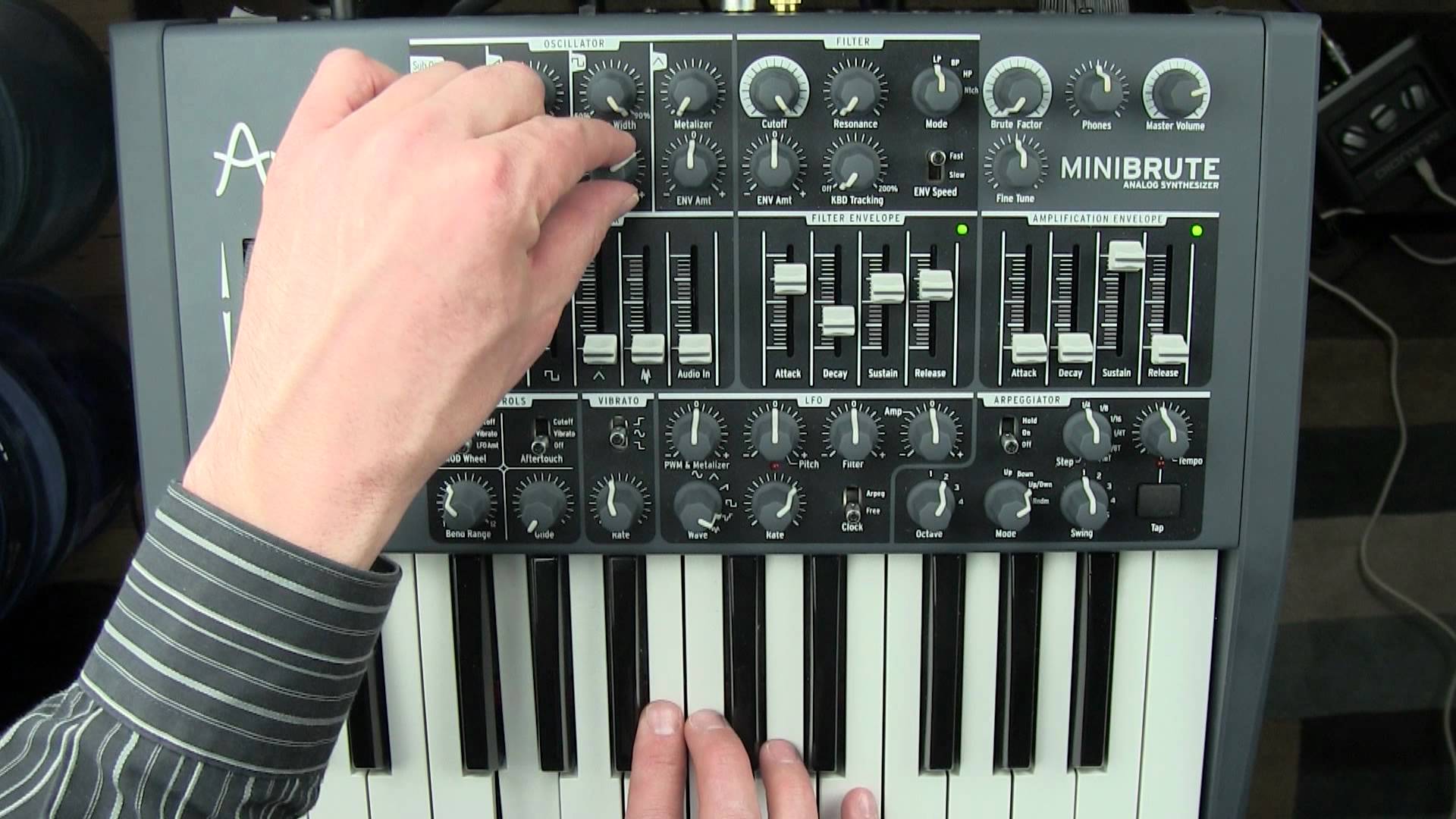 The Arturia Minibrute- Part 1- The Oscillator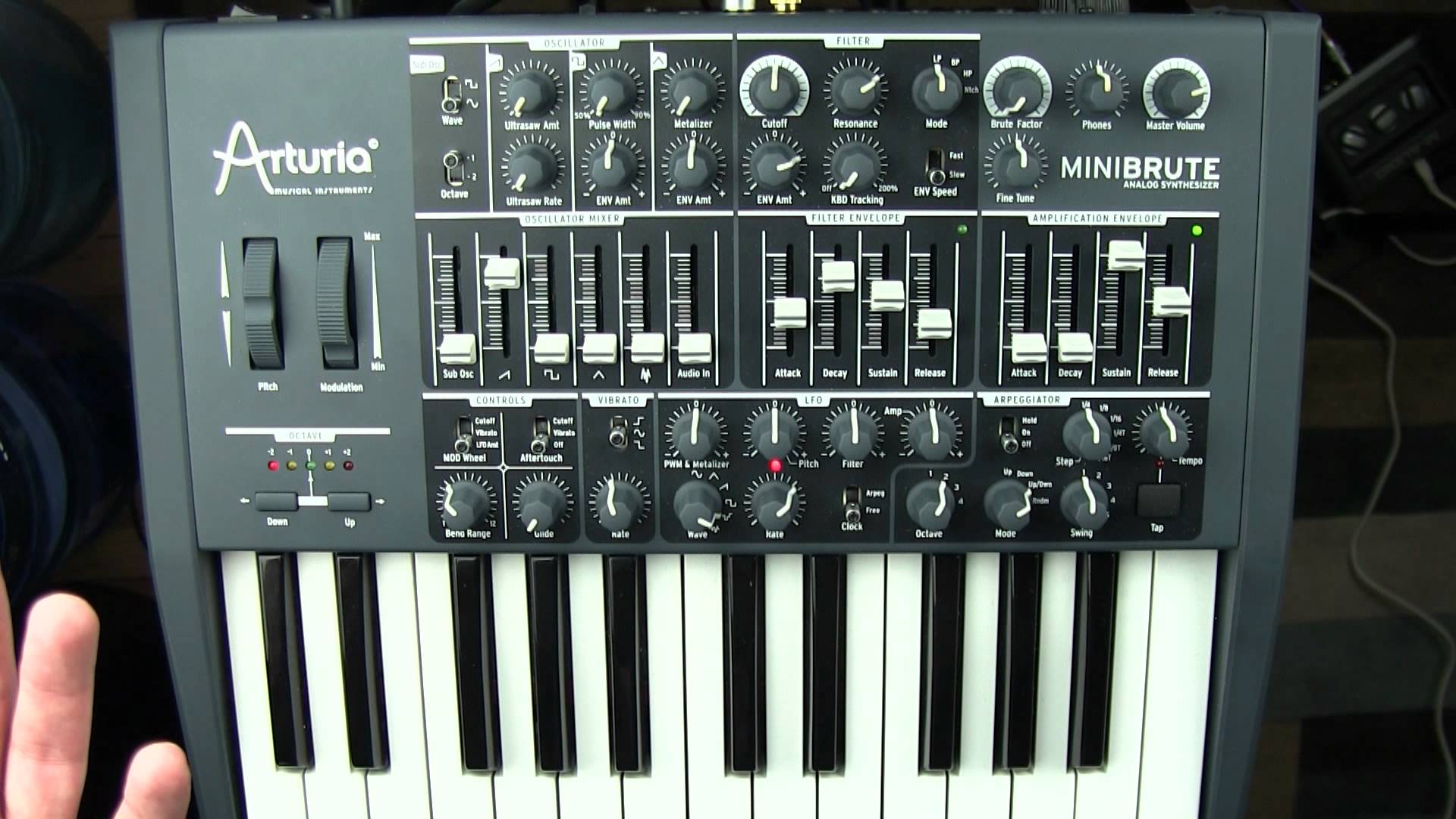 The Arturia Minibrute- Part 2- The Filter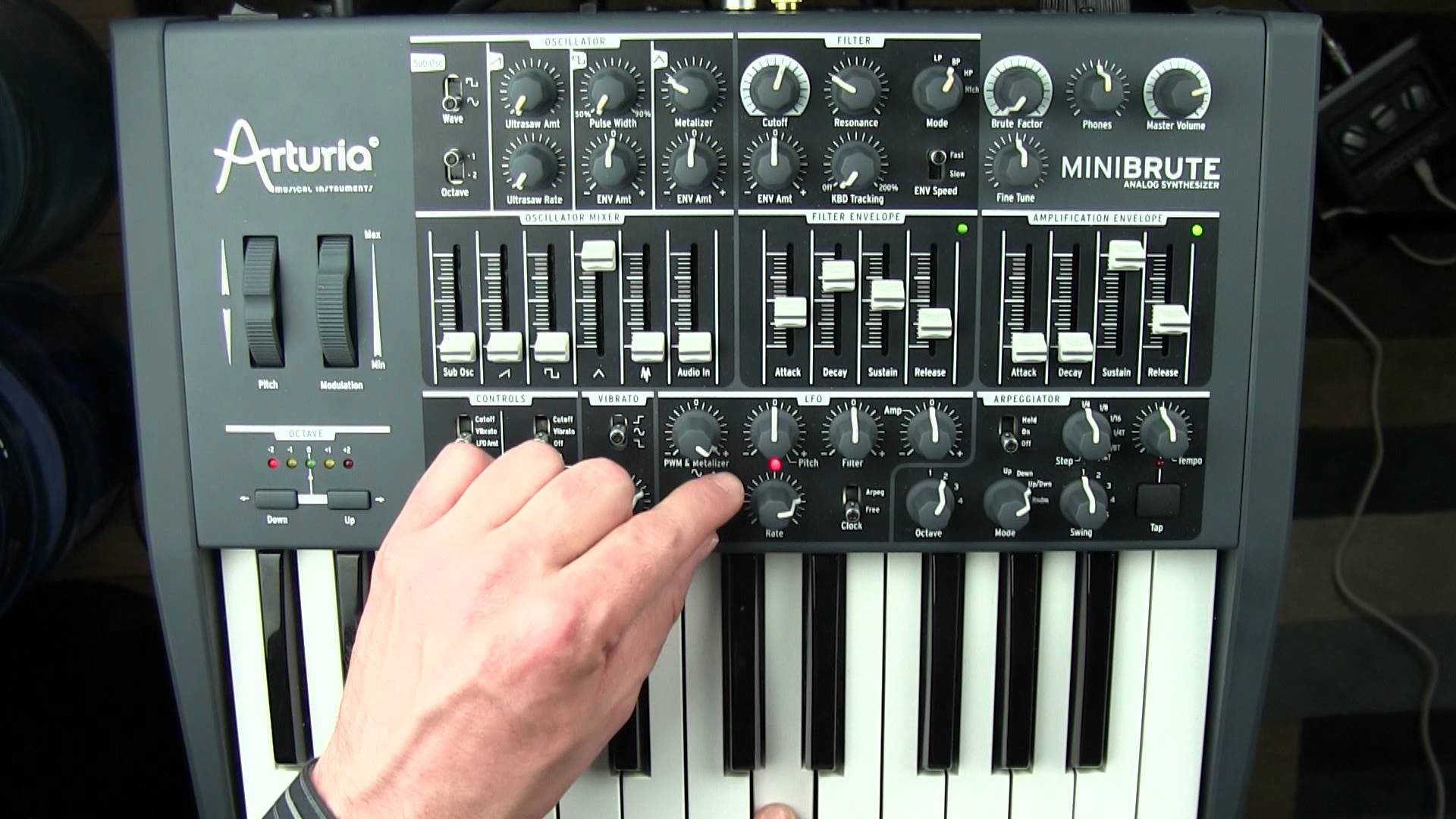 The Arturia Minibrute- Part 3- Modulation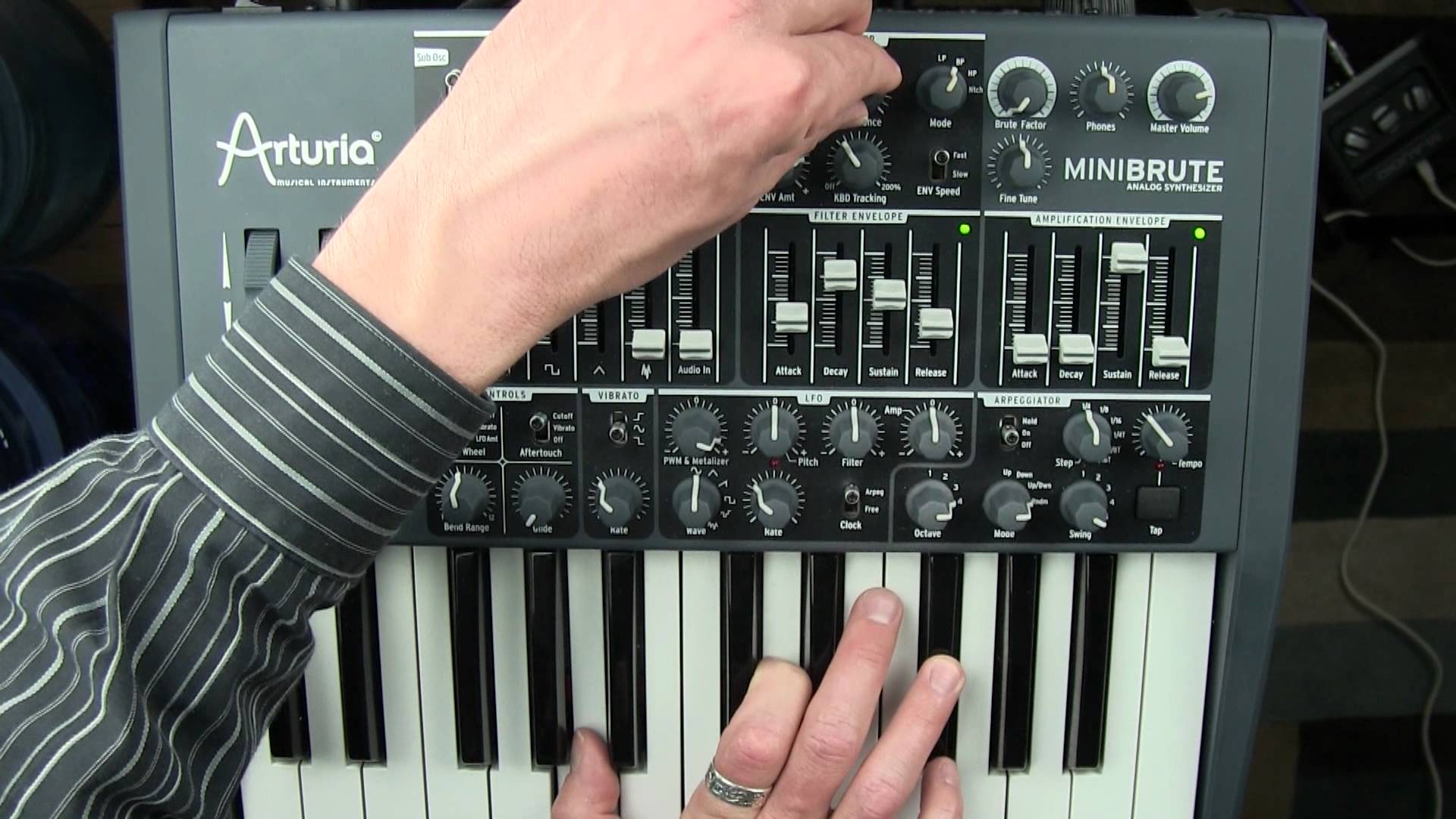 The Arturia Minibrute- Part 4- The Arpeggiator
Specifications
Oscillators -
1 VCO, 1 Sub-Oscillator (square, sine, -1 or -2 Octave), White Noise, External Audio In, Pulse Width Modulation
Waveforms -
Sub, Sawtooth, Square, Triangle, and White Noise
LFO -
LFO1: Sine, Triangle, Sawtooth, Square, Random Square, Random Sine. LFO2: 3 Vibrato modes (trill up, trill down, sine).
Filter -
Steiner-Parker 2-pole Multimode (12 dB/octave Low Pass, 6 dB/octave Band Pass, High Pass and Notch) with Keyboard Tracking
Envelope -
2 ADSR Envelope Generators
Effects -
Ultrasaw, Metalizer, Brute Factor
Arpeggiator -
4 modes, 4 octave range control, 6 step divisions, 6 Swing modes, Hold
Keyboard -
25 note semi-weighted, with aftertouch (assignable to Cutoff or Vibrato amount)
Memory -
None, patch sheets supplied
Control -
CV In/Out (Pitch, Filter, Amp), MIDI In/Out, USB MIDI In/Out