Elektron Monomachine SFX-6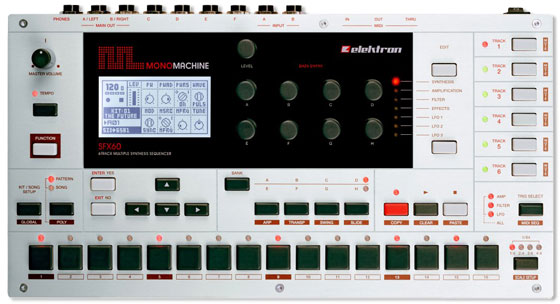 Monomachine SFX-60
The Monomachine combines several types of synthesizers with an intuitive beat-box-style programming interface. Think of it as five synthesizers in one package with a flexible sequencer and plenty of real-time controls for a unique twist on desktop music machines! It has 6-part multitimbral capability which allows for up to 6 mono-synth sounds at once, or a single 6-voice polyphonic sound.
The SuperWave synthesizer, which is analog modeled, gives warm and thick sounds made from unique algorithms that makes sounds free from the artifacts normally associated with digital processing. Traditional (and 303-like) saw and pulse waveforms and sub-oscillators give you fat bass synth and lead sounds, while the ensemble is specialized in creating polyphonic textures, chords, and harmonies.
The Mono-synth SID is based on the synthesis of the legendary SID chip, from the Commodore 64. The SID 6581 machine offers one oscillator of high quality synthesis, complete with ring-mod and sync. Just like the original, the oscillators are derived from an extremely fast main counter, giving the crisp highly recognizable sound.
DigiPRO offers raw digital waveforms, which can be put into animated life. The BeatBox, which is a part of DigiPRO, offers a percussive toolbox shaped in the traditions of the Machinedrum E12 synth. The sounds of DigiPRO WAVE are harsh and electric and stand out in the mix.
FM+ is 21st century FM synthesis. It implements world class frequency modulation algorithms that address the complexity problem normally associated with FM. All three FM+ machines are based around a number of custom made FM blocks. The machines have been handcrafted, each with its own personality.
VO is inspired by classic voice modeling methods using formant synthesis. The goal was not to recreate any existing voice or speech synthesizer, but to create a new way of building and controlling a synthetic voice in a way that suits musicians. VO-6 is the VO incarnation of the Monomachine. User controllable between pulse or white noise, formant filters and a set of predefined consonant-like sounds.
While the Monomachine's 6-part beat-box-style sequencer can be used to create your own synth grooves, it offers six additional MIDI tracks that can be used for controlling external MIDI gear. MIDI control data can be generated realtime, with parameter locks and with LFOs. Each MIDI track offers a full implementation of the Monomachine arpeggiator.

Monomachine SFX-6
The SFX-6 is a limited edition of the original SFX-60, with an integrated 3-octave LED-action keyboard, MULTI-TRIG key and specialized sound manipulating super-smooth dj-style joystick. Owner's of the original SFX-60 can purchase an external control keyboard to replicate SFX-6 functionality.
So without further ado, click on the YouTube link above so you can see and hear the Monomachine in action!
Demos & Media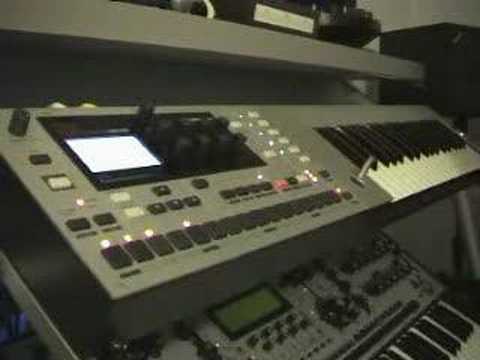 Specifications
Polyphony -
6 Part Mono OR 1 6-voice Poly
Oscillators -
5 independent monosynths: SuperWave, FM+, SID, DigiPro, VO
LFO -
18 Temp-synced LFOs (3 per track)
Filter -
1 Resonant 24db hi-Q multimode filter per track
VCA -
Attack, Hold, Decay, Release (comparable to ADSR); can be trigged w/out note-on
Effects -
6x Tempo-synced Delay, 6x 1-Band EQ, 6x Sample Rate Red., 6x Distortion, etc.
Sequencer -
6-track Internal Sequencerv / 6-track Ext. MIDI Seq.
Arpeggiator -
12x Multi Func. Programmable Arp. (6 for internal seq. / 6 for ext. seq.)
Keyboard -
SFX-6: 37-note LED'd keyboard / SFX-60: None
Memory -
6x128 User Programmable Patches; 128 User Programmable Patterns; 32 Songs
Control -
3x MIDI In/Out/Thru