The Pentaphonic is a five-voice polyphonic analog synthesizer released in 1982. It was designed by brothers Al and Bob Gleeman and featured three DCOs for a stable and juicy analog sound. The Pentaphonic was in the running against such classics as the Sequential Prophet-5, Moog Minimoog and Polymoog, and the Oberheim 4-Voice. But the Gleeman Pentaphonic (and the Pentaphonic Clear) are extremely rare! Only about 30 Pentaphonics and 20 Pentaphonic Clears were ever made.
In addition to three oscillators per voice, the Pentaphonic has a four-pole lowpass resonant filter with an ADSR envelope, a VCA with ADSR, an LFO, and built-in chorusing (slow or fast). There is also a handy 300-note capacity sequencer on-board for simple real-time recordings that you can play along with. There's also a cool X/Y joystick for controlling pitch and mod effects. Some models also had a Presetter added which gave it 100 patch memories and eight digital waveforms.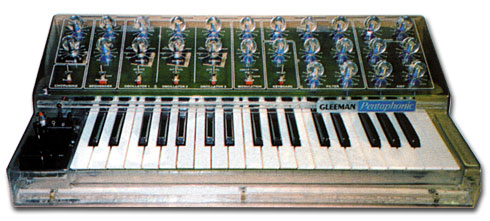 The Clear model is unique because of its transparent plexiglass case. It was also designed to be strapped on like a guitar for live use. The standard models had a boring black case and a built-in speaker. Their demise has been blamed on the rise of the digital revolution as led by the Yamaha DX7. They went out of production in 1983, but the Audities Foundation had bought, restored and built some since. Audities-built Clear versions have green circuit boards. They have been used by Moog Cookbook, Imperial Drag, and Alabama. Originally selling for $2800 to $3400, they now go from anywhere from $700 to $5000 depending on the condition.
Read a very detailed history of the Gleeman Pentaphonic story here, written by Joey Swails.
Demos & Media
Audio Clip 1
Demos of a few Pentaphonic sounds. From Future Music CD issue 52.
Specifications
LFO -
One with sine wave modulation; routes to VCO, VCF or VCA
Filter -
4 dB/oct with cutoff freq, resonance and EG amount. Has dedicated ADSR EG to filter.
Keyboard -
37 keys (3-octaves)
Sequencer -
300-note realtime "sketch-pad" sequencer