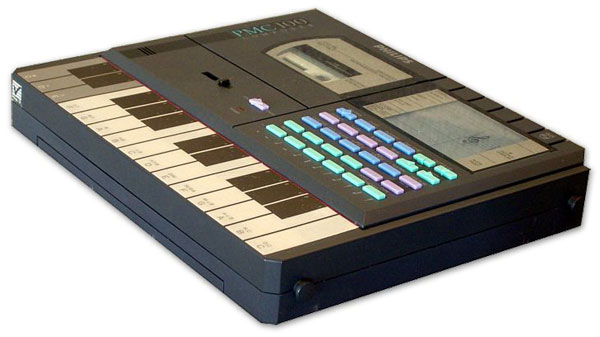 From the designer of the SFX peripherals for the Commodore 64, came this curious little box — the Personal Media Composer (PMC) 100. It's got a Yamaha two-operator FM chip, a membrane keyboard (flat, but not capacitive like the EDP Wasp) and its most striking feature, the built-in cassette deck. This allowed you to save your compositions as either sound or data, or it could function as a Walkman or dictaphone. The PMC 100 came in black or (a much rarer) white.
The main voice is monophonic, with simple preset accompaniment rhythms (with 15 options for the rhythm's voice) controlled by the 'Gling' safe-note system. This heavily limits its potential as a solo instrument, not only because the beats are laughably thin but because the accompanying voices are fixed in their patterns.
There are 100 preset melody voices, mostly the standard Yamaha PortaSound two-op noises, but there's also a surprising amount of useable sound effects and slow, evolving (but moving in very obvious digital steps) pads. It's charming in its own incredibly lo-fi way.
The real area where it shines, though, is the step sequencer. It's visualized on an LCD screen in full stave notation with rock-steady tempo, adjustable to insane degrees! Notes can be edited in or out of the sequence at will. If this thing had MIDI out it would have become a cult classic.
Sadly, though, it was a flop in terms of sales. It's not that hard to understand why; even by the mid-eighties this thing would have been considered comical and there's little hope of understanding the architecture without a manual. Still, it's a great curio to have in any synth collection and can even be useful for some styles or when buried in a mix.
Demos & Media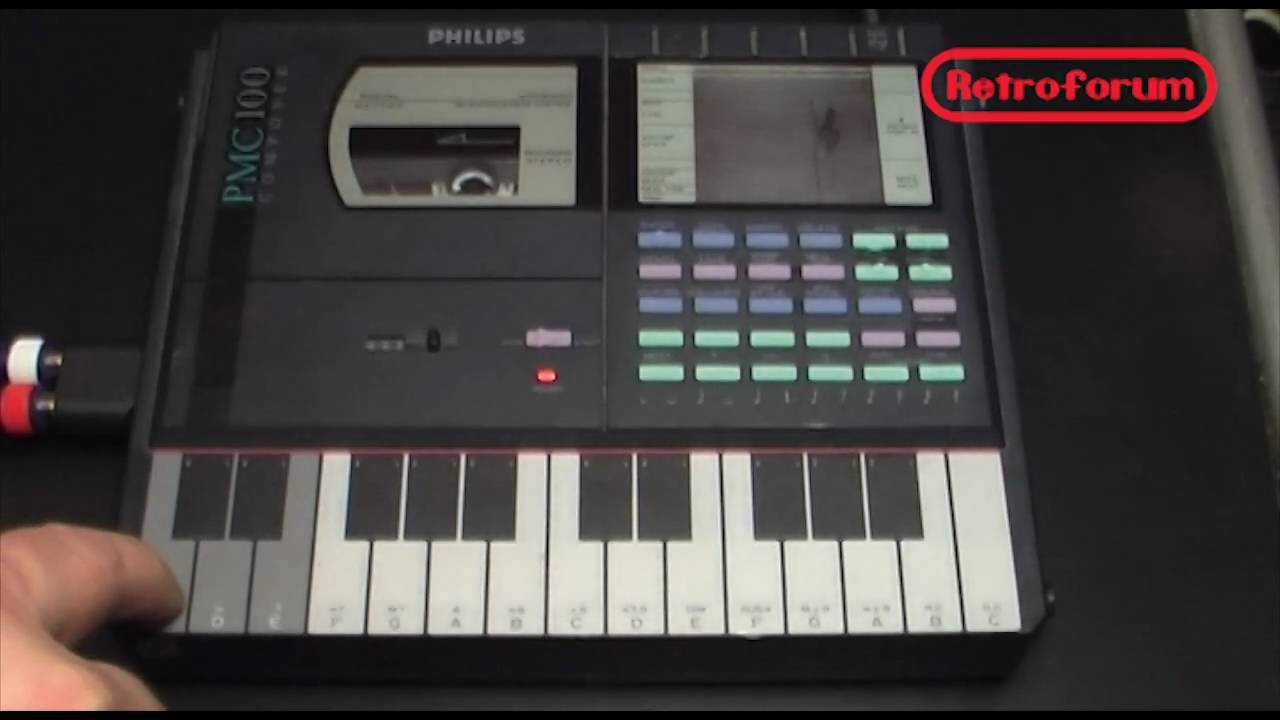 Specifications
Polyphony -
1 playable voice, 3 non-playable accompaniment voices
Oscillators -
Two FM operators per voice
Waveforms -
100 preset main waveforms, 15 preset accompaniment waveforms
LFO -
Preset operator modulation
Envelope -
Preset volume envelope
Sequencer -
Complex programmable sequencer
Patterns -
13 accompaniment rhythms, each with one of four accompaniment voice patterns
Songs -
Three preset demo tracks
Keyboard -
25-key membrane buttons
Memory -
One internal sequence / cassette data storage
Date Produced -
1986 - 1988