Native Instruments Pro-53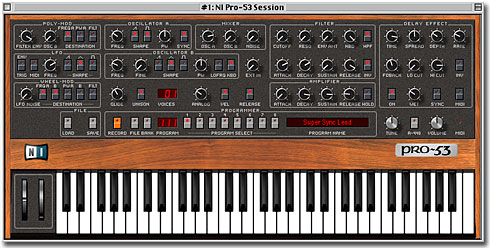 The Pro-53 takes what was already one of the best classic synth emulators to a whole new level with improved features and sound! The Pro-53 is the third installment from N.I. of the Sequential Circuits Prophet 5 analog synth plug-in. The original Pro-Five, a VST-Instrument, was a faithful recreation of the original Prophet 5 and allowed thousands of computer-based musicians the chance at playing and performing the classic synth themselves, and for just a few hundred bucks! Following the Pro-Five came the Pro-52 which added many features bringing the plug-in up to date with more modern functions like effects, enhanced MIDI (SysEx import/export), audio inputs, and stand alone capability.
The Pro-53 is the next version, released in late 2002. It added many new exciting features. It added the all-important MIDI-learn function which lets you quickly and easily assign control knobs, sliders, etc. on your synth controllers to any of the parameters available from the front panel display of the Pro-53. The Pro-53 was also compatible with all major Mac and PC audio interface formats of the time (ASIO, DirectSound, MME, SoundManager, VST 2.0, Audio units, RTAS, DXi, DirectConnect, MAS/FreeMidi). There's also a re-designed oscillator technology giving the Pro-53 a punchy, warmer, and more dynamic sound. For a virtual instrument, it sounds very organic and is much more stable and cleaner than the original Prophet 5's aging analog circuits. The Pro-53 interface has been spruced up as well, adding larger knobs and few new ones too.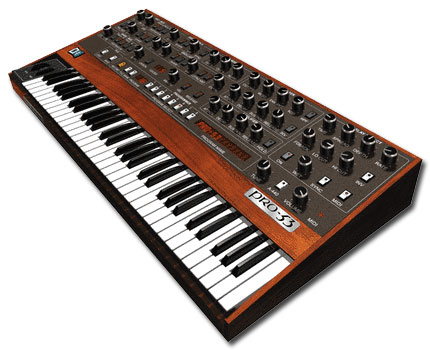 The filter has new features including a switch to invert the filter envelopes, and a new high-pass filter. There was a new LFO-Envelope-Retrigger function which retriggers the envelope with each new cycle of the LFO wave for interesting animated and colorful sounds. The Amplifier section featured a new Hold button which latches any notes played so you can free up your hands to tweak sounds while hearing their effects in real-time. Linear and circular knob control modes allow you to customize the Pro-53 to your ergonomic preference. In linear mode the mouse moves up or down to adjust the knobs; in circular mode the white notch on the knob follows the mouse as you drag it around the knob, clockwise to increase and counter-clockwise to decrease it. The NI logo is actually a pull-down menu holding most valuable functions including the MIDI Learn mode, controllermaps, microtuning settings, and other plug-in settings. It has been used by Hans Zimmer. Although Native Instruments has discontinued the Pro-53, its sound sets, patches, etc. are still available from NI's user database.
Demos & Media
Audio Clip 1
Here are great demos of the Pro-52! Hear the classic sounds of the Prophet.
Audio Clip 2
Some more demos of the Pro-52! Hear the classic sounds of the Prophet.
Audio Clip 3
This demo is a cool dance track made with the B4 and Pro-52 proving all you need are a few plug-ins for a powerful set of synths and sounds!
Specifications
Polyphony -
32 voices per Instance
Oscillators -
2 Oscillators. Osc. A has sawtooth and pulse waveforms. Osc. B has sawtooth, triangle and pulse waveforms.
LFO -
1 with sawtooth, square and pulse waveforms, MIDI sync, envelope triggering. Assignable to oscillators, filter, etc.
Filter -
24 dB/oct low-pass / high-pass filter with resonance, self oscillation, ADSR envelope
Envelopes -
ADSR envelope and Hold function
Effects -
Delay Section creates Multi-Echo, Chorus, Flange effects and is MIDI-syncable
Memory -
512 Programs (8 programs per bank, 8 banks per file, 8 files). Unlimited Files (512 programs) can be created and stored on your computer for virtually unlimited memory.
Macintosh -
Mac OS 8.6 or higher, PPC 604, 233 MHz, 64 MB RAM
VST 2, Audio Units, RTAS, Core Audio, Core MIDI, ASIO
Windows/PC -
Windows 98/2000/ME/XP, Pentium 233 MHz, 64 MB RAM.
VST 2, DXi, RTAS (XP only), ASIO, MME
Resources
Images from Vintage Synth Explorer.