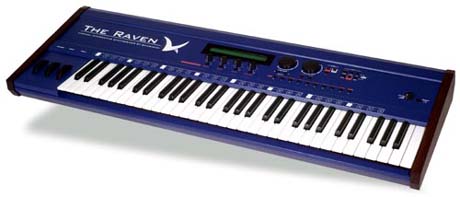 The Raven is a great quality German made performance synthesizer for creating pumpin' dance tracks - live or in the studio (or at home)! In essence the Raven is like having a Rave-O-Lution 309 inside a professional keyboard with a sleek look and interface. Strongly aimed at the dance music genre, the Raven offers up great sounds including: Basses, LeadSynths, SynthPads, Natural Sounds, Organs, FM-Percussion, Effects, Drumsets, Tuned Drums and multitimbral Performance patches. An on-board interactive 8-track sequencer, arpeggiators, real-time control knobs and effects equip this nice synthesizer for any electronic musical venture.
The Raven can be upgraded with the RavenMAX card. This increases the sample wave memory from 6 to 14 MB. There are tons of new sounds emphasizing drums, percussion, synths and effect sounds. "Motivator" real-time tweaks can be recorded into the on-board sequencer and there are about 100 "motifs" from other artists and users for instant groove patterns! Note however that the Raven has only 24 voices of polyphony which usually means your songs may be sparse in their arrangement. But creative planning and tricks can still get you by the Raven's limited polyphony, live and in the studio. If you're planning to shake some dance floors, the Raven makes a great all-in-one dance studio, and it looks really cool too! It has been used by BT and Jean Michel Jarre.
Demos & Media
Audio Clip 1
Hear this great synth for yourself! This demo is a cool house production, originally from Quasimidi's old web-site. The analog sounding drums and bass, arpeggios and cool weird sounds will peak your interest in the Raven.
Specifications
Oscillators -
3 osc: M.A.S.S. (6 MB Samples-In-Memory)
Filter -
One filter section
Arpeg/Seq -
8 track pattern sequencer with unique features plus full arpeggiator
Effects -
2 effects units including reverb
Keyboard -
61 keys with velocity and aftertouch
Memory -
512 patches, 100 performances
Control -
MIDI (16-parts)
Resources
Images from Quasimidi's old web-site.