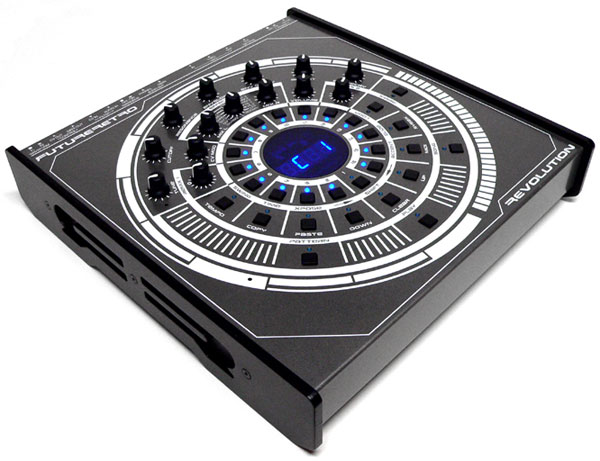 Well it's good to know some companies are thinking outside the box...way outside the box! The Revolution looks amazing and will pique anybody's curiosity because it doesn't look like anything we've seen before - certainly not a musical instrument! Future Retro have designed it to better coincide with the circular or cyclic nature of time and music which they feel makes it a more natural, if not unique, means of music creation.
Like all Future Retro products we've reviewed thus far, it is a monophonic TB-style analog synthesizer tied to a step-based pattern and song based sequencer, designed for the techno, trance, acid, and electro-blip-beep-bop musicians. There are also on-board analog and DSP effects processing, and various interfacing options for controlling MIDI, CV/Gate, and Din Sync devices.
First, the synthesizer: The Revolution uses true analog synthesis throughout its entire sound engine. Only the DSP effects are digital. Future Retro wants you to know that this is as faithful a replication of the TB-303 sound as they can get using todays top quality circuitry. It's oscillator provides the exact same waveforms as the TB (square/saw) but under much more stable and purer circumstances. Even the quirky 3-pole (18 dB/oct) filter, gated amplifier, accent and glide circuits of the TB-303 are all replicated. And all the original knob/controls of the TB-303 are represented, as well as a new CV Modulation amount control which allows the filter's cutoff frequency to track either internal or external control voltages. There is also an Accent Decay time control for tweaking the attack of the Accent effect which can create some funky zap and zoom accents.
The Sequencer: Future Retro have taken the TB's linear sequencer and gone circular with it. Play a pattern and you'll see the first benefit of this new design as LEDs run around in a circular loop, each LED representing 1-step of the pattern, giving more natural visual cues as to the playback and timing of your patterns. Some may find this instantly exciting and better than the old linear style. There is memory for 256 Patterns to be stored. Each pattern records note duration, pitch, accent, glide, loop point, time signature, and swing amount. Pattern editing features include copy/paste, pattern shifting, pattern transposing, multiple pattern cueing for chaining patterns together live, and LED chase. The Revolution also provides the ability to play patterns forwards or backwards, and remotely select patterns to play using MIDI program change messages. There are 16 songs to arrange the patterns in. In addition, the Revolution provides a unique Remix feature which provides 256 variations for every pattern and song, for more than 65,000 possible patterns right out of the box!!!
Effects and Interfaces: It has analog and digital effects. The analog effect is an Overdrive. The digital effects include 24 bit stereo chorus, delay, flange, reverb, leslie, etc. Round back are MIDI connections for syncing playback with external sequencers, playing MIDI sound modules, or having external sequencers or MIDI keyboard controllers play the Revolution's analog section. Din Sync out is included for syncing up the playback of the early Roland TR and TB type devices to todays MIDI sequencers. Also provided are CV and Gate outputs for playing other analog equipment using the Revolution's sequencer, or using the Revolution as a MIDI to CV converter. And there's also the CV Mod input mention earlier.
The original Revolution models had a white chassis while the second generation R2 have a gun metal gray chassis. The R2 has an updated PC board design using a new RAM chip which extends the internal back up battery life to more than 10 years and they include OS version 2.0.
Designed for Acid, and I'm sure it also looks awesome on acid... it's one tricked out machine for creating everything from warm deep basses, silky smooth liquid chirps and bleeps, to more aggressive ripping overdriven lead sounds. It's the state-of-the-art TB-emulator with the most interesting and fun interface you'll ever encounter!
Demos & Media
Everbody needs a Revolution
Specifications
Oscillators -
1 analog osc. (saw or square waveforms).
Filter -
Low pass resonant 3-Pole (18dB/oct slope)
Effects -
24 bit stereo DSP effects processing, 16 preset effects: chorus/room1 and 2, delay 1 and 2, chorus, flange, plates 1, 2 and 3, rooms 1, 2, and 3, halls 1 and 2, rotary speaker, and a low pass muffler.
Patterns -
256 Patterns (16-steps max. per pattern)
Songs -
16 songs (3,580 measures per song)
Control -
MIDI IN OUT THRU, DIN SYNC OUT, CV (1v/oct standard)/Gate (positive type, 0 to +12v) Outputs