Sherman Electronics FilterBank 2

The FilterBank is an excellent musical processing device for creating filter sweeps and effects or damaging your sound for even cooler effects! It's a 12 or 24dB/octave 4-pole dual filter module with one signal input and two audio outputs. The filters can be dual mono or linked, with crossfading from hi-pass to low-pass filtering with LFO and ADSR modulation. The filter is genuine analog circuitry with serious overdrive for the grungiest of sounds! What's new in the Filterbank 2 are five three-way toggle switches which have been added to the front panel as well as an optional foot controller jack in the back for controlling filter cutoff or bypass switching. The new toggles offer hi-frequency boost/cut for the input, the Sensitrig envelope follower, variable sine or sawtooth LFO shape, and pitch-tracking.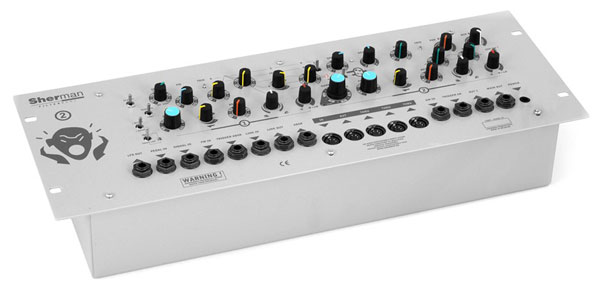 Running a few dance loops through the FilterBank for your next dance hit or live in a DJ set will most certainly get your heart pumping and the creative juices flowing! It's very hands-on like most analog equipment, yet it does not feature memory storage for your favorite settings. The Sherman FilterBank 2 shines when it comes to producing the famous sound of filtered loops and has been used by William Ørbit, Fluke, Fatboy Slim, Stereolab, The Grid, Leftfield, U2, Apollo 440, and The Chemical Brothers.
Demos & Media
Audio Clip 1
Here are two filtered loops, a drum and a synth loop. Just a taste of some realtime filtering.
Specifications
Multitimbral -
Dual 12dB/oct filters, Single 24dB/oct filter
LFO -
Modulates filter or envelope, triangle or sawtooth waveforms
Filter -
Dual 12 dB/oct analog multimode (lowpass, bandpass, highpass, notch); combines both for 24dB/oct cutoff slope. ADSR envelope, cutoff, resonance. Filter 2 sync to Filter 1.
VCA -
ADSR and AR controls
Control -
MIDI IN/OUT/THRU(x3), LFO restart can be triggered by MIDI notes