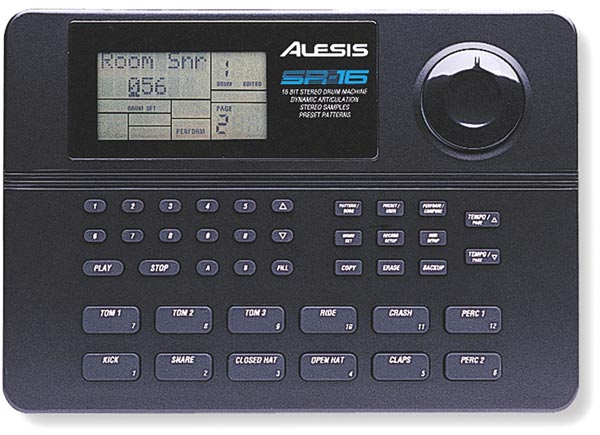 For serious programmers and those who want to use it as a sound module, the SR-16 provides comprehensive MIDI programming and MIDI implementation. In addition to more than 200 drum and rhythm samples (both in dry form or with reverb), a Dynamic Articulation feature enables a drum's tone to change, depending on how hard it's hit. Comes with fifty preset rhythm patterns (played in by top studio drummers), each with an A and B variation, plus A and B fill, for a total of four different rhythms in each pattern. Of course, you can create and save your own customized patterns and songs. Also includes four outputs, twelve velocity-sensitive pads, 16-voice polyphony, sample/DAC bit resolution 16/18, sound stacking, step editing and a 20-255BPM tempo range.
No doubt the SR-16 is a powerful drum machine, but ultimately it also sounds like a drum machine. If you need some drums to accompany your keyboard or guitar playing, for example, the SR-16 has been the go-to drum machine for many years. But all those bumper stickers about drum machines having no soul just might be directed at the SR-16. It may be a great tool for musicians but in the studio its sound just can't beat the real deal - or loops and more modern drum & percussion instruments and software. It has been used by Autechre and Vangelis.
Demos & Media
Audio Clip 1
Hear the on-board Demo track.
Specifications
Drum Sounds -
Sounds: 233; Kits: 50 user, 50 preset
Patterns -
400 (200 user, 200 preset) with 12,000 note capacity
Effects -
Panning & Dynamic Articulation (modulates tone). Some samples have reverb & ambience in them.
Keyboard -
12 velocity sensitive Pads (w/Dynamic Articulation)
Control -
MIDI (Change Kits, Sync: MIDI Clock/Song Position Pointer).
Foot-switch Jacks/Functions: 2; start/stop, count/A/B/fill
Date Produced -
1990-2003
Resources
Images from Alesis Online
Additional info by John Hilfing.
Reviewed November 2007.