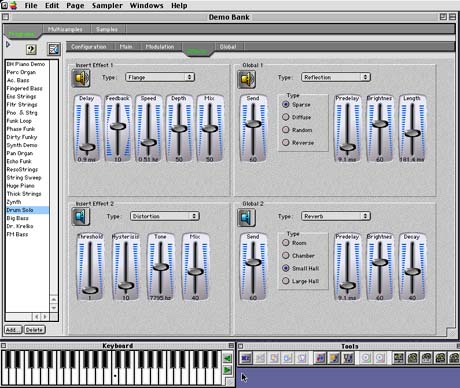 The Unity DS-1 is a computer software based professional digital sampler and instrument. With all the modern features of samplers and the power of your computer you can turn your computer into a limitless pro-sampler! Samples can be recorded via analog or digital inputs, loaded from CD libraries, imported from AIFF, WAV and Sound Designer II files and much more! Sample storage and sample time is limited only be the amount of hard drive space on your computer.
The Unity DS-1 has extensive MIDI implementation for integration with your MIDI studio and sequencing software. Extensive editing of samples is available and samples can be further tweaked in other editing programs. Other features include: Over 200 parameters per program; Toolbar and keyboard commands for accessing common functions; Automatic sample extraction and keymap placement from Audio CD's; Drag-and-Drop to add algorithm modules (oscillator, filter, fx, etc.) and to import and export samples; Arpeggiator with multiple latch and assignment modes and can be synchronized to MIDI clock; Per-sample volume, tune, pan, sample start, FX send, envelope and selectable muting. A very powerful, affordable, attractive and sophisticated digital sampler with unlimited potential for creating or re-creating sounds for all musical tastes!
Demos & Media
Audio Clip 1
Sample pads and stuff I did using the free demo version. It's pretty cool!
Specifications
Polyphony -
up to 64 notes (CPU dependent)
Oscillators -
2 stereo oscillators (multi-samples) per voice
LFO -
6 LFOs (ramp or random)
Filter -
2 assignable stereo filters per voice (13 filter types, including 4-pole resonant lowpass, highpass, bandpass, allpass, notch, and state-variable)
Effects -
2 stereo insert (serial) effects, 2 additional stereo global (parallel) effects processors (Stereo delays, reverbs, EQ, chorus, phaser, flange, overdrive and distortion)
Keyboard -
On-Screen keyboard
Samples -
16-bit, 44.1kHz; Multiple sample rates supported simultaneously; Unlimited capacity; DSP functions include Normalize, Gain, Fade, Reverse, Crossfade Loop, EQ, and more
Macintosh -
120MHz or faster PowerPC processor. Operating system software version 7.6.1 or higher (OS 8 or higher recommended).
Windows/PC -
200MHz or faster Pentium processor. Windows 95 or Windows 98 operating system software. DirectX supported sound card.
General -
50 MB free hard disk space, Compatible CD-ROM drive, 800 x 600 or higher resolution monitor with 256 (8-bit) or more colors.
Recommended -
MIDI controller and interface, Quality stereo sound monitoring system or headphones.