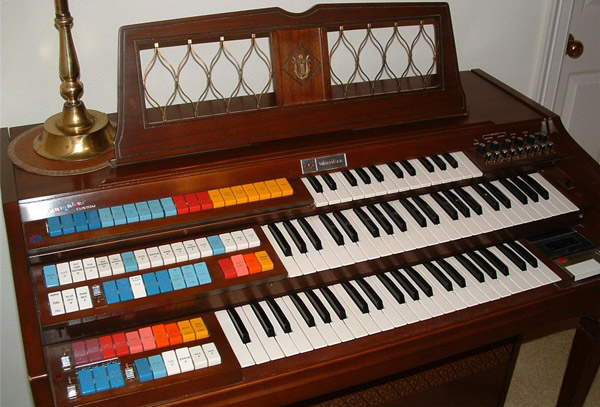 Organ 555 with Orbit 3 (mini-keyboard)
The Orbit III is an unusual, but not at all rare, basic monophonic synthesizer. It was included as the third manual on many different Wurlitzer home organ models since its introduction in 1971 (models 4037, 4373, 4573, 555 and others). It has a basic envelope that includes attack and sustain, a filter of sorts (called "wah-wah" - guess what kind of sound it makes), and an LFO (called "modulator" in Wurlitzer parlance). The LFO has settings for rate and "deviation" (depth). The "second touch" feature is a crude aftertouch function, which you can assign to affect either the LFO or the "slide" function. Each synthesis function can be completely toggled on and off via push button. The sound of the synth is modified by a row of organ-style buttons that affect the timbre and the range.
The rest of the instrument the Orbit III is attached to is classic home organ fare. Cheesy drum beats, the usual home organ sounds, and a cassette player/recorder round out the features of the organs that typically contain an Orbit III. And lurking beneath the three manuals is a real life rotating speaker cabinet. The early models used the Wurlitzer Spectratone speaker, but switched over to the Leslie speaker in 1974 with the model 555. Additional features included a volume pedal and a foot manual (again, classic home organ features).
Typically these organs were used in churches and schools. They are of considerable weight, and as a result they can often be had for the cost of sweat equity alone. You're not going to be picking up a secret low-cost Moog, but you'll have a lot of fun with it once you get it home. And when you tire of it, you can pass it on to the next sucker, ahem, lucky individual.
Demos & Media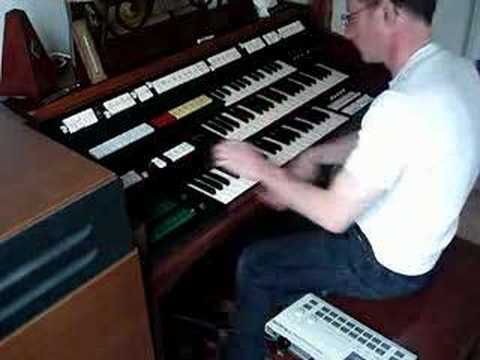 Wurlitzer Orbit III Video
Specifications
LFO -
Modulator: Affects pitch with rate and depth controls
Envelope -
Attack and Sustain
Memory -
10 Presets (Reed, Brass, String, Banjo, Harpsichord, Electro Piano, Vibes, Xylophone, Piano