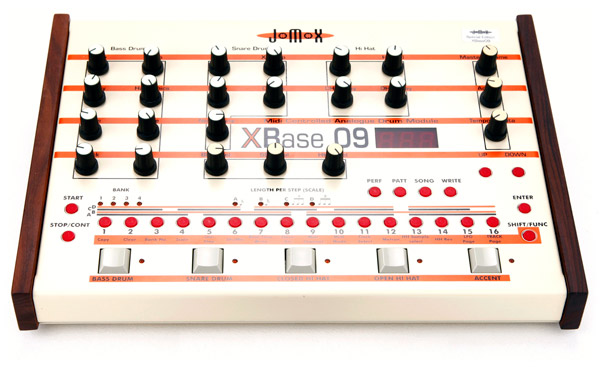 The XBase 09 is serious about emulating the Roland TR-909. Like the 909, it is an analog drum machine, and it sounds just like the 909, and more! It offers the same types of analog controls that the TR-808 and TR-909 did such as tuning, level, decay, snap, etc. However it provides more of these controls for more sounds than the originals ever did and has MIDI implementation and Patch memory making the XBase 09 a much more versatile machine than those originals.
Kick and snare are true analog, not emulation and not sampled. The Hihats, cymbal, ride, rimshot, claps and noise sounds are samples but are still quite tweakable. All your edited sounds can be stored into the 100 patches of memory. Use the built-in LFOs to modulate the Bass drum pitch, Snare Tune, Snare Snap, Snare Noise Tune, HiHat Tune or LFO 2.
The XBase 09's built-in sequencer is also more advanced yet faithful to the style of its mentors. Step or Real-Time programming just like it's done on the 909 and 808! However, on the XBase, any edits to the sounds will also be stored with the pattern or song! This really liven's up your beats and allows you freedom and control to do things not easily possible on the original beat boxes! There's also an extensive Shuffle mode. Of course the XBase 09 is also happy as a simple drum tone module, with all editable controls accessible using MIDI. The controls also send MIDI data when tweaked so you can record real-time edits into your external sequencer.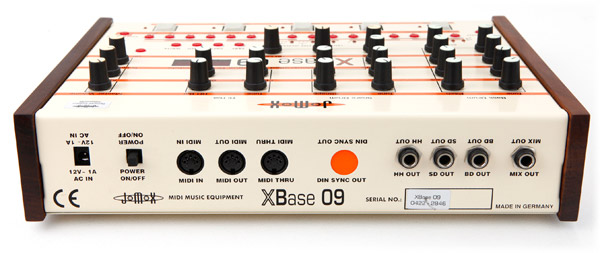 If you're looking for the TR-909 that should have been, here it is! Authentic sounds with more functionality and modern MIDI specs make this the perfect 909 for the 90's and beyond. Its only limitations are 3 voice polyphony and it's expensive. The AirBase-99 is a cheaper rack-mount alternative with added Toms.
Demos & Media
Audio Clip 1
Demos of various beat loops. From Future Music CD issue 58.
Specifications
Sounds -
Kick, Snare, Clap, Open Hat, Closed Hat, Ride, Cymbal, RimShot
LFO -
2 LFOs: Sawtooth Up, Sawtooth Down, Triangle or Rectangle waveforms; Intensity, Speed, Midi Sync
Analog Section -
KICK: Tune, Pitch, Decay, Harmonics, Pulse, Noise, attack, EQ.
SNARE: Tune, Snap, Decay, De-tune, Noise Tune.
Sample Section -
CLAPS, RIMSHOT, HIHATS, RIDE, SYMBAL, NOISE: Tune, Reverse, HiHat Balance and HiHat Decay
Memory -
100 DrumKit memories
Control -
MIDI, DIN-Sync Out