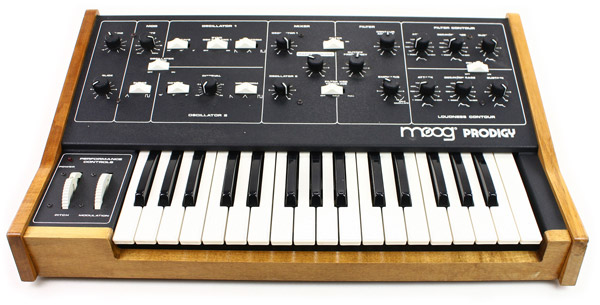 The Prodigy was an entry-level monosynth from Moog, which has since become a very popular and widely used Bass-synth in techno and electronic music. It was designed as an affordable dual-oscillator synth. It was, however, designed without any help from Bob Moog himself. But that didn't stop the Prodigy from becoming an excellent analog synth!
Its simple yet effective design employs two voltage controlled oscillators (VCOs) with saw, triangle and pulse waveforms...all classic analog stuff! There's also a genuine Moog 24dB / octave lowpass filter (emphasis), A/D/S envelope generator, and LFO with square or triangle waveforms and routing to the VCF, VCO or both! Even Portamento, Pitch and Mod wheels. To save money there are no highly flexible modulation routings, no on-board sequencers or arpeggiators, and a simple 32 note keyboard.

If you can't afford a Minimoog, look into the Prodigy! It's a simple design with strikingly good sound, and it's perfect for learning analog synthesis with. Love the wood casing! Simple, sweet, Moog. It is used by Überzone, Cirrus, Astral Projection, Fatboy Slim, Depeche Mode, 808 State, Prodigy, Howard Jones, Blur, The New Deal, Solaris, Jimmy Edgar, and the Hippos.
Demos & Media
Moog Prodigy Analog Synthesizer (1979)
Audio Clip 1
Some sample basslines off the Future Music CD, issue 78.
Specifications
Oscillators -
2 VCO's with sawtooth, triangle, and pulse (narrow/square) waveforms
Filter -
24 dB/oct lowpass w/ cutoff, emphasis, A/D/S envelope
VCA -
Attack, Decay, Sustain
Keyboard -
32 keys (no velocity & aftertouch)
Date Produced -
1979 - 1984