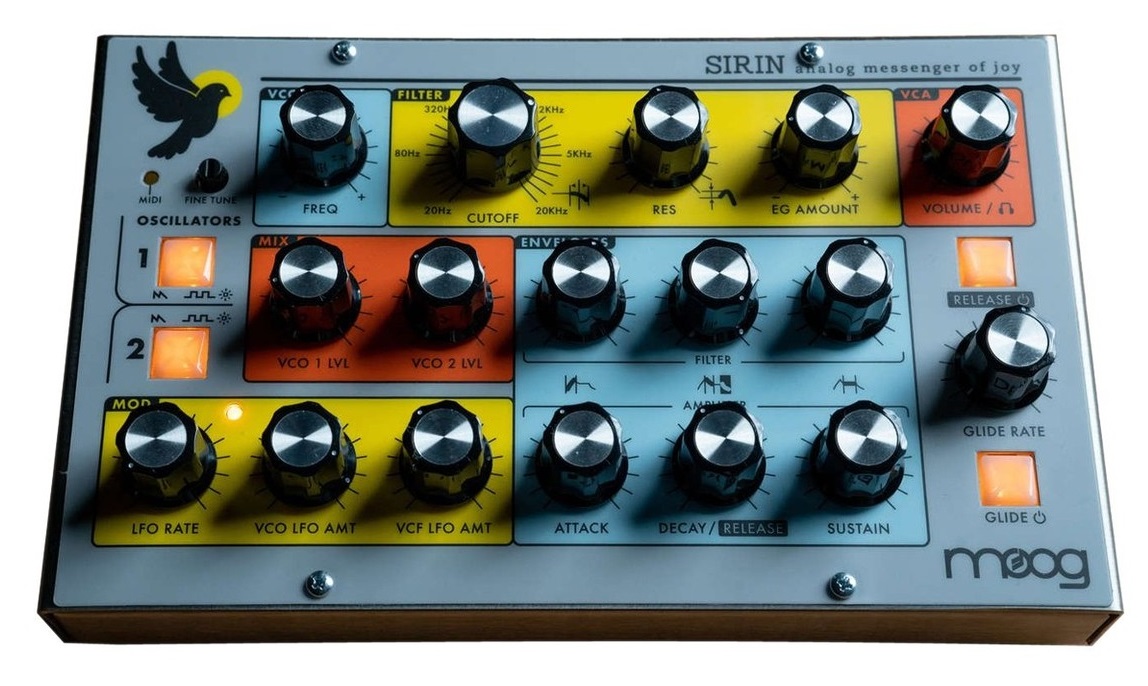 Moog released their Sirin synthesizer, which also goes by the rather grandiose title of "The Analog Messenger of Joy" in 2019. It is a limited production analog synthesizer module that Moog based on their Taurus Bass sound engine. Sirin was produced by the employee-owners of the Moog Factory in Asheville, NC, and no more was created after the limited production run. The reason for the creation of the Sirin was in celebration of the 2019 Moog House of Electronicus experience in Los Angeles, but it's definitely more than just a novelty synth.

Right off the bat, Sirin impresses with its brushed stainless steel enclosure and Moog also made use of a retro-inspired color palette for the final look. The result is a synth that is not only very compact but also very stylish. On the back fo the unit you'll find audio socks for Out, In and headphones, a Controller Inputs section for Pitch CV, Filter CV, Volume CV, and Gate as well as a MIDI in and USB MIDI port.


While it is not the first Moog synth based on the Taurus Bass sound engine, Sirin is the first instrument in that range of bass synthesizers that can actually generate pitches far above middle C. In fact, Sirin is able to reach notes that are as high as D8. This means that in addition to its great bass sounds, Sirin can also conjure up some nice leads.

Sirin features a classic 4-pole Moog Ladder filter along with two ADSR envelopes as well as a multi-wave LFO. It is also very easy to operate as it has an intuitive knob-per-function interface. Sirin users can make use of its free Editor / Librarian software and is perfectly capable of being integrated with any DAW or MIDI controller. With Sirin you can save up to 128 presets in hardware and it also has the ability to automate parameters. Connecting Sirin to your computer DAW also allows you to unlock six additional LFO waveforms amongst other handy features. The fact that the software is free is great seeing as Moog had no qualms charging a hefty price for their Minimoog Voyager Editor.

The fact that Sirin was only produced in very limit quantities is sure to make it a sought after instrument for fans of the brand. However, apart from the higher notes and funky looks, Sirin doesn't do much more than a Minitaur.
Demos & Media
Moog Sirin | Analog Messenger of Joy
Specifications
VCA/Envelopes -
1 VCA with ADSR
Controls -
MIDI In/Out, USB