New England Digital Synclavier

The Synclavier is something like the Rolls Royce of vintage synthesizer heritage. The only competition in its time came from the Australian made Fairlight CMI. The Synclavier was a wildly expensive vintage digital sampling synthesizer reserved for the most successful musicians, commercial studios, and sound designers. Designed during the '70's, they can still be found and prized by various sound designers, composers, and musicians. Although there have been three models, (the second called the Synclavier II pictured above) they are most often referred to as just a Synclavier.
The first version appeared in 1977/78 but was soon replaced by the Synclavier II in 1980 with a new "partial timbre" sound editing feature (it tweaks the harmonics), built-in FM and additive synthesis, sampling, 64 voice polyphony, 32MB of waveform RAM (expandable to 768), 32 outputs, music-notation printing, multitrack sequencing, and digital hard-disk recording. In 1984 a third model was introduced and became the most infamous version of the line-up. The new features included a full sized and weighted keyboard with velocity and aftertouch which replaced the previous model's plastic keyboard, and 128 voices polyphony. An optional DSP effects package including time compression/expansion was available for the Synclav as well. There was also a standard onboard arpeggiator and a robust sequencer with up to 200 tracks and its sampler had the ability to record and output at up to 100 khz!
The typical Synclavier system consists of a durable 76-note keyboard peppered with 132 illuminated buttons and a single control knob, connected to a rack-mounted CPU running NED's own 16-bit ABLE operating system plus the nostalgic mid-eighties looking mono-chromatic computer monitor/keyboard. Patches, sound files, sequences and samples are stored to 5.25" diskette, hard disk or in some models, magneto-optical drives.
It should be noted that there are all sorts of 'sub-revisions' of the hardware component of the Synclav II, and these make each version capable/incapable of doing certain things. Some lower-end versions are not capable of using the 'Timbre-frame' timbral scanning programming method. Others are not capable of handling a MIDI retrofit. And all of these have different 'top versions' of the OS that they can handle, making the purchase of a used Synclav system a dicey affair. You can't always be 100% sure of which variation you're buying without some extreme care being paid to which hardware it has and what versions of the OS it's capable of running. You could therefore be buying anything from a high-end sampling/sequencing workstation unit to a rather complex 12-op FM/additive synth, and several possibilities in between.
From its specs alone it can be seen that the Synclavier is a masterpiece digital sampler / synthesizer workstation which was the first of its kind, and way ahead of its time. They command prices well into the thousands ($25,000 to $200,000) and are only used by those who can afford such. New Synclavier systems (including new hardware, software, and Mac OS X emulations of the Synclavier operating system) service, and support are currently available through DEMAS, the company created after the fall of New England Digital in 1992. Additional service and support can also be found at Synhouse and Synclavier European Services.
Synclaviers have been used by The Cure, New Order, George Duke, Pat Metheny, Sting, Stevie Wonder, Paul Simon, Foreigner, Michael Jackson, Kraftwerk, Depeche Mode, Genesis, Kim Wilde, The Cars, Soft Cell, Geoff Downes, Frank Zappa, and film composer Alan Silvestri.
Demos & Media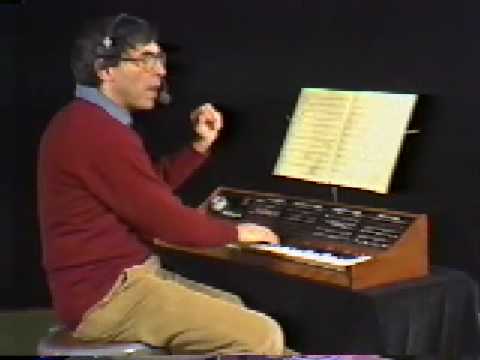 jon appleton demonstrates the synclavier ii (1984)
Audio Clip 1
Listen to some excellent examples from the Synclavier Demo Tape.
Audio Clip 2
Listen to some excellent examples from the Synclavier Demo Tape.
Specifications
Polyphony -
64 voices (max 128 Stereo FM or Sampling)
Sampler -
16 bit, 100kHz variable sampling rate (Up to 32MB)
Synthesis -
FM Synthesis, additive, resynthesis
Recording -
16 tracks at 50kHz
Keyboard -
76 weighted keys with velocity and aftertouch
Memory -
32MB RAM (expandable to 768), External Hard Disk (unlimited)
Control -
MIDI (16-parts), CV, VITC, SMPTE, Trigger
Resources
Images from N.E.D. Synclavier product brochure, scanned by Chris Kann.
Additional information provided by DAC Crowell.
Review updated July 2010.