Oberheim Drummer Perf/X Interactive Drum Pattern Sequencer
Drummer is an interactive drum pattern sequencer manufactured by Oberheim in 1991. It was part of the same Perf/x range as the Systemizer, Strummer, Cyclone, and Navigator by Oberheim, which means it shares the same compact design and lightweight casing.
All of the buttons for the Drummer are situated on the bottom half of the front panel, with the top half reserved for a group of ventilation slits. The rear of the unit has the power switch and jack to connect the power supply, the MIDI In jack, MIDI Out jack, as well as multiple footswitch input jacks. Footswitches are used for remote control of Drummer, but none are included with the machine. Once connecting your own, they function as a start/stop, break/interrupt, add percussion, and fill-in, respectively. Care should be taken with the power switch as it protrudes from the casing and could get damaged if not handled properly.
On the lower left side of the front panel, there is a two-character LED display, which is bright and clear. It also has two dots in the display that flash when MIDI data is being received and serve as a visual metronome. Next to the display are the Start/Stop button/ decrement and increment buttons, Mode button, and five function buttons. The parameter list is situated above the buttons in a 4 X 5 matrix format. These are split into sections for Song, MIDI, and Preset, and pinpoint LEDs help to indicate selected parameters.
Although Drummer features preset rhythms, it does not have drum and percussion sounds of its own, which means it has to be connected to a MIDI sound source. Drummer can store up to 16 different kits, and 13 of these are factory programmed to match with popular drum machines of the time, such as the Alesis SR16, Roland R5, Kawai K4, and more. In addition, to make your own custom kits to match whatever drum machine or sampler you are using to play drum sounds, you can also replace the factory-programmed ones with your own settings.
You also have 100 presets to choose from, and these can be assigned a pattern, rhythm, kit, time signature, tempo, follow setting, and more. Overall, the idea was to create something that sounds more realistic than a drum machine. Oberheim attempted to make this as simple as possible, and it was also relatively affordable for its time. It was undoubtedly an attempt at something different from the typical drum machines of the time, which makes it appealing to collectors.
Demos & Media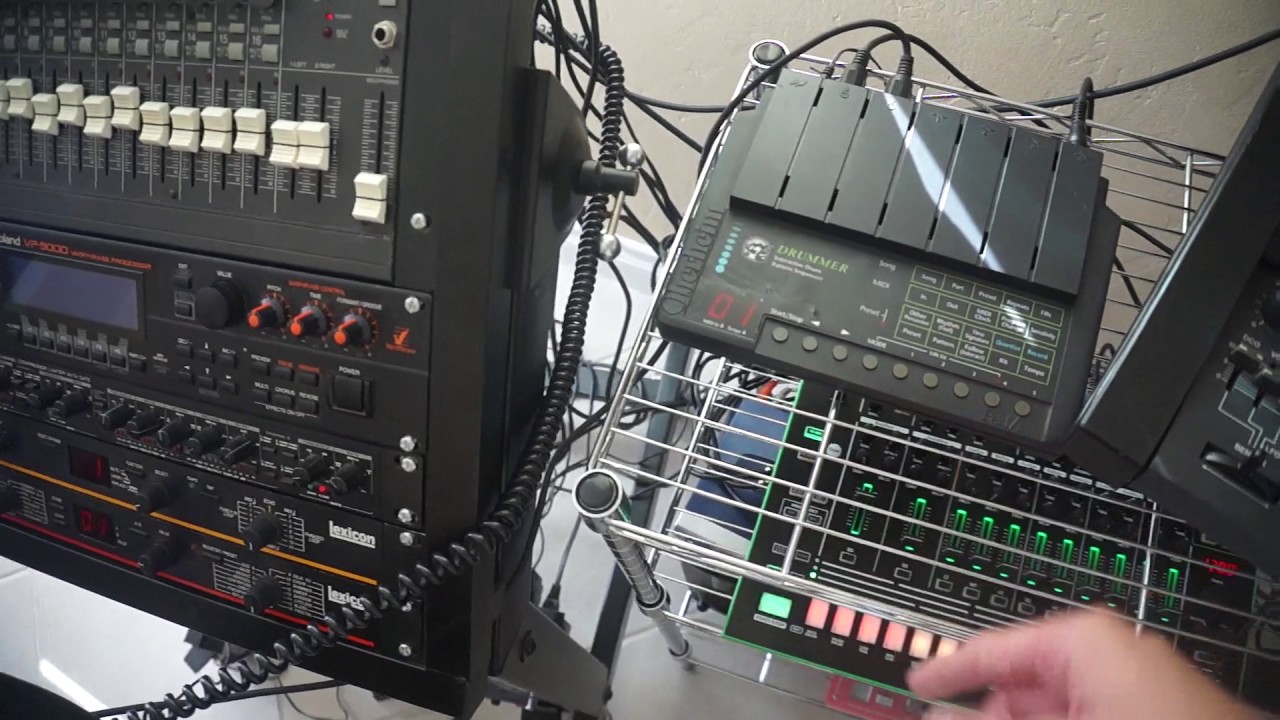 Oberheim Drummer Demonstration
Title
Drummer Interactive Pattern Sequencer User's Manual
Description
User's Manual
Specifications
Memory -
32 Patches RAM / 64 Patches ROM