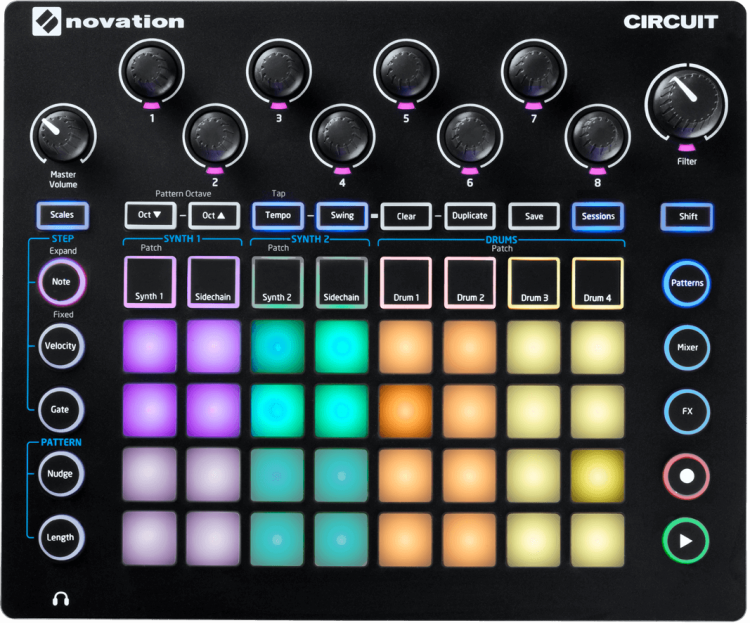 Circuit is a two-part synthesizer and four-part drum machine that was released by Novation in 2015. The two synth engines of this multi-part groovebox sequencer were derived from the MiniNova, a 2012 micro synth from Novation. It was Novation's first stab at creating a groovebox and they build it around the idea that it was designed to inspire. This meant that it not only had to be intuitive but also allow experimentation that could deliver immediate results.

The Circuit shares some similarities with the Launchpad Pro, despite being more lightweight. It features the same rounded corners and matt-black design while the rubberized base keeps it from slipping around. Even its sequencer grid has the same backlit design and velocity-sensitive pads as the Launchpad Pro, albeit smaller. The big draw of the Circuit is that it is very portable and able to function perfectly fine as a standalone device. Not only does it have a built-in speaker for audio, but it can also be powered by batteries. The power supply, USB cable, MID adaptors, and batteries are all included so the Circuit is ready to go right out of the box.

Circuit allows you to make a track using four parts, with eight patterns per part. Synth 1 and Synth 2 each make up a part while Drums 1 & 2 are a part and Drums 3 & 4 are another part. In addition, there are 64 slots for holding up to a minute of sample time. You can also select a different sample for each of the steps in a sequence. The highlight of the Circuit is its 16-step sequencer, which is very flexible. You can play and record sequences using the velocity-sensitive pads or hold down the sequencer pad to input everything step-by-step. The Circuit has a number of delays, reverbs and sidechain effects that can be used as well, which is suitable for lots of different musical styles.

Overall, the Circuit is not just a budget Launch controller, but a groovebox that is a lot of fun to use and great for quickly sketching out ideas. The synth engine can produce some nice bright leads as well as warm pads and thumping basslines and while it is very intuitive to use there's also plenty of presets to get you started. It's still a digital groovebox, so it's never going to be able to replace the possibilities offered by an analog synth or drum machine, but as long as you know what to expect you'll enjoy using it.
Demos & Media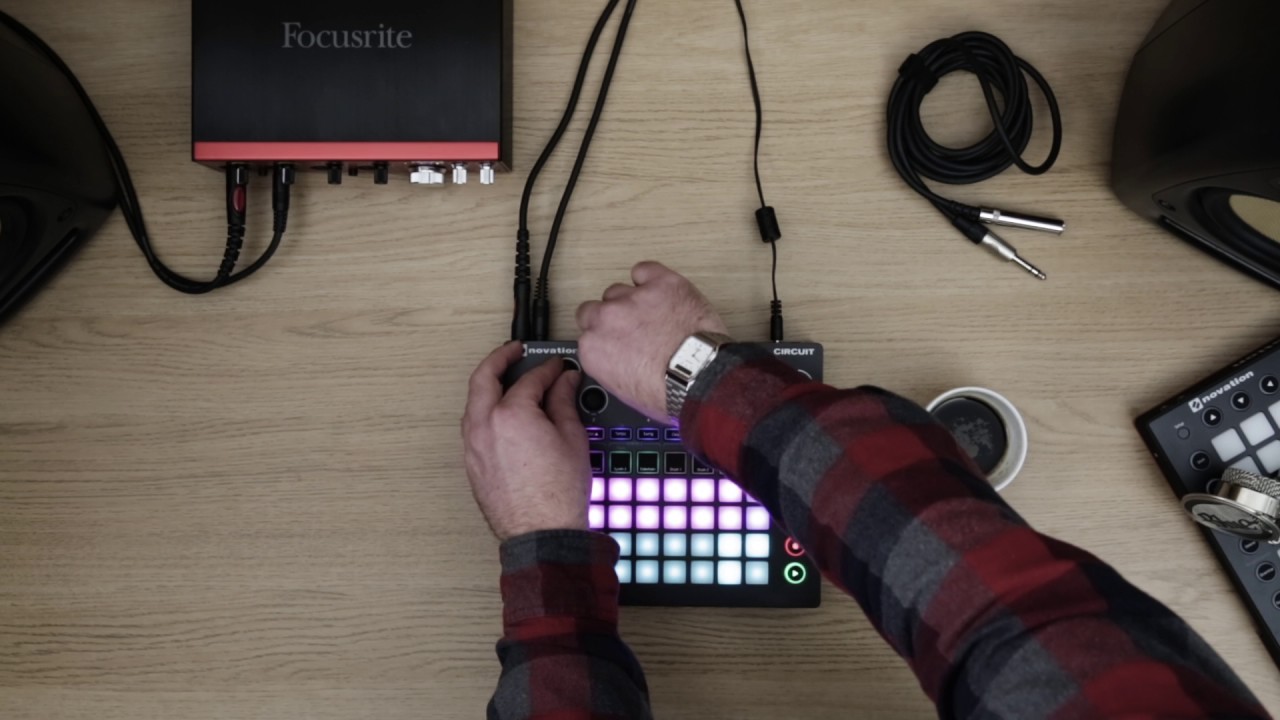 Novation // Circuit Performance - Danny Nugent
Title
Novation Circuit Manual
Description
Novation Circuit Manual
Specifications
Polyphony -
6 Note Polyphonic Per Synth
Waveforms -
Pulse, Variable, Sine, Square, Triangle, Wave Table, White Noise
Filter Slopes -
12dB Slope (2-pole), 24dB Slope (4-pole), Band Pass, High Pass, Low Pass, Resonance
LFO -
2 LFOs with Sample & Hold, Sine, Square, Triangle, Clocked, Key Sync
VCA/Envelopes -
3 VCA with ADSR, Looping, Monophonic, Polyphonic,
Controls -
MIDI In/Out, USB
Arpeggiator -
6 Tracks per session
Effects -
16 delays, 8 reverbs, sidechain effects
Sampler -
60s sample time