Novation had a successful run of MIDI keyboards and controllers, but the Ultranova was a return to their "Nova" range of synthesizers from the nineties. This is also obvious from the design, which features a blue plastic construction and illuminated buttons. The mod wheel and pitch-bender are also blue and glowing, but there is the option to disable this feature. The plastic case is pretty durable and very lightweight.
The Ultranova keyboard is three octaves and features full-sized keys with both velocity and aftertouch. In addition, Novation has included a 12-band vocoder with this synth. Although it ships with a decent gooseneck mic, the inclusion of an XLR port on the back of the synth means you can replace it with another one of your own choosing. The ability to map your voice to any of the presets included with the synth allows for a lot of fun and creativity.
The upper center of the synth is home to a 2x27-character LCD around which the rubber buttons are arranged. Although the text is rather small, the display is sharp and clear, making it easy to see the names and values of parameters. The Ultranova also has rotary encoders, and while there are not that many of them, it is easy enough to tweak everything. Novation clearly attempted to keep everything as simple as possible, which meant fewer buttons and encoders. Nevertheless, the interface is very logical, and it is easy to get to what you need using the selection buttons.
On the rear panel of the Ultranova, you will find two balanced audio inputs next to four unbalanced outputs. It also has the obligatory MIDI In/Out/Thru sockets along with a USB port. Also on the back panel is the auto-sensing sustain input, expression pedal input, S/PDIF output, and headphone socket. The Ultranova can be powered using an adaptor or via USB.
The Ultranova is a monotimbral synth, which takes some getting used to if you are not familiar with them. It features three oscillators, three LFOs, six envelopes, two filters, and a chain of five effects. In addition, it also has a 20-slot modulation matrix and four banks of factory patches that can hold 128 patches each. There are nine different genres to choose from and 14 categories that cover everything from strings and pads to bass and SFX. This synthesizer shipped with the Ultranova Editor and Librarian, with the former requiring a DAW to run and the latter being a manager for patch banks.
At the time of its release, the Ultranova featured one of Novation's most ambitious synth engines packed in a design that offered portability without sacrificing playability. As a result, it was a great all-round synth for its time, with excellent value for money along with plenty of versatility.
Demos & Media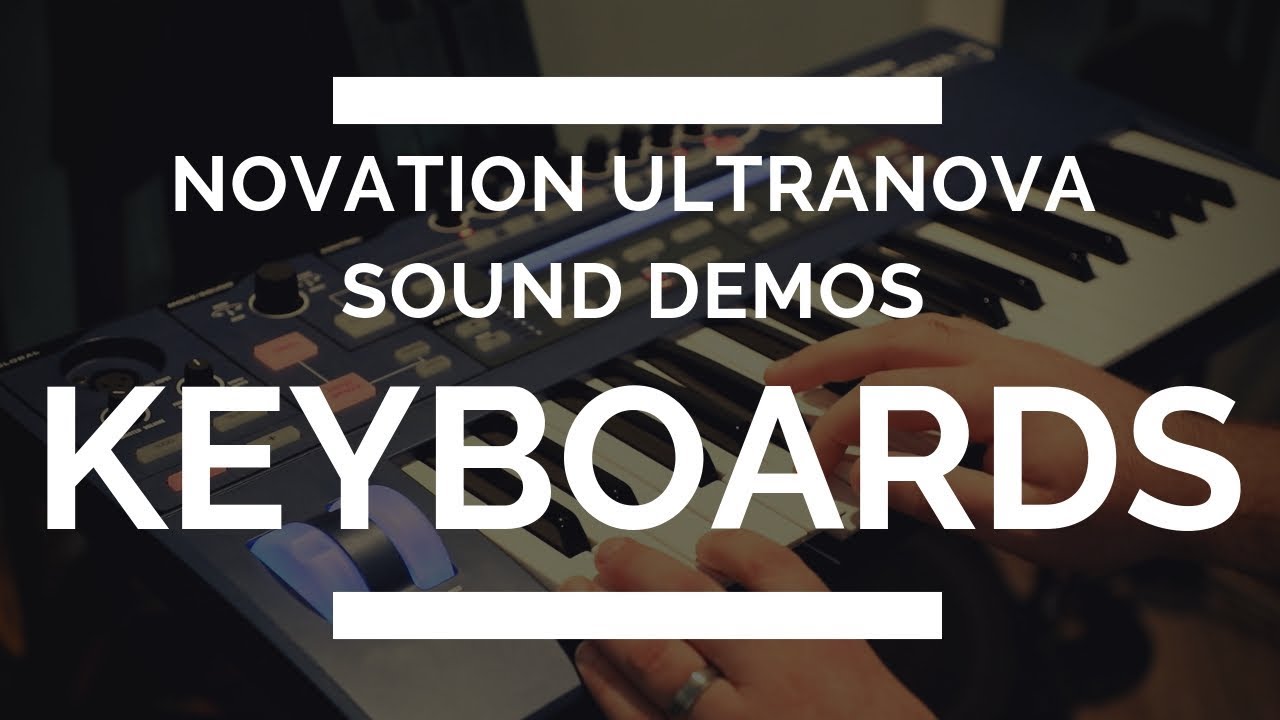 Novation Ultranova - Keyboard Sounds Demo - EVERY SOUND!
Novation // UltraNova Official Promo
Title
Ultranova Userguide
Description
Ultranova Userguide
Specifications
Waveforms -
Pink Noise, Pulse Variable, ROM, Saw Down, Saw Up, Sine, Square, Sub Oscillator, Super Saw, Triangle, Wave Table, White Noise
Loops -
3 LFO with Noise, Sample & Hold, Saw Up, Saw Down, Triangle, Square, Sine, Delay, Freerun, Clocked, Key Sync, Phase
Controls -
MIDI In/Out/Thru
Arpeggiator -
33 patterns
Effects -
Distortion, Compressor, Chorus/Phase, Delay, Reverb, Gator, EQ,
Keyboard -
37 keys with velocity and aftertouch
Memory -
256 patches RAM, 128 Patches ROM