Plankton Electronics The Bumblebee
The Bumblebee is a noise machine and drone synth released in 2014 by Plankton Electronics from Barcelona. It was sold as a DIY instrument that provided users with the PCB and all necessary components. A fully assembled desktop version of The Bumblebee was also released.
Plankton Electronics marketed The Bumblebee as a synth for DIY beginners and that it was able to generate the most annoying sounds in the neighborhood. It features a very straightforward signal flow with three square-wave oscillators that are routed through two filters and an amplifier. All three of the oscillators have a level knob as well as individual outputs for mixing them separately. To modulate pitch each oscillator has two CV inputs while modulation depth is controlled with an attenuation knob.
The Bumblebee also features three LFOs, each with a CV input and attenuation knob. The high-pass filter and low-pass filter that the oscillators are fed to help give The Bumblee a nice aggressive tone. The main audio-out for this synth is a single mono output. Unsurprising given its name the Bumblebee can indeed sound like a swarm of angry bees. Since it has patching capabilities this little synth is capable of a lot of sounds on its own, but fun can also be had by using it with other synthesizers.
Although it is a straightforward build The Bumblebee can take a while to assemble for beginners. Plankton Electronics has simplified the process slightly by ensuring that all the things such as potentiometers and jacks are mounted to the circuit board instead of requiring wires. Since the oscillators and LFO are all square waves The Bumblee does lack the versatility of wave shape-variable ones. However, this limitation also makes The Bumblebee more of an experimental synth, which is something some users will enjoy.
The Bumblebee is indeed capable of creating very annoying sounds, so it is not something that is going to appeal to everyone. However, fans of drone machines will really appreciate what it has to offer and it also serves as a nice introduction to DIY synths for anyone with the patience to assemble it. Unfortunately, Plankton Electronics discontinued The Bumblebee two years after it was released, which can make it harder to track down. Overall, this is one for anyone interested in weird sound enthusiasts or those who would enjoy connecting it to other modular systems to experiment with the results.
Demos & Media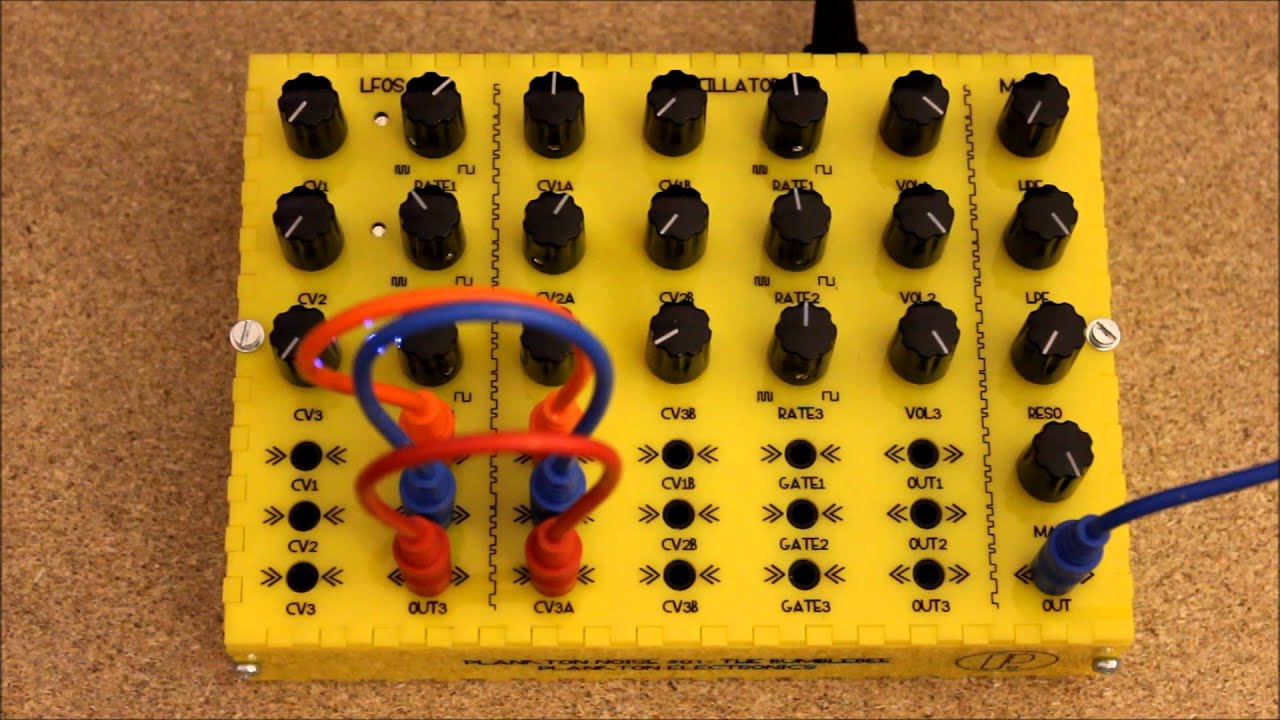 Plankton Noise #01: The Bumblebee
Title
The Bumblebee Assembly Tutorial
Description
Assembly Tutorial for The Bumblebee
Specifications
Filter Slopes -
24dB Slope (4-pole), High Pass, Low Pass, Resonance